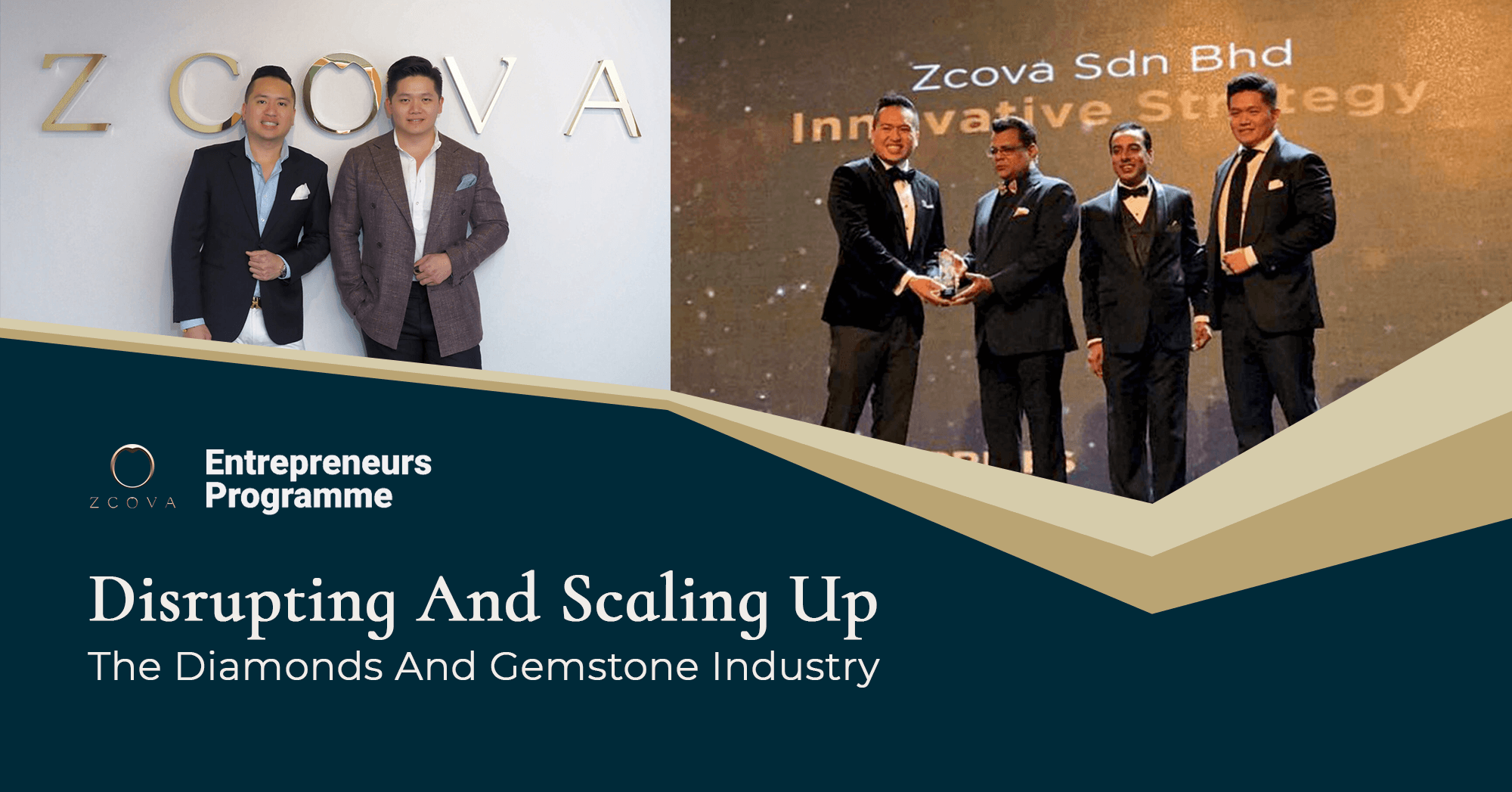 ZCOVA in Entrepreneurs Programme: Disrupting And Scaling Up The Diamonds And Gemstone Industry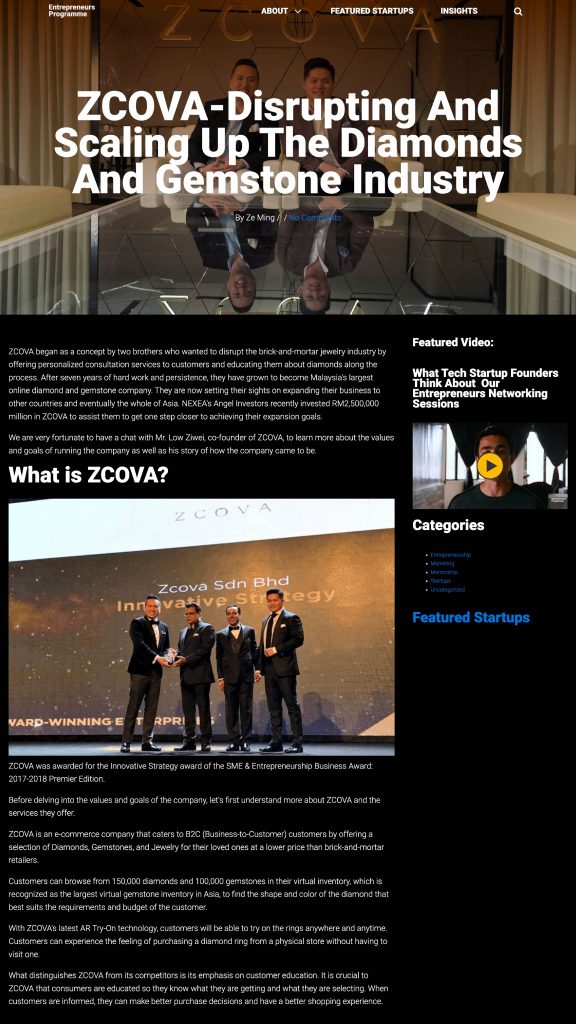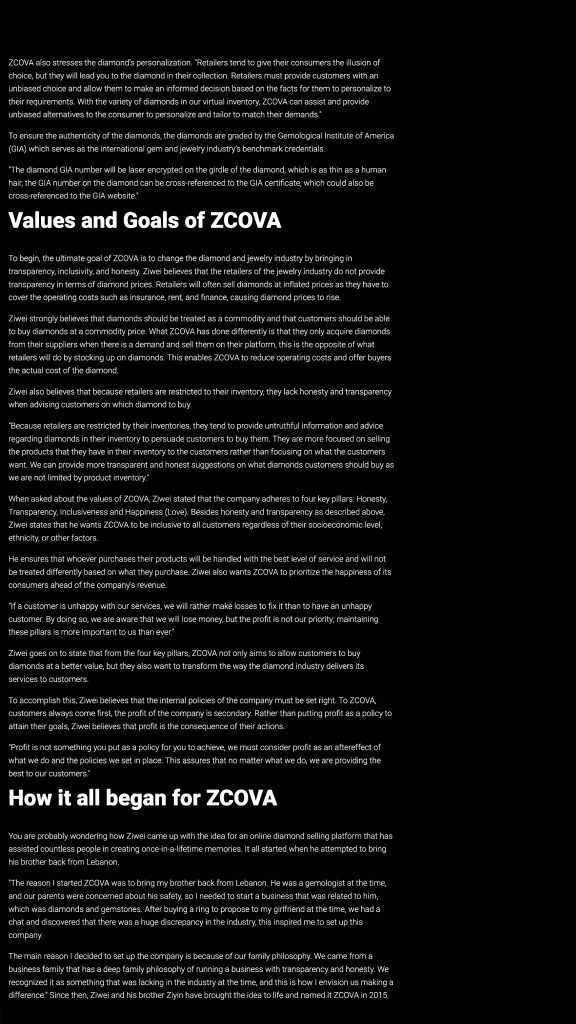 ZCOVA began as a concept by two brothers who wanted to disrupt the brick-and-mortar jewelry industry by offering personalized consultation services to customers and educating them about diamonds along the process. After seven years of hard work and persistence, they have grown to become Malaysia's largest online diamond and gemstone company. They are now setting their sights on expanding their business to other countries and eventually the whole of Asia. NEXEA's Angel Investors recently invested RM2,500,000 million in ZCOVA to assist them to get one step closer to achieving their expansion goals.
We are very fortunate to have a chat with Mr. Low Ziwei, co-founder of ZCOVA, to learn more about the values and goals of running the company as well as his story of how the company came to be.
What is ZCOVA?
Before delving into the values and goals of the company, let's first understand more about ZCOVA and the services they offer.
ZCOVA is an e-commerce company that caters to B2C (Business-to-Customer) customers by offering a selection of Diamonds, Gemstones, and Jewelry for their loved ones at a lower price than brick-and-mortar retailers.
Customers can browse from 150,000 diamonds and 100,000 gemstones in their virtual inventory, which is recognized as the largest virtual gemstone inventory in Asia, to find the shape and color of the diamond that best suits the requirements and budget of the customer.
With ZCOVA's latest AR Try-On technology, customers will be able to try on the rings anywhere and anytime. Customers can experience the feeling of purchasing a diamond ring from a physical store without having to visit one.
What distinguishes ZCOVA from its competitors is its emphasis on customer education. It is crucial to ZCOVA that consumers are educated so they know what they are getting and what they are selecting. When customers are informed, they can make better purchase decisions and have a better shopping experience.
ZCOVA also stresses the diamond's personalization. "Retailers tend to give their consumers the illusion of choice, but they will lead you to the diamond in their collection. Retailers must provide customers with an unbiased choice and allow them to make an informed decision based on the facts for them to personalize to their requirements. With the variety of diamonds in our virtual inventory, ZCOVA can assist and provide unbiased alternatives to the consumer to personalize and tailor to match their demands."
To ensure the authenticity of the diamonds, the diamonds are graded by the Gemological Institute of America (GIA) which serves as the international gem and jewelry industry's benchmark credentials.
"The diamond GIA number will be laser encrypted on the girdle of the diamond, which is as thin as a human hair, the GIA number on the diamond can be cross-referenced to the GIA certificate, which could also be cross-referenced to the GIA website."
Values and Goals of ZCOVA
To begin, the ultimate goal of ZCOVA is to change the diamond and jewelry industry by bringing in transparency, inclusivity, and honesty. Ziwei believes that the retailers of the jewelry industry do not provide transparency in terms of diamond prices. Retailers will often sell diamonds at inflated prices as they have to cover the operating costs such as insurance, rent, and finance, causing diamond prices to rise.
Ziwei strongly believes that diamonds should be treated as a commodity and that customers should be able to buy diamonds at a commodity price. What ZCOVA has done differently is that they only acquire diamonds from their suppliers when there is a demand and sell them on their platform, this is the opposite of what retailers will do by stocking up on diamonds. This enables ZCOVA to reduce operating costs and offer buyers the actual cost of the diamond.
Ziwei also believes that because retailers are restricted to their inventory, they lack honesty and transparency when advising customers on which diamond to buy.
"Because retailers are restricted by their inventories, they tend to provide untruthful information and advice regarding diamonds in their inventory to persuade customers to buy them. They are more focused on selling the products that they have in their inventory to the customers rather than focusing on what the customers want. We can provide more transparent and honest suggestions on what diamonds customers should buy as we are not limited by product inventory."
When asked about the values of ZCOVA, Ziwei stated that the company adheres to four key pillars: Honesty, Transparency, Inclusiveness and Happiness (Love). Besides honesty and transparency as described above, Ziwei states that he wants ZCOVA to be inclusive to all customers regardless of their socioeconomic level, ethnicity, or other factors.
He ensures that whoever purchases their products will be handled with the best level of service and will not be treated differently based on what they purchase. Ziwei also wants ZCOVA to prioritize the happiness of its consumers ahead of the company's revenue.
"If a customer is unhappy with our services, we will rather make losses to fix it than to have an unhappy customer. By doing so, we are aware that we will lose money, but the profit is not our priority; maintaining these pillars is more important to us than ever."
Ziwei goes on to state that from the four key pillars, ZCOVA not only aims to allow customers to buy diamonds at a better value, but they also want to transform the way the diamond industry delivers its services to customers.
To accomplish this, Ziwei believes that the internal policies of the company must be set right. To ZCOVA, customers always come first, the profit of the company is secondary. Rather than putting profit as a policy to attain their goals, Ziwei believes that profit is the consequence of their actions.
"Profit is not something you put as a policy for you to achieve, we must consider profit as an aftereffect of what we do and the policies we set in place. This assures that no matter what we do, we are providing the best to our customers."
How it all began for ZCOVA
You are probably wondering how Ziwei came up with the idea for an online diamond selling platform that has assisted countless people in creating once-in-a-lifetime memories. It all started when he attempted to bring his brother back from Lebanon.
"The reason I started ZCOVA was to bring my brother back from Lebanon. He was a gemologist at the time, and our parents were concerned about his safety, so I needed to start a business that was related to him, which was diamonds and gemstones. After buying a ring to propose to my girlfriend at the time, we had a chat and discovered that there was a huge discrepancy in the industry, this inspired me to set up this company.
The main reason I decided to set up the company is because of our family philosophy. We came from a business family that has a deep family philosophy of running a business with transparency and honesty. We recognized it as something that was lacking in the industry at the time, and this is how I envision us making a difference." Since then, Ziwei and his brother Ziyin have brought the idea to life and named it ZCOVA in 2015.
ZCOVA has since gained a huge number of consumers over the years and has started to expand its company to other states in Malaysia as well as Singapore.
Because the concept of selling diamonds online was unheard of at the time, it makes me wonder what challenges they had to face in the early stages of their business to reach this far.
"The main challenge is persuading people to believe and understand our business and its vision, this challenge is extraordinary given that we operate in a sensitive industry. We also have difficulty in obtaining finances and loans, and also obtaining a credit card, because no one believes that selling diamonds online is possible."
When asked what strategy ZCOVA used to tackle doubtful customers, Ziwei answered that it requires time and education. "Whenever a new technology is introduced, there will always be skepticism. It all comes down to education and client affirmation of our services, and it all takes time. Customers require time and gestation period to comprehend the technology and products, once they understand the technology, they will begin to trust our business and eventually purchase from ZCOVA."
Another factor that helped them was the early adopters of new technology. "We were able to provide them with quality service and reflect what ZCOVA truly stands for, and they were able to help raise awareness of our company. I want to thank the early adopters and consumers who believed in us from the start and helped us get to where we are now."
Advice for future entrepreneurs
Throughout their entrepreneurial journey, entrepreneurs have accumulated a wealth of knowledge as well as valuable experiences. When asked if he had any advice for people aspiring to be entrepreneurs, Ziwei was kind enough to provide some advice to those who want to follow in his footsteps.
"My advice for those who want to be an entrepreneur would be to enjoy your whole entrepreneurial journey. There is no point for you to get into the entrepreneurial life if you don't enjoy the journey and are constantly under pressure to make a particular profit or income. Take the whole journey as a learning process, do not be afraid to fail when you encounter problems along the road.
I feel that enjoying the entrepreneurial journey and taking in whatever the outcome is very important for those who desire to be entrepreneurs. At the beginning of their journey, when they are confronted with a great deal of difficulty, they will believe that they are unsuited for this and will give up easily. If you do not go through all of this, you will not learn and will never understand why you fail."
I think that behind every action, good or poor, there is a purpose for the decision made and a lesson to be learned.

– Low Ziwei
From the advice, Ziwei made it clear that it is ok to fail and to take it as a learning process. There will always be highs and lows in the life of an entrepreneur, but that is what makes everyone's path unique. These failures will help us to learn from our mistakes and help us become better people for the journey ahead.
One of the mentors in the Entrepreneurs Programme praised Ziwei for his desire to learn. Alan Lim, co-founder and former CEO of MediaBanc Group, told us that his motivation to learn more as a result of him spending two days attending the Vistage and the Entrepreneurs Programme.
Not only was he eager to learn, but he was also generous in sharing his knowledge with his fellow members. "He is there not just to learn eagerly, but also to generously contribute to his EP colleagues, which he does it sincerely and transparently."
When asking him about what he thinks about the growth of ZCOVA in the future he stated that the real growth of his company is yet to come. "Without a doubt, his company will continuously grow, and the real growth of his company will be in the coming years. This is because the knowledge and awareness of customers about buying diamonds online have started to develop."
It was a true pleasure to be able to have this conservation Ziwei and to understand the values he used to operate the business and how he is able to prioritize the demand of the customers above the revenue of the company is something that not all business owners can achieve. From everything that has been mentioned thus far, it is evident that Ziwei is a visionary and an inspiring entrepreneur who is passionate about his business and providing the finest service to his customers.
To find out more about ZCOVA, visit their website here to find the perfect diamond and gemstone for you.
We hope that you learned a few things through this article and feel inspired to achieve your goals in life. We at Entrepreneurs Programme wish you all the best in your future endeavors.