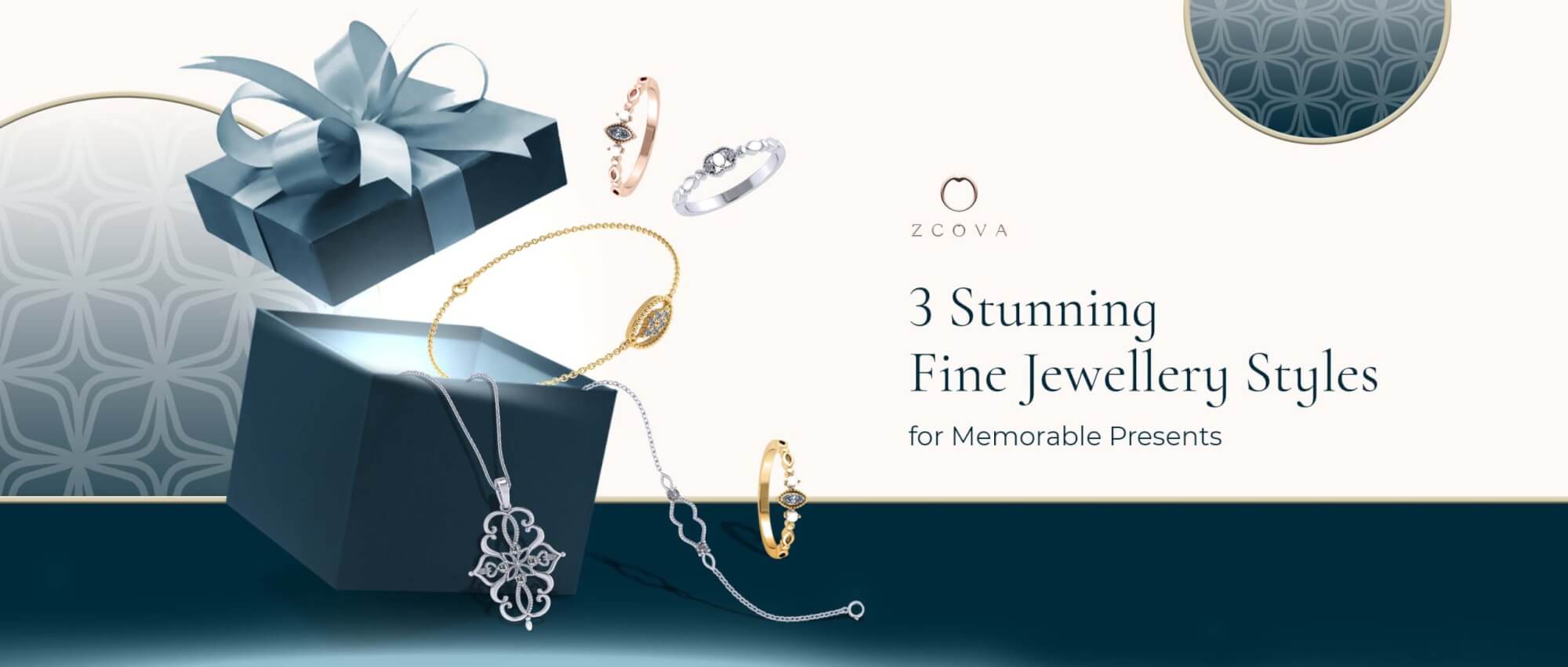 3 Stunning Fine Jewellery Styles for Memorable Presents
Gifts are a great way to express your love, appreciation, and care for the person you love, it can also symbolise how much you know about the person you're buying for or your relationship with somebody. To show that you know them well, get them a gift that is fitting, one they will live to remember, such as fine jewellery. 
Whether it's a ring, bracelet, or necklace, fine jewellery makes a great gift because it is symbolic, sentimental and timeless. Additionally, jewellery can be worn every day and is fitting for any personality. It's a gift for the present and an heirloom in the future. Read on to find out what style of jewellery will be a flattering surprise for your loved one.
Classy & Minimalist Style Jewellery
Compliment your style with a polished look with the Diamond Harmony Bracelet. It makes a perfect gift as it is very wearable, easy to match your outfit and can be worn every day. If you prefer to highlight your collarbone, the Chloe Ribbon Diamond Necklace should do the trick to flatter your features and style.
Sweet And Dainty Style Jewellery
Capturing the essence of sweetness and femininity, our collection of dainty style jewellery is perfect for those who embrace a cute and soft appearance. Among our exquisite offerings, the Luminous Pearl Diamond Necklace stands out as a marvellous gift choice, delicately designed to complement satin, lace, floral, and pastel-inspired outfits with grace.
To further enhance their ensemble, we recommend pairing our Kiss Pearl Ring, adorned with a milgrain setting and a scallop-shaped band, with our captivating Kiss Diamond Bracelet. This combination will beautifully embellish their hands, adding an extra touch of elegance and charm to their overall look.
Vintage & Elegant Style Jewellery
A vintage and elegant jewellery style represents the refined, graceful, and classic. Perfect for those with an extravagant flair, the Diamond Pearl Symphony Necklace is a Victorian-inspired necklace that is grand and delicate-looking – a splendid gift that can be adorned during fancy occasions. Infused with a captivating radiance, the Vintage Marquise Diamond Pearl Ring exudes elegance and charm. Comprising of 3-stone marquise diamonds embellished with pearls, this exquisite piece is ideal for enchanting evening dinners or dazzling night galas. The best part of this ring is it is incredibly versatile for everyday wear. Pair it with a simple t-shirt and jeans to add a touch of sophistication and elevate your look effortlessly.
By considering their unique style, you can confidently select a gift from our recommendations that reflects their personality and preferences. Regardless of the gift you choose, rest assured that it will be cherished and embraced wholeheartedly by that special someone.
To explore our extensive collection of fine jewellery, including necklaces, pendants, bracelets, and rings, please visit our website or contact our knowledgeable curators who will be delighted to assist you in finding the perfect gift.