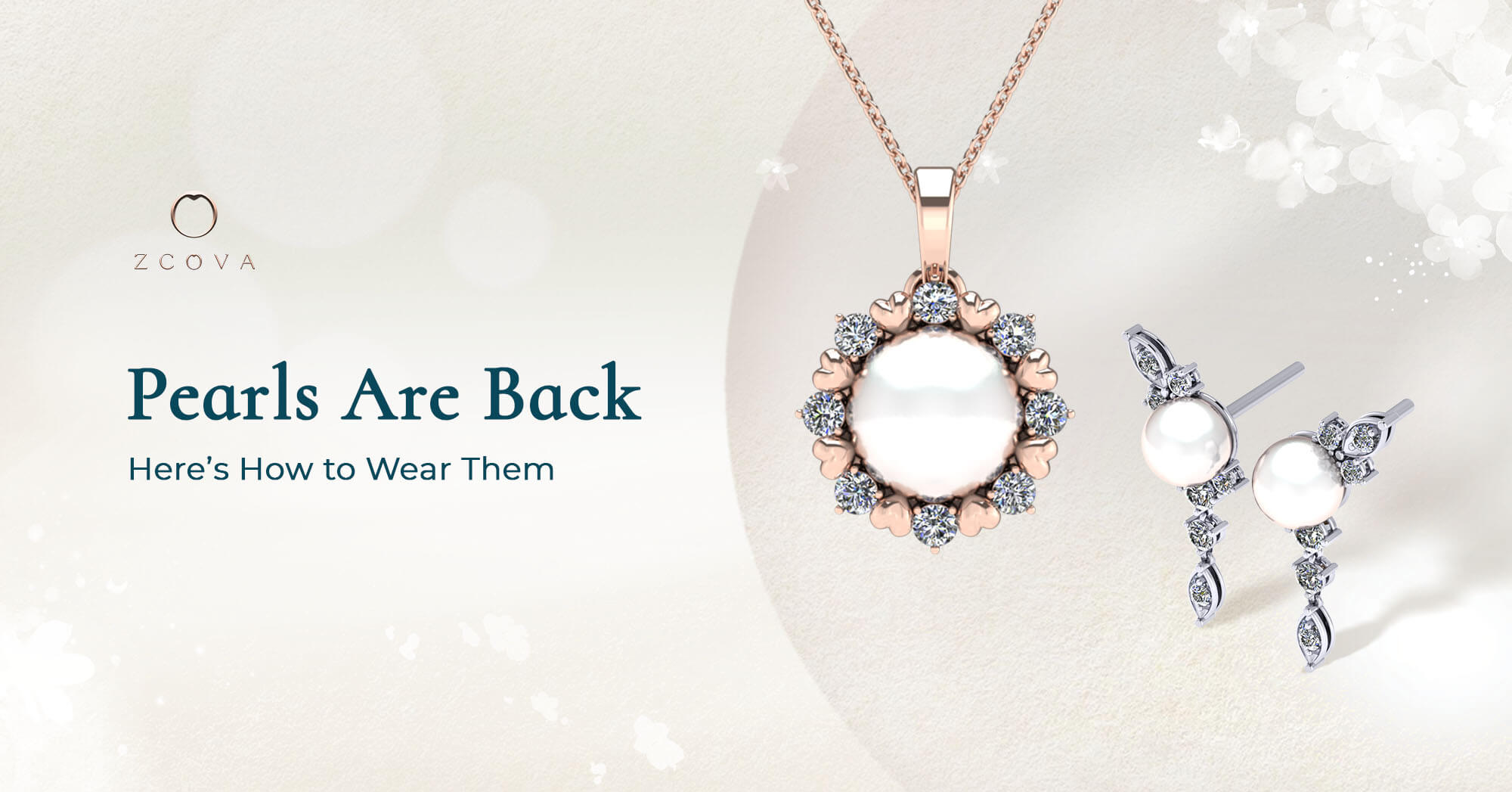 Pearls Are Back and Here's How to Wear Them
From the sea's depths, pearls emerge as timeless wonders shaped by marine oysters and freshwater mussels. Treasured for centuries, these gems epitomise elegance, gracing both historical icons like Audrey Hepburn and modern-day fashionistas. The allure of pearls is experiencing a captivating resurgence, making a popular comeback this year. With a natural allure, pearls need no refinement, earning a cherished spot in fine jewellery for their lasting grace, luxury, and elegance.
Exploring Exquisite Pearl Varieties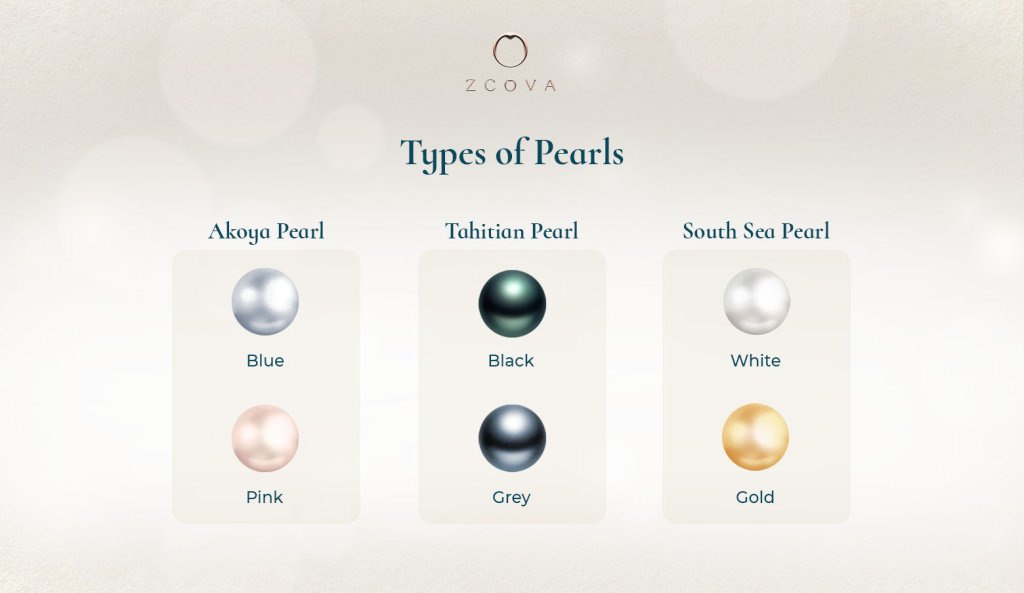 Diverse and captivating, pearls offer options for every style. Tahitian pearls, from the islands of French Polynesia, have amazing colours like deep black, blues, and greens. They're like a colourful adventure for your jewellery. South Sea pearls are from places like Australia, Indonesia, and the Philippines. They can be white, silver, or gold and have a luxurious feel.
Among them, the sought-after Akoya pearl reigns supreme, renowned for its lustre and near-perfect roundness. Cultivated across Asia, Akoya pearls have captivated generations with their impeccable shine and vibrant palette. They come in shades from classic white to soft rose, making them perfect for timeless beauty. These three types of pearls bring a whole world of options to explore.
Let's take a dive into the world of pearls and explore ZCOVA's stunning pearl collection, now available for you.
Pearl Earrings
A pair of earrings, whether subtle or bold, can transform your appearance and complete your outfit.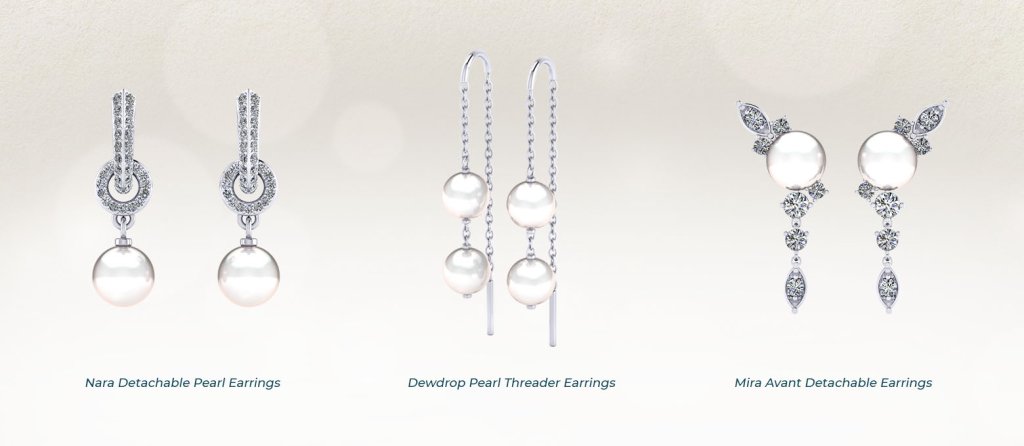 Explore ZCOVA's pearl earring collection where you'll find an array of stunning options, including the elegant Nara Detachable Pearl Earrings and the versatile Mira Avant Detachable Earrings. What sets these designs apart is not just their timeless elegance, but also their ability to transform effortlessly into stud earrings, providing you with a versatile choice that matches any outfit, whether it's a casual day or a special occasion.
For those who appreciate a minimalist touch, our Dewdrop Pearl Threader Earrings are a perfect fit. These earrings add a subtle yet captivating charm, making them ideal for dressing up your look for a night out, a cosy dinner, or a glamorous event. With ZCOVA's pearl earring collection, you're not just getting jewellery – you're getting a chance to effortlessly blend sophistication with adaptability, enhancing your style for any and every occasion.
Pearl Necklaces
Pearl necklaces add a special touch to your look. They're not only versatile but also make wonderful gifts, thoughtful tokens of appreciation, and heartfelt expressions of love.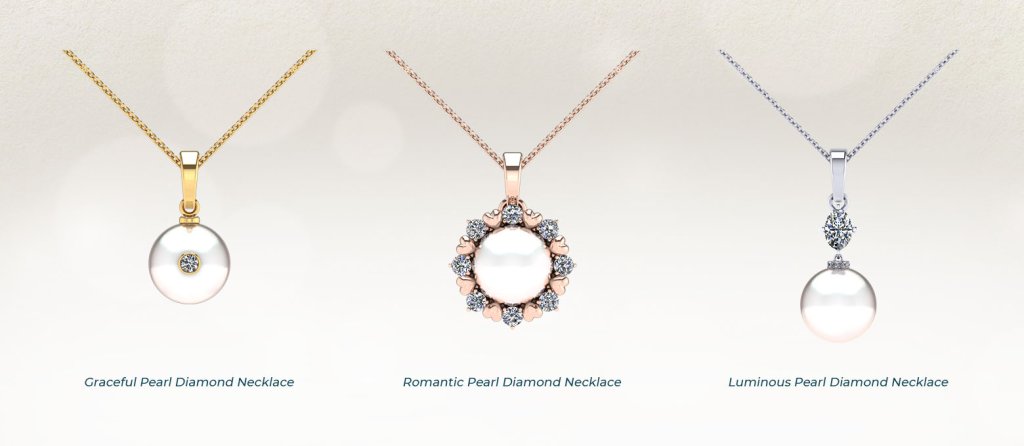 Pearl necklaces add a special touch to your look. They're not only versatile but also make wonderful gifts, thoughtful tokens of appreciation, and heartfelt expressions of love.
The Graceful Pearl Diamond Necklace exudes understated elegance, making it a timeless accessory suitable for a wide range of styles and personalities. Its delicate solitaire design, featuring an Akoya pearl adorned with a single round brilliant diamond, evokes sophistication and simplicity. This necklace effortlessly complements both classic and modern outfits, making it a wonderful gift that suits various tastes. Whether it's a cherished friend, a dedicated colleague, or a loved one, this piece reflects thoughtfulness and refinement, making it a perfect token of appreciation.
If you're looking for a gift that expresses love or gratitude, The Romantic Pearl Diamond Necklace makes a delightful choice as it captures the essence of tender affection. With its heartwarming design, an 8mm Akoya pearl encircled by a halo of eight alternating round diamonds and heart-shaped prongs, this necklace radiates an air of sweetness and charm. Ideal for those with a romantic spirit, this piece beautifully enhances feminine styles and exudes an aura of warmth. Whether given as a gift to celebrate an anniversary, as a token of appreciation for a cherished family member, or simply to convey affection, this necklace is a heartfelt gesture that will be treasured.
The Luminous Pearl Diamond Necklace merges classic grace with modern allure, appealing to those with a contemporary and sophisticated taste. Its design showcases an exquisite Akoya pearl paired with a sparkling oval-shaped diamond, all suspended from a pendant that adds movement and allure. This necklace effortlessly complements both formal and casual looks, making it a versatile and stylish accessory. Whether as a gift for a fashion-forward friend, a gesture of appreciation for a mentor, or a symbol of affection for a partner, this necklace encapsulates elegance and modernity, making it a wonderful choice for expressing love and gratitude in a unique way.
If you're curious to discover more, contact us to make your appointment and visit our ZCOVA Galeria where our expert Curators are ready to help you find the perfect pearl piece for your style and occasions.