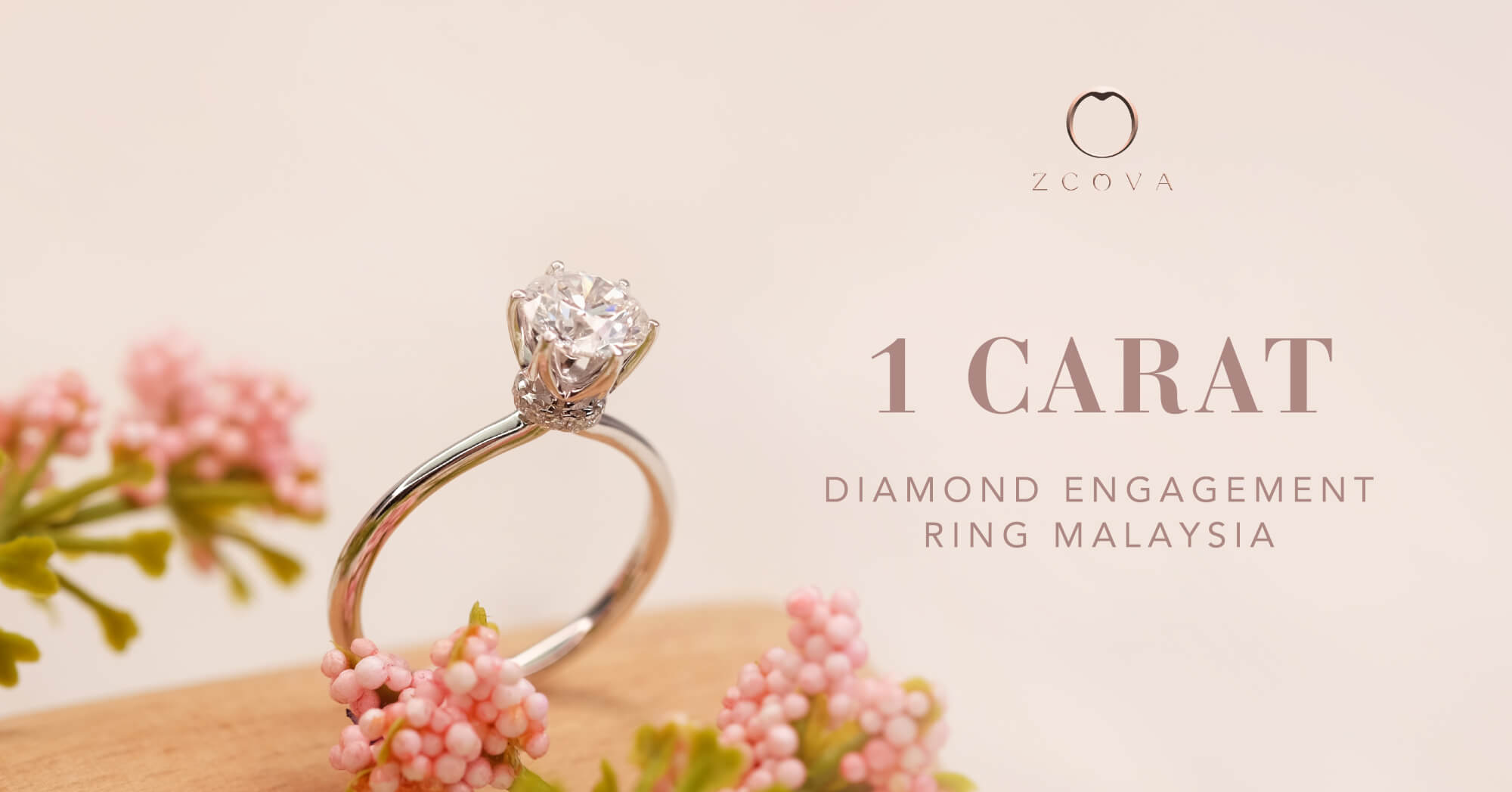 1.0 Carat Diamond Engagement Ring Malaysia
Purchasing such a big diamond is likely an emotional and important purchase to be remembered for a lifetime. It is important to make sure that you're getting the maximum value for your money when buying a high priced product like a 1CT Diamond Engagement Ring. The 1 Carat Diamond is a very popular choice for engagement rings, earrings and necklace pendants.
How to Buy a Good 1 Carat Diamond from ZCOVA's GIA Graduate Gemologist
With its beautiful size, the sparkles can be seen easily but the large size also means colour and clarity are more obvious.
Choose GemEx-certified Triple Excellent diamond to ensure it is brilliant and sparkly.
Use our 10x Magnified 360° Videos to ensure the diamond is eye clean, without obvious dark spots in the centre.
Take note that yellow colours will be more obvious.
Fluorescence in DEF colour may cause the diamond to appear milky.
How big is a 1CT Diamond?
For your reference, here is a 1CT diamond ring on hand, followed by 0.9CT, 0.8CT and so on down to 0.3CT. A 1CT diamond in other shapes such as oval and pear will appear larger due to how they're cut.
If you're still unsure about the size, you can go to our website by using our AR Try-On to visualise the diamond sizes on your hand!
How much is a 1.0 carat diamond?
The price depends on the specifications of the diamond you choose. In order for you to understand better, let me give you an example.
Diamond A: 1CT / Round / Colour E / VVS2 / 3EX with GIA Certificate = About RM45K
Diamond B: 1CT / Round / Colour H / VS2 / 3EX with GIA Certificate = About RM30K
As you can see, the price varies based on the 4Cs. At ZCOVA, we would recommend you to go nothing lower than Colour H if you're looking for a clear diamond with no yellow hue. The diamond must also be eye clean. If you're unsure, you can speak to us to get diamond recommendations.
Speak To Our Consultants!
The Best 1CT Diamond Engagement Ring Setting Designs
A 1CT diamond is already beautiful by itself so many choose a simple solitaire setting or add on side pave diamonds to keep the focus on the centre stone. Depending on your price range and preference, you can even go for a Tulip setting or customise your engagement ring for free!
1CT Diamond Engagement Ring on hand