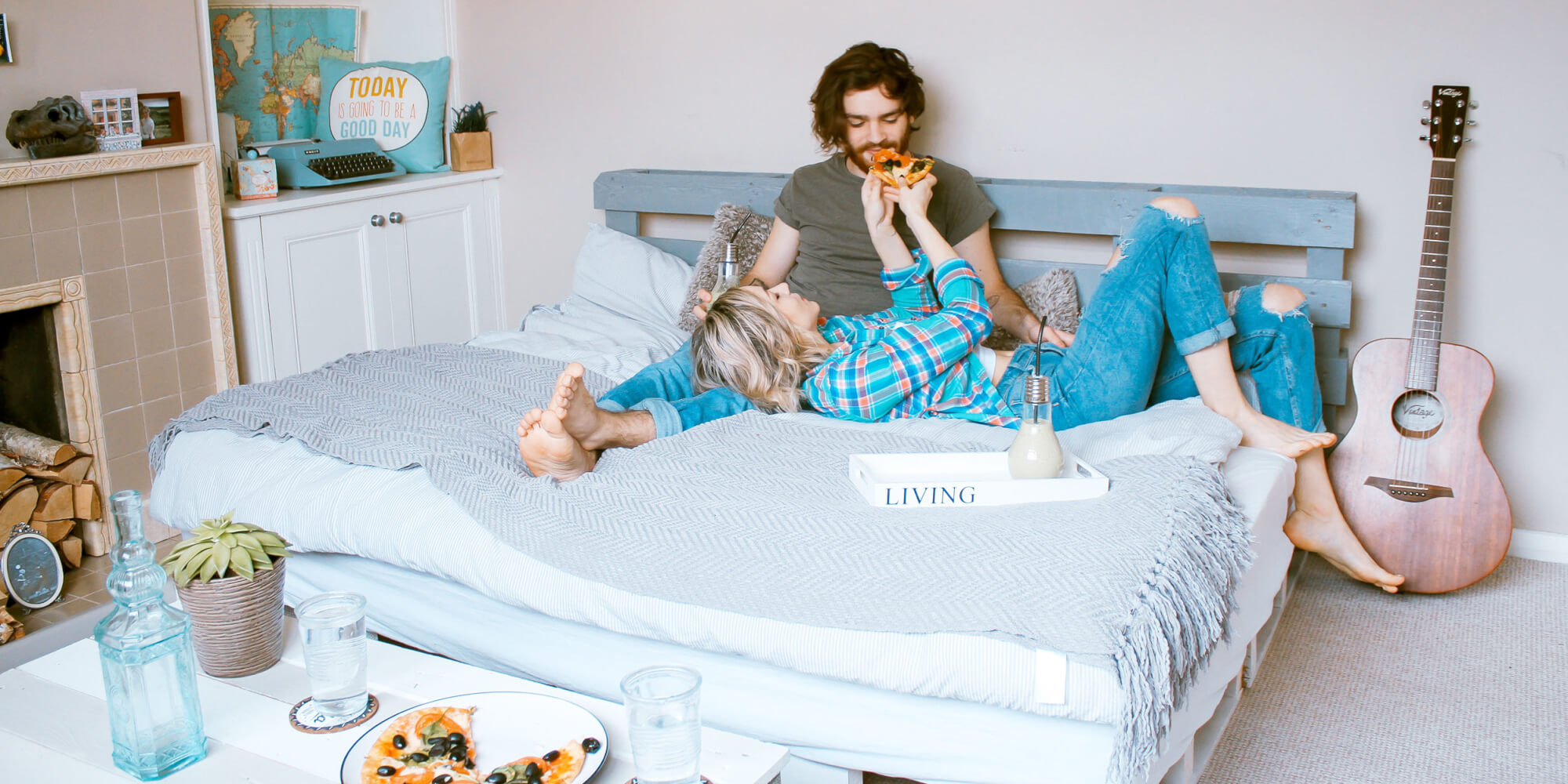 10 Indoor Date Ideas for Couples
Did you catch the MCO blues? We understand everyone's having a tough time, but let's take this opportunity to know your partner better! On normal days we're all busy away in the office. However, many of us now find that we have more time to do things that we don't normally do together. So here are some ideas for couple activities you can do with your partner while staying safe at home!
#1 Dalgona coffee battle
Let's see who makes the better dalgona coffee!
For those who don't drink coffee, you'll be delighted to know there are other dalgona drinks including matcha dalgona green tea latte, chocolate dalgona, dalgona milk tea, Oreo milk dalgona and of course our local favourite, dalgona Milo!
#2 Try out a new recipe
With many of us now cooking at home, what better time to try out a new recipe? Be it soft chewy cookies, meatball spaghetti or a delicious pizza. You can even customise the toppings so each person gets their own favourite flavours.
#3 Binge watch an entire series on Netflix. In 1 day.
Cozy up on the sofa with some snacks and pick a series (or trilogy) you both enjoy. Alternatively, you can take turns watching each other's favourite movie.
#4 Couple's tabata
It is important to stay active even when you're at home. If you're reading this from your bed, I'm talking to you! There are a large variety of workout plans online so pick one and ask your partner to join you!
#5 Couple's yoga
Need something a little less strenuous? Try out yoga poses that can be done with a partner.
#6 Home spa
Slip into pajamas, put on some music and light some candles to set the mood. Curate your own home spa experience with whatever you like. Your partner will love a warm foot soak, lavender scrub, and cucumber mask.
#7 Offline Draw Something
Remember the good ol' days of Draw Something? Switch to pen & paper instead! Use an online random word generator and have your partner guess what you're writing. Amp up the fun by adding a bottle of wine.
#8 Love note hide & seek
Write little love notes to your partner and hide them around the house for her to find. These mini confessions are bound to put a smile on her face.
#9 Tidy up
After spending so much time at home, you have probably realised some parts of your house need some serious tidying. Bring back the Marie Kondo in you and make your living space more comfortable.
#10 Create your wedding moodboard
Thinking of getting married soon? Collect photos of what you want your wedding to be like and discuss it with your partner. Together, create a moodboard of colours, locations, themes, and bridal dresses.
Psst.. Now is also a great time to figure out what kind of engagement ring she likes! Does she prefer the classic solitaire look or an extravagant diamond ring? Find out and customise your proposal ring with ZCOVA at no extra charge! If you need help with selecting or designing a ring, feel free to speak to our GIA Graduate Gemologist.
We provide 1-to-1 consultation done safely online via WhatsApp (017-367 0666 / 017-686 6693), Facebook Messenger, Call, email or Skype @zcovasdnbhd.