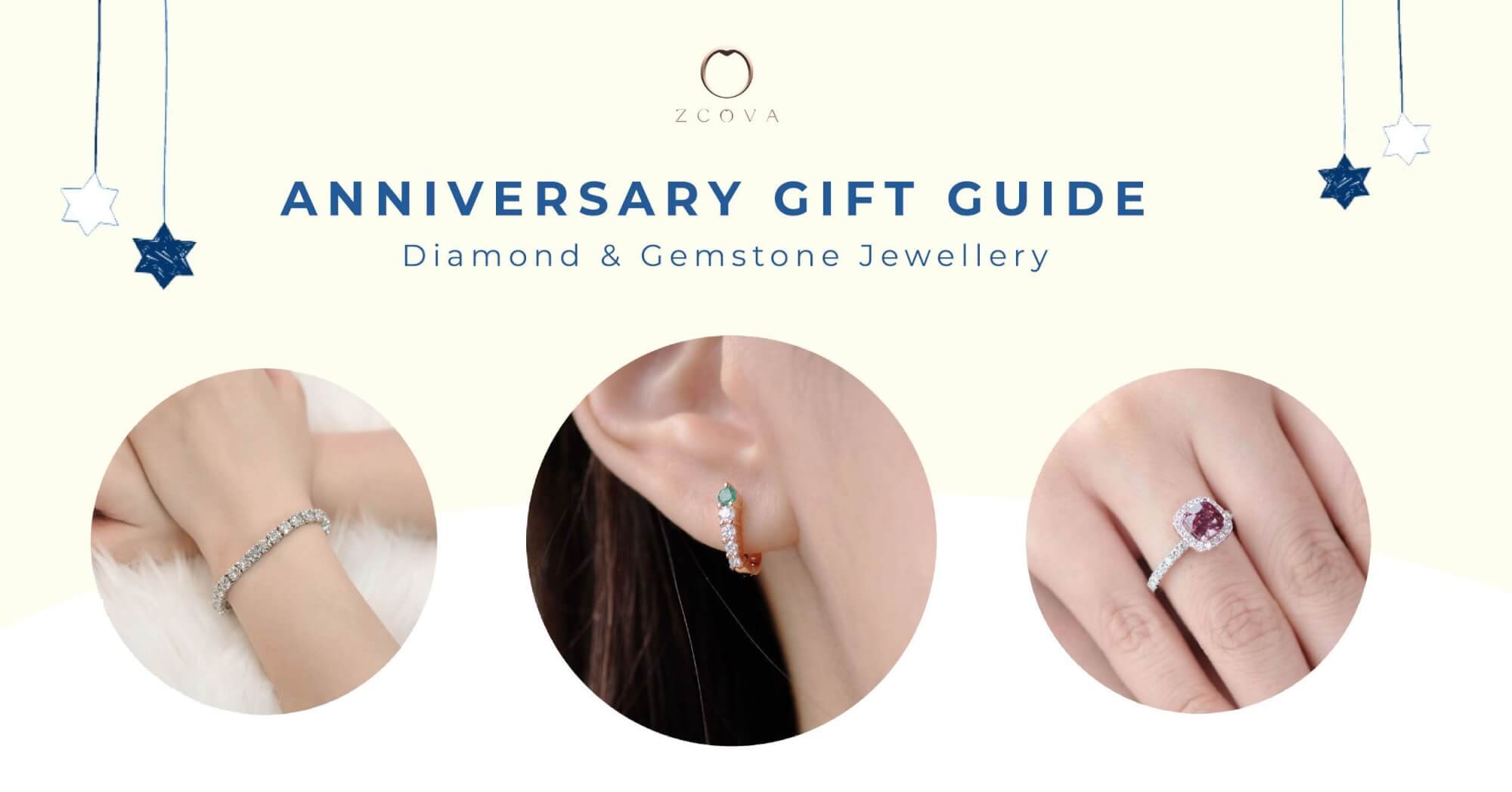 Anniversary Gift Guide: Diamond & Gemstone Jewellery
Looking for the best anniversary gift ideas for him and for her? You'll never go wrong with diamond and gemstone jewellery, everyone's best friend! Over the years, you and your partner have been through ups and downs, making you who you are today. Celebrate this milestone in your relationship with a memorable anniversary gift for your partner.
The key is paying attention to what your partner likes. You can pick from a ring, bracelet, necklace, earring or cufflinks, depending on their liking. We have put together a comprehensive guide with some gift ideas and recommendations for you!
1st Year Anniversary Gift Ideas
Congratulations, you've made it through the first year together! The 1-year mark is the most memorable milestone in a couple's life – growing close and learning more about each other. Each small step taken together deserves to be celebrated with anniversary gifts that show your bond and love for your partner.
Gifting an 18K yellow gold jewellery with a stone of your choice is the perfect way to mark the occasion. With its warm hue, gold symbolizes perfection, eternity, vitality and unification!
5-Year Anniversary Gift Ideas
An extraordinary five-year milestone deserves more thought-out jewellery! At this point, you may have made a big move and started a family with wonderful kids or taken on a great new job. Your relationship has gone through time to grow and become more mature.
The sapphire gemstone is the perfect choice for your 5th-anniversary gift as it represents royalty, nobility, trust, and sincerity. Sapphires come in most of the rainbow colours and so you can pick their favourite shade for a unique gift to your partner. Customise your Sapphire earrings, pendants or rings.
10-Year Anniversary Gift Ideas
Amazing! With your love, your marriage has lasted a full decade and you're celebrating your tenth anniversary. Loved for their long-lasting sparkle, a diamond ring, pendant, earring or bracelet is befitting for this occasion to represent your unfading love for each other.
Associated with endless love and commitment, the sparkles from a brilliant diamond reminds you of your everlasting love over the past 10 years. Not only that, you can also go for fancy colour diamonds such as pink diamonds or yellow diamonds!
20-Year Anniversary Gift Ideas
20 years and still going strong – a huge milestone that deserves a beautiful gemstone! Over 2 decades, you've built a beautiful life together and your marriage will be an inspiration to your children who are getting ready for adulthood.
Emeralds are perfect to represent your 20-year journey together as they symbolize faithfulness, elegance, prosperity, hope, and health. You can customise an Emerald ring, pendant or earrings to make your 20th anniversary more memorable!
25-Year Anniversary Gift Ideas
Did you know, the 25th anniversary is known as the Silver Jubilee – we recommend gifting silver-toned jewellery such as white gold or platinum for this occasion. White gold rings and jewellery are versatile, easy to match with most outfits. Make your anniversary milestone special by picking white gold jewellery for your significant other!
40-Year Anniversary Gift Ideas
The fortieth anniversary aka ruby anniversary is all about red because it's the colour of love! Rubies represent love, royalty, passion, nobility, fire and power, making them perfect to represent four decades of your lovely relationship of being together. A feat worth celebrating by gifting a selection of Ruby jewels such as powerful red ruby rings, earrings, bracelet, and necklace!
50-Year Anniversary Gift Ideas
The fiftieth anniversary is known as the Golden Jubilee Anniversary. It's called the golden jubilee for a reason because you have spent 50 incredible years together! Gold is the ideal symbol of a love that has lasted as long as yours. Commemorate your unending love with our range of gold jewellery! Adorn your loved one with diamonds or gemstones set in yellow or rose gold.
A gift from the heart is what matters the most, whether it's a ring, tennis bracelet, pendant necklace, or earring. These beautiful diamond or gemstone jewellery will be appreciated for years to come!
If you wish to pick a different gemstone or diamond jewellery, do drop us a message and we will be more than happy to assist you!