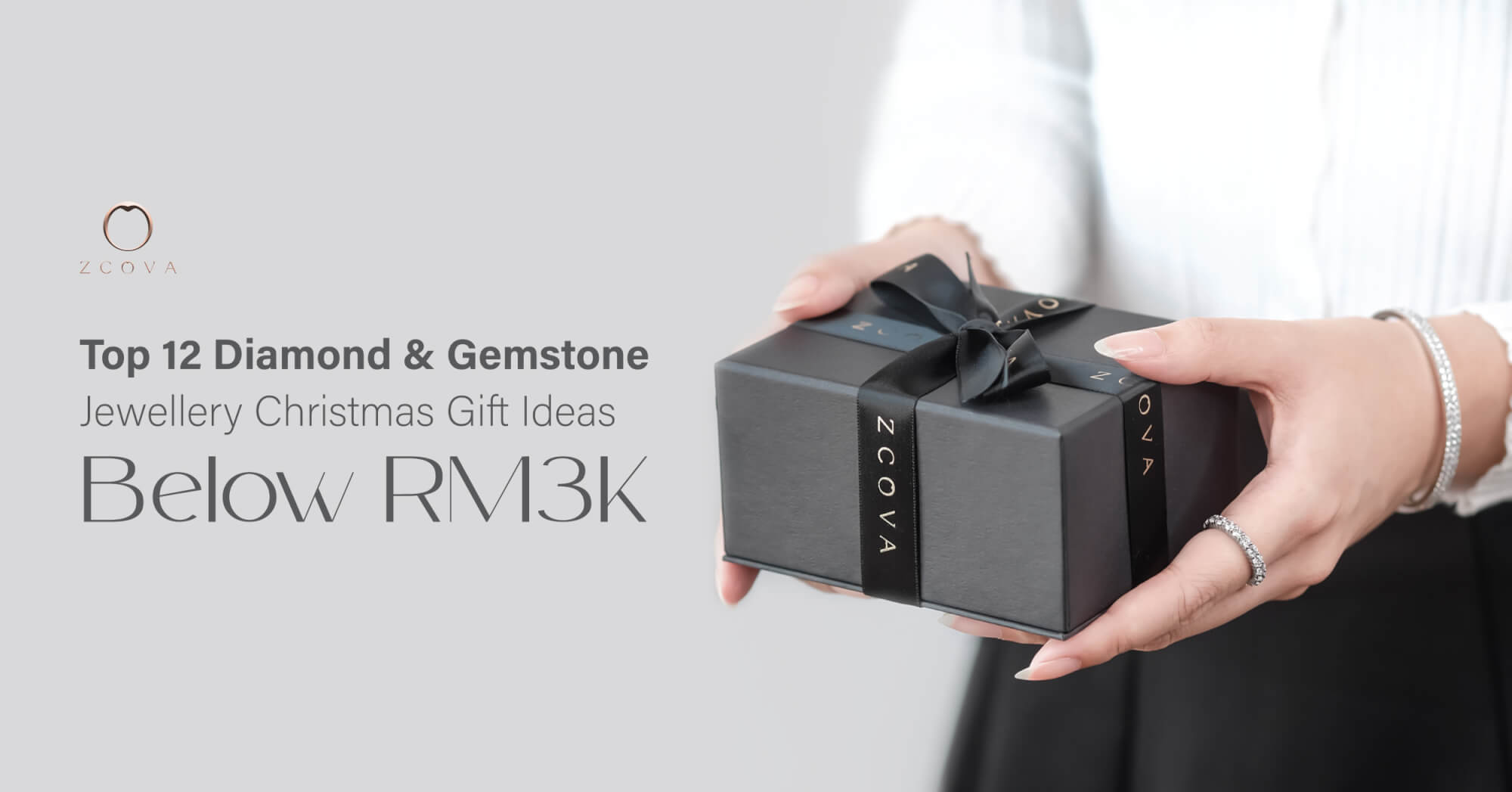 Top 12 Diamond and Gemstone Jewellery Christmas Gift Ideas Below RM3K
"Love you 3000." Make this Christmas joyful for your loved ones with sparkling jewellery under RM3K! There are many options for beautiful GIA certified diamond and ICL certified gemstone jewellery that you can go for. But what exactly can you get for RM3,000?
Christmas Gift Idea within RM3K
Ready for Christmas? With this price range, there are plenty of diamond and gemstone jewellery you can pick within RM3,000. Let's take a look at the jewellery you can get from ZCOVA!
Pendant Necklace Gifts Below RM3,000
1. Red Garnet Pendant
A 3CT gemstone with only RM3K? Yes, gemstones are generally more affordable. For this 3CT Red Garnet Pendant, it is a January birthstone that symbolises friendship, the attraction between passion and love, and helps to find true love – which is an ideal gift for someone you adore!
2. Astrid Diamond Necklace
Spread some Christmas cheer with this charming pendant! This beautiful snowflake pendant has 7 small diamonds and dangles from a delicate 18K gold chain. Celebrate this Christmas with this snowflake diamond necklace to bring the festive spirit into their hearts!
3. Gemstone Pendant
Can we all take a moment to appreciate these beauties? It's the time of the merry season to pamper yourself or appreciate your loved ones by gifting them a gemstone pendant to add some colour to their Christmas holiday!
There are many choices under RM3K to choose from – Ruby, Emerald, Blue Sapphire, Pink Fancy Sapphire, Yellow Fancy Sapphire, Tourmaline, and more!
4. Fancy Shape Diamond Pendant
Dazzling your way through the holiday season with a sparkling diamond pendant is always a good idea. Choose from a glittering pear, oval, princess or emerald cut diamond in white gold, yellow gold or rose gold!
5. Customised Name Necklace
Personalised gifts are especially meaningful and are the best way to show thoughtfulness and beauty in a single accessory! You can customise his or her name to embrace this season with the gift of love!
Bracelet Gifts Below RM3,000
6. Anna Bracelet
Make her Christmas even sweeter! To get this simple yet elegant bracelet within RM3K, you can pick between choices of Princess cut, Pear cut or Emerald cut diamond that sits in a bezel. It's a minimalist bracelet that is suitable for daily wear. The receiver of this gift will definitely think of you every time she wears it.
Earring Gifts Below RM3,000
7. Dewdrop Pearl Earring
Perfect to complement your outfit when you dress up on this special day and special moment. An 18K gold threader earring adorned with 2 pretty freshwater pearls to give an effortless look to any outfit! Gift this to someone special to celebrate this jolly day.
Gold Fashion Ring Gifts Below RM3,000
8. Single Baguette Flat Band
Treasure your family or friends with this beautiful Baguette Diamond Band in 18K gold. The center diamond is a unique thin elongated shape that adds a sparkly touch to this modern look. Whether you're getting it for your dad, brother, son, husband or friend, it is the perfect present this Christmas!
9. Vito Band
Guys deserve a little bling too! This design includes two brilliant round diamonds set on a square rectangular band to create a bold look. A contemporary design ring for him!
10. 2mm Half Eternity Ring
Minimalist yet classy. This 18K gold band is mounted with diamond pave covering half of the band. If she likes something simple and elegant, this ring is just perfect for her!
11. Alphabet Ring with Diamond
Keep your loved ones closer to your heart. You can choose any alphabet of your choice to gift this to someone you adore the most. The brilliant round diamond at the end of the band adds a touch of sparkle to your overall look!
12. Pave Diamond Name Ring
If you're looking for a ring that shows off her sophisticated sense of style, you can go for this sparkly customised name ring. Personalise it with her initial or name in shiny pave diamonds. Pamper your sister, daughter or friend by getting this ring to celebrate the Christmas season.
At ZCOVA, there are more jewellery to fit any price range. If you're looking for something else, feel free to have a look at our collections or speak to us for recommendations! We would love to make your Christmas a memorable one. Happy shopping and Merry Christmas!