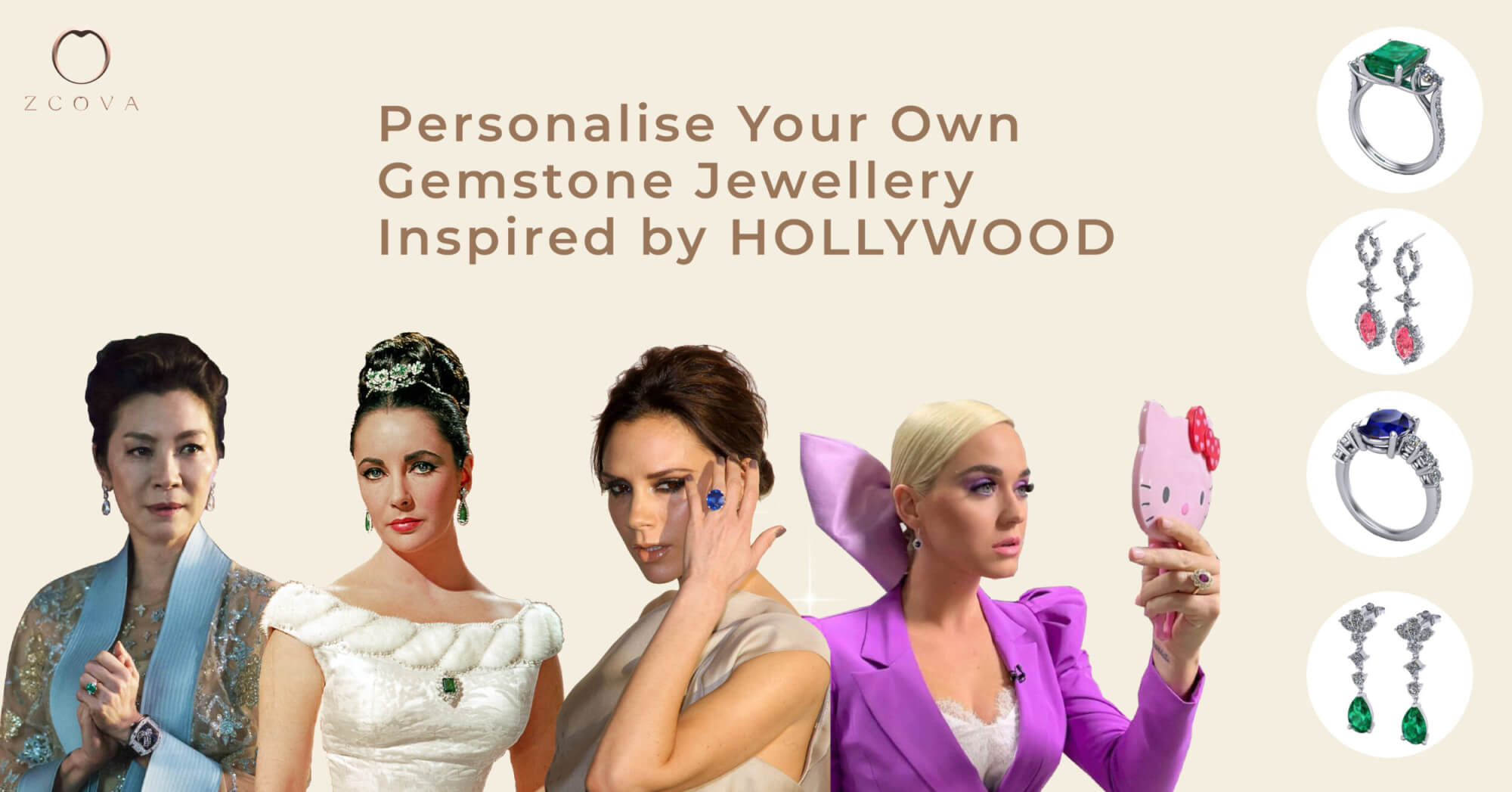 Personalise your own Gemstone Jewellery Inspired by Hollywood
Oh, the excitement in the air whenever awards season is in! We can't deny all eyes are on the show-stopping outfits and glorious jewellery worn by the stars as they grace the red carpet.
Does a particular piece of jewellery immediately come to mind? Let's take a look at some of our favourite celebrity jewellery and how you can get the look with these dazzling gemstone beauties from ZCOVA.
Elizabeth Taylor's Emerald Gemstone Jewellery Collection
Elizabeth Taylor was an avid fan of beautiful jewellery and often flaunted extravagant pieces such as these divine earrings, made with two pear-shaped Emeralds weighing a total of 20.64 carats! The actress wore them to a party thrown in honour of actor Kirk Douglas, star of the film 'Spartacus', in 1961.
Instead of a diamond halo, ZCOVA's design features a 0.6CT teardrop Emerald dangling from a chain constructed from a medley of diamonds. This created a trendier, casual appearance as opposed to Elizabeth Taylor's extravagant look. To pair with the earrings, here's an equally stunning 3CT Emerald halo engagement ring, designed to make you stand out.
Michelle Yeoh's "Crazy Rich Asians" Emerald Ring
Bet you've seen this iconic ring worn by Michelle Yeoh in the movie "Crazy Rich Asians" but here's the plot twist! It's not a movie prop. Before filming, the production crew actually prepared a ring to be used in the movie but Michelle did not like it. Instead, she offered to use her own 2.84CT Emerald Gemstone Ring.
Maintaining the 3-stone look, ZCOVA has chosen to flank the 3CT center Emerald with two oval side diamonds instead of the original pear shape. Emerald gemstones are stunning in any design, especially when you use a Colombian Emerald with a vivid bluish green colour. The Emerald is very much a star here like the Crazy Rich Asians.
Katy Perry's Amethyst Earring and Ring
Gemstones come in a huge variety of colours including every colour of the rainbow and more, making them perfect for any outfit! Here, Katy Perry has donned a bright purple outfit with purple makeup, completing her ensemble with a pair of purple Amethyst Gemstone earrings and a purple Amethyst cocktail ring.
Instead of the original amethyst, ZCOVA recommends a pair of 3.8CT vibrant pink spinels to represent Katy Perry's lively personality. The design itself is adventurous and bold with a total of over 13 carats of diamonds.
Victoria Beckham's Sapphire Engagement Ring
While it is not uncommon for socialites to collect branded handbags, Victoria Beckham's collection of engagement rings takes the cake. Throughout their marriage, she has received up to 14 engagement rings from her husband, David Beckham. In 2010, Victoria was spotted wearing this breathtaking oval-shaped Sapphire ring which ZCOVA's gemologist estimates to be a whopping 15CT.
Don't be jealous of Victoria's blue sapphire engagement ring as ZCOVA can customise your dream engagement ring for the flashy bride-to-be! They've set a vivid 4CT Sri Lanka Blue Sapphire on a band full of diamonds that is stunning from every angle.
As the second hardest stone in the world after diamonds, sapphires are durable and suitable for jewellery that you plan to wear everyday. Sapphires are often set into fashion rings, earrings, pendants, necklaces, tennis bracelets and more.
Check out Asia's Biggest Virtual Gemstone Inventory on ZCOVA's website and discover how you can create your own dream jewellery.
Browse Our Gemstones!