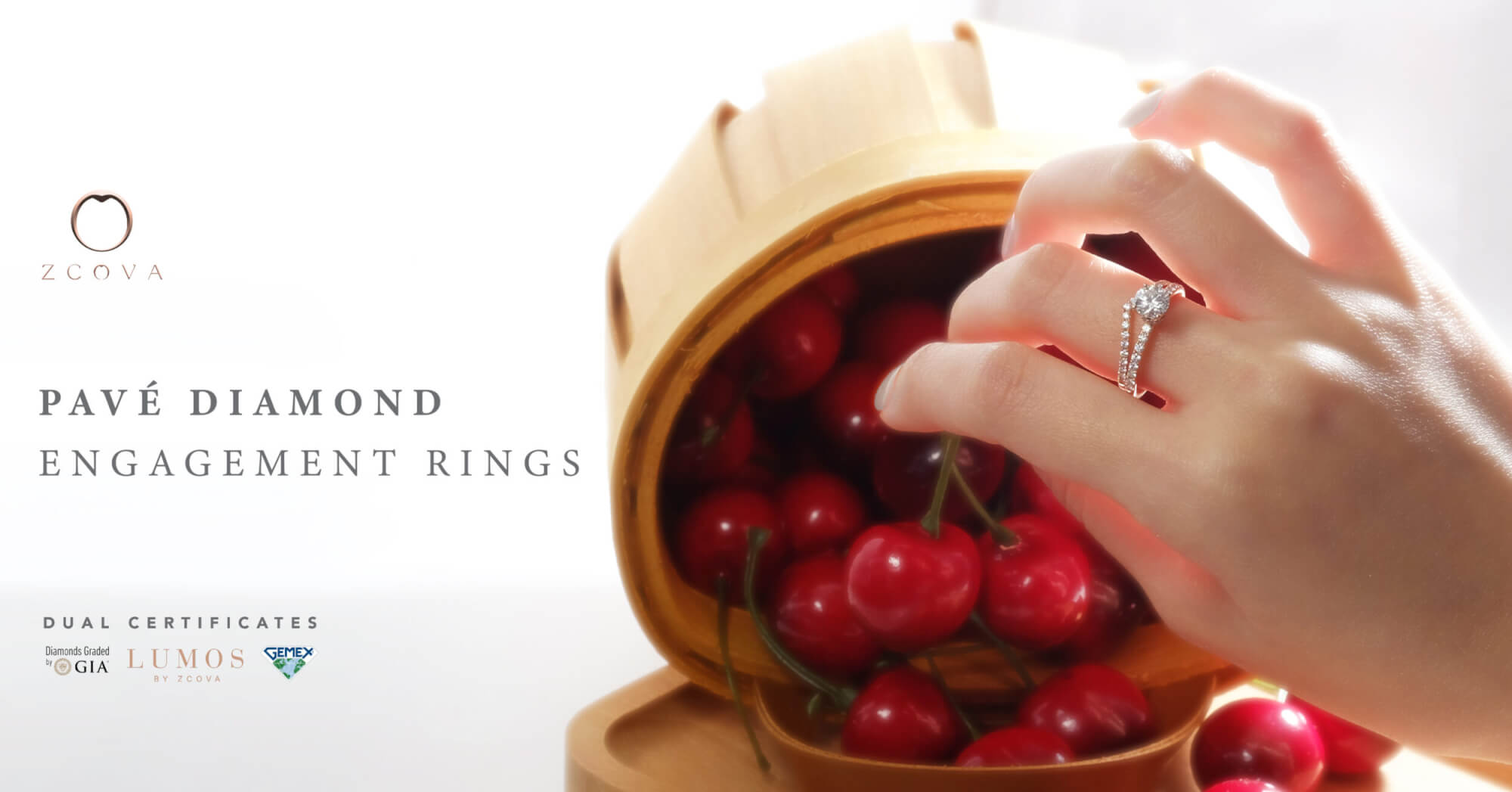 Pavé Diamond Engagement Rings: Best Designs & Settings
What is a Pavé ring setting?
Pavé (pronounced as Pah-Vay) comes from the French word "to pave". The Pavé ring setting is where small diamonds or gemstones are embedded on the band to create a continuous row of sparkles. The Pavé diamonds are held securely in place with metal prongs or beads. It is commonly used for engagement rings and even wedding bands like our Eternity Bands.
Different types and styles of pavé settings
What is the difference between Pavé and Micro Pavé?
The main difference lies in the size: The size of Pavé diamonds is 0.01-0.02 carats while micro pavé is smaller. Pavé setting is a great choice for more sparkle as you can create bolder looks that offer a glint of detailing and sparkle. A Pavé also features more visible prongs and can hold heftier diamonds than a Micro Pavé setting.
On the contrary, micro pavés are less dramatic and more demure. Both are beautiful ways to incorporate intricate details and add interest to a ring, but it all depends on your budget. Micro Pavé designs are more expensive than Pavé due to the amount of work needed. If you want this setting but don't have a larger budget, you can go for the more budget-friendly Pavé engagement ring!
Types of pavé setting
French Pavé Setting
This type of setting is often seen in antique style rings. It is called the French Pavé setting. As you can see, it incorporates a "U" and "V" underneath each diamond which allows more light to hit them from the sides to maximise the sparkles. The diamonds appear to be set next to each other, with almost no visible metal and little to no metal holding them in place. This style is unique in a way that it combines elements of engraving work and diamond setting, creating an interesting texture.
The details of French Pave Engagement Ring Setting
Channel Pave Setting
This type of Pavé creates a bright and clean look and it is the most classic setting. It is named because it is formed by two metal walls to keep them in position within the band. One main benefit of this setting is that it protects them from unnecessary impact and keeps them safely ensconced within the metal walls. However, if you compare it with other pavé designs, this setting will reduce sparkle and has a higher metal to diamond ratio. If you're looking for a more vintage-looking design, this setting will be the right one for you!
The details of Channel Pave Engagement Ring Setting
Shared Prong Pave Setting
The shared prong setting takes responsibility to secure and hold the small diamonds in place, with each prong holding two diamonds. This is a beautiful setting as it shows off a diamond to the fullest and minimizes the presence of metal which allows more light to enter into each diamond and leads to more sparkles.
The details of Shared Prong Pave Engagement Ring Setting
Pave engagement ring styles
Pavé Engagement Ring
A regular pavé engagement ring consists of a band of precious metal set with a complete loop of diamonds. The ring's endless circle of diamonds symbolizes never-ending love. This type of ring setting offers an extra sparkle to your centre diamond.
It is also commonly used for wedding bands where it comes in different designs to pair with your engagement ring: regular Eternity Band or Eternity V Band for engagement rings with low settings. It comes in different widths and the most common width for eternity band design is 2mm.
Crossed Shank Pave
This setting comes with a unique design, which is a popular choice amongst the ladies. It features two rows of Pavé diamonds with a unique Crossed Shank. The setting gracefully holds a stunning diamond of your choice placed in the centre, flanked by a series of sparkling pavé diamonds beautifully embedded on the crossed shank of the ring, giving it an elegant and stylish appeal. It will look amazing on your bride-to-be's finger and it will be a gift that she will never forget! You can customize this ring and make it truly hit your heart with the help of ZCOVA to create the right ring for you!
Twisted Pave Diamond Engagement Ring
This setting design features a beautiful centre stone that is held in a secured setting. To complete the look, you can add stunning features with a twisted band of Pavé sets. The ring can either intertwine in a few select spots or the ring can have a tightly wound band. There are many ways to design twisted band engagement rings. You can customise it to how you want it to be!
Triple row micro pave diamond engagement ring
Micro pavé refers specifically to very small diamonds that create a feminine shimmer for extra sparkle. This setting can be done in 3 or 4 rows and is suitable for someone who wants to have a little more brilliance to their ring without detracting too much attention from their centre diamond. Triple row micro pavé is more expensive than the single pavé rings as it involves more work and labour. While it will cost you more, you certainly get what you pay for!
Pros and Cons of the Pavé Setting
Benefits of pavé setting
A Pavé setting elevates a simple band into something extra special. Many of our customers upgrade their engagement rings with a Pavé for extra brilliance. It helps to draw more attention to the centre stone and adds ample sparkles to your ring.
When the ring features a Pavé on the band, it draws the eye towards the stone. If you want your centre stone to look even bigger, choose a thin ring band for your pavé setting! There is a huge difference between having a plain band and a pavé band. It gives an elegant and classy look to the overall design.
Disadvantages of pavé setting
A Pavé setting is typically a more expensive type of setting, although it depends on the size of setting and the amount of Pavé used. Comparing a plain band with a Pavé ring band, having diamonds on your band will be more difficult when resizing it, so it is important to get the right ring size from the start!
Besides, you might need to ask for more tips from jewellers on cleaning and maintaining your Pavé ring as there are more grooves and hidden areas where dirt could be lodged. You may need to clean your ring more often to maintain its beauty.
Pavé settings come in many different variations and any band can be customized to your liking. Do you want to customise your ring? Speak to our GIA Graduate Gemologists to choose your favourite Pavé setting design! Drop us a message on our Facebook Page or email us at service@zcova.com.