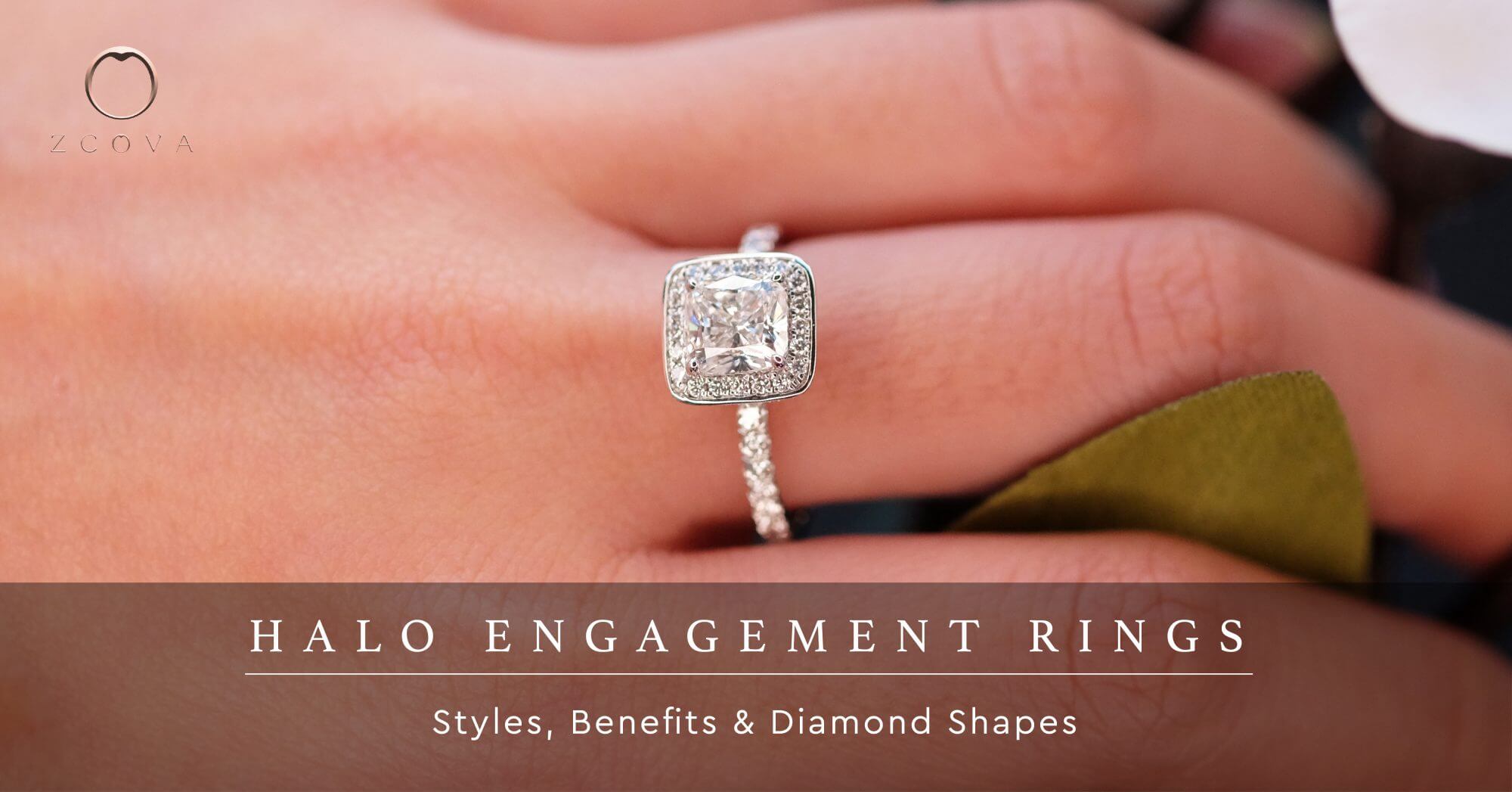 Halo Engagement Rings: Styles, Benefits & Diamond Shapes
What is a Halo Engagement Ring?
A Halo Diamond Ring is a setting that encircles the center diamond with smaller round pavé diamonds. Customers love the halo setting as it makes the center diamond look enormous, almost half a carat larger at times! It is an easy and affordable way to make your diamond appear bigger without increasing the carat weight. The setting of a Halo Diamond Ring also gives it a bright sparkle that can be seen from a great distance.
Different types of Halo Engagement Ring
Even though the Round Diamond is the most popular choice for Halo rings, there are many other options available to choose from. Let's take a look at the types of Diamond Halo Engagement Rings:
Each shape holds a unique appeal and comes with its own characteristics. And yes, you have a lot of room for personalization. First, choose your favorite diamond shape and carat size for the center stone. Then choose 18K white, yellow or rose gold for your band (or you can go for mixed metals). You can even pick pavé or without pavé for your band.
Best diamond shapes for halo rings
You can set virtually any diamond shape into the halo setting. The round, cushion and pear diamond shapes are very popular choices for halo engagement rings.
Benefits of Halo Engagement Ring
Diamond appears larger – One of the most appealing aspects of Halo Diamond Engagement Ring is that it can make the center stone look much bigger (about half a carat larger!).
Cost-effective – Like pavé, halo settings use smaller diamonds that cost much less. This can help you save money on the center stone as you do not have to purchase a large diamond. They're easy to add into your budget and price range, allowing you to buy a ring that appears larger without breaking the bank.
Versatile – The setting is so versatile, you can place virtually any kind of diamond or gemstone in the center of the halo ring. No matter what carat diamond you're getting, the Halo setting will always make it look enlarged and enhanced.
Extra sparkle – Lastly, customers love that the diamond halo gives extra brilliance all round! As the light bounces between the center stone and halo diamonds, it creates a blinding sparkle.
Customise your Halo Engagement Ring
At ZCOVA, we provide free customisation, render and 3D printed rings for your bespoke Halo engagement ring. Although diamonds are very popular, there is an increasing number of people opting for Gemstone Rings using tourmaline, aquamarine or even pink spinel.