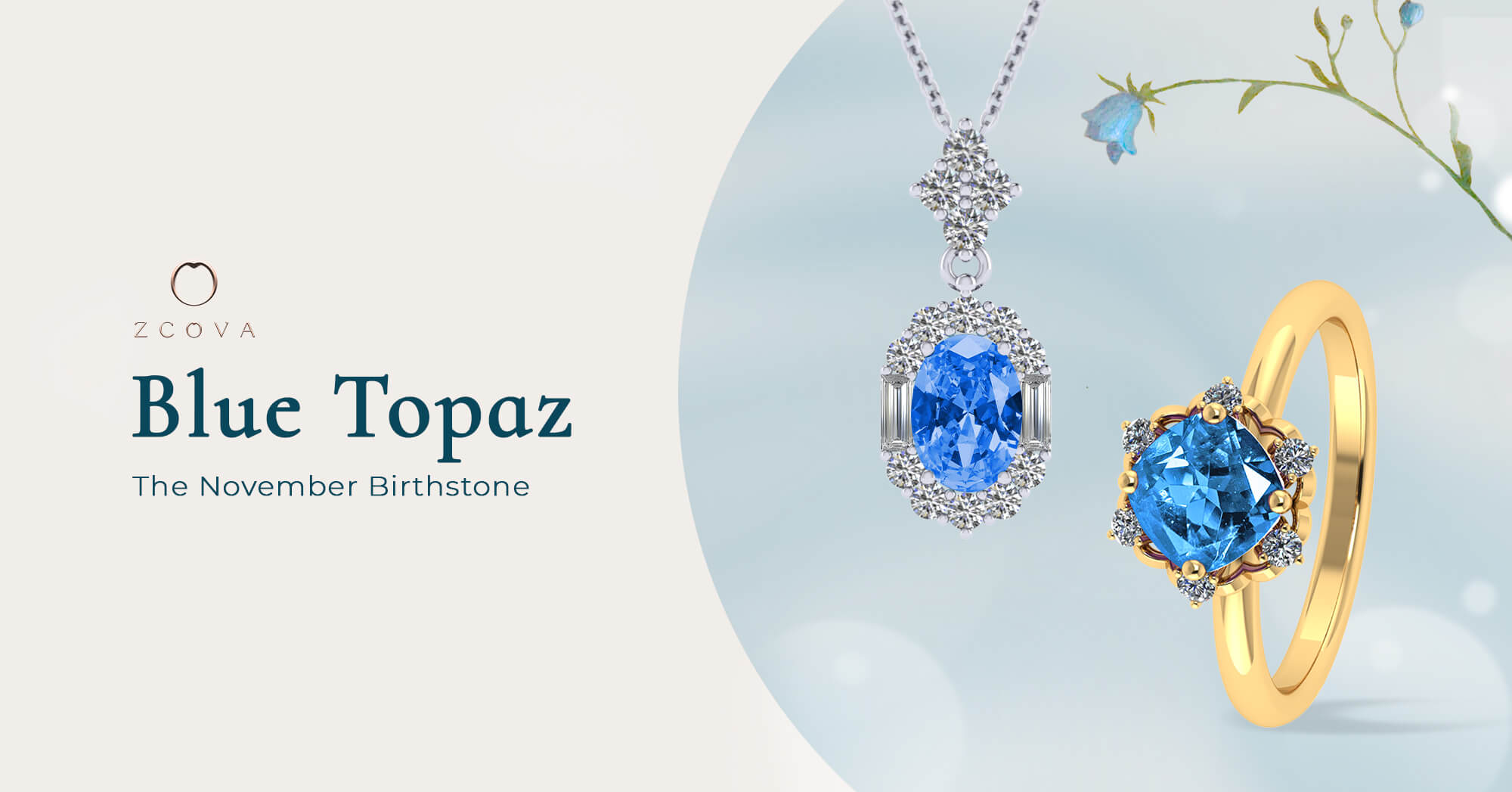 Blue Topaz: The November Birthstone
Blue Topaz known as the "cooling crystal" was believed to cool down hot water in ancient times. The name "Topaz" was derived from the Island of Topazios in the Red Sea which is noted as the source of Topaz and is now currently known as St. John's Island or Zabargad Island. 
Depicted as a gem of peace and healing in mythology, the Romans believed it could bring reconciliation and protection from danger to whoever that wears it. Additionally, It is also gifted as a present on the 16th wedding anniversaries among married couples. 
Where is Blue Topaz found?
Blue Topaz was found in the year 1960 in Minas Gerais, Brazil and can be found in other locations such as Texas, United States where it is recognized as the state's gem; Madagascar, Sri Lanka, China, Russia, Mexico and more. 
What is the symbolism of Blue Topaz?
Associated with positivity, honesty, calmness, and clarity, Blue Topaz is said to bring truth & wisdom and balance to the body, mind, and soul of its wearer. The colour blue is a relaxing and calming colour that symbolizes serenity, stability, inspiration, or wisdom.
What month is Blue Topaz birthstone?
This gemstone belongs to the birth-month of November together with Citrine. 
What are the colours of Blue Topaz?
Blue Topaz appears in a range of blues such as sky blue, baby swiss, swiss blue, and london blue, the most popular and desirable shade which is a deep blue-green shade. 
Is Blue Topaz suitable for everyday wear?
An 8 on the Mohs scale of hardness, Blue Topaz is a tough stone which can be worn daily with carefulness. 
What is the best shape for Blue Topaz stone?
If you are looking to wear a Blue Topaz stone, the best popular cuts are a round brilliant cut, an emerald cut, and an oval cut. For jewellery settings, the most prominent and fashionable colour is white gold which adds to the stone's bright, cool, and elegant appearance. Yellow gold and rose gold setting can be used to add contrast to the stone to make the colour appear more eye-catching. Furthermore, a halo and pave jewellery setting is popular with a Blue Topaz stone. 
Can Blue Topaz be used in other types of jewellery besides rings?
Blue Topaz can be used for various pieces of jewellery such as Blue Topaz engagement rings, Blue Topaz necklaces, Blue Topaz stud earrings, and Blue Topaz bracelets among others. 
Blue Topaz Jewellery Styles & Inspiration
Looking for some Blue Topaz jewellery inspiration and styles? Here are some jewellery inspo from us featuring the shade of Swiss blue. Contact us to design your own clean and elegant Blue Topaz jewellery now.