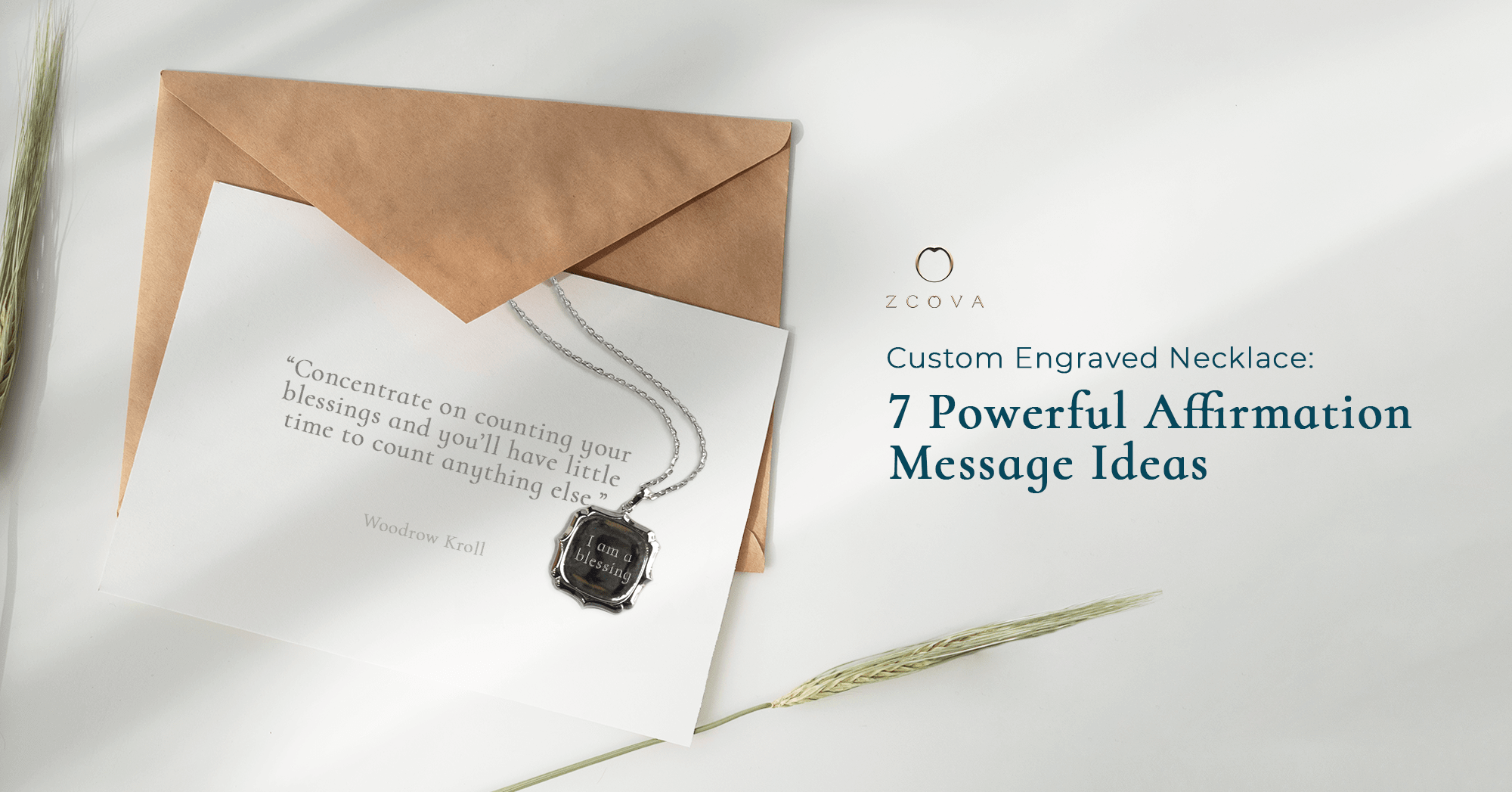 Custom Engraved Necklace: 7 Powerful Affirmation Message Ideas
Engraved jewellery isn't exactly new, it has been popular among lovers and friends who would engrave their initials onto necklaces, rings or bracelets for a personalised, symbolic, and significant gift.
Initials and images aren't the only things you can engrave onto your bracelet or necklace, you can also inscribe self-loving affirmations onto your jewellery. Affirmations are a great way to remind yourself of the amazing things you are and the great things you can do. If things start to look gloomy, repeating affirmations to yourself can shift your outlook on life to make you see the brighter side and feel uplifted.
So let your jewellery speak for you with these 7 encouraging and positive affirmations.
What word do you engrave on a necklace?
1. "I am strong & confident."
This one is great for reminding yourself that you're capable of anything and everything in life, even when challenges come your way and for when you're feeling timid in overwhelming situations.
2. "I am calm and at ease."
If you're feeling stressed, anxious, and running through so many emotions this affirmation will help you quiet down your inner self so you will feel peaceful.
3. "I am worthy of good things."
Sometimes when you're feeling down it's easier to feel discouraged but use this affirmation because you're worth every second and you deserve good things coming your way.
4. "I am a blessing."
This affirmation should serve as a powerful note of your existence in this world. You're a blessing to not just everyone and everything around you but to yourself!
5. "I love myself."
An affirmation that will help you develop a good relationship with yourself so that you will love, appreciate and take care of yourself the same way you would for the people you love the most.
6. "I am surrounded by love."
This affirmation will remind you that no matter what happens in your day or week, there will always be people who love and support you–even if they aren't physically present at the moment!
7. "Today is a new day."
A great affirmation that lets you know you have a fresh start every time a new day dawns so don't dwell on the past and your past mistakes, you have a new day and a new chance to make things right and to live how you want to live.
These are a list of our top affirmations but you can also create your own; making affirmations is like writing and sending a love letter to yourself. Be kind, and encouraging, and tell beautiful truths.
How can I customise my affirmation jewellery?
ZCOVA allows you to personalise an eternal love letter to yourself with our custom jewellery and engraving service so you can always wear your heart around your neck.
Contact us to start creating your own custom engraving affirmation necklace or jewellery today.