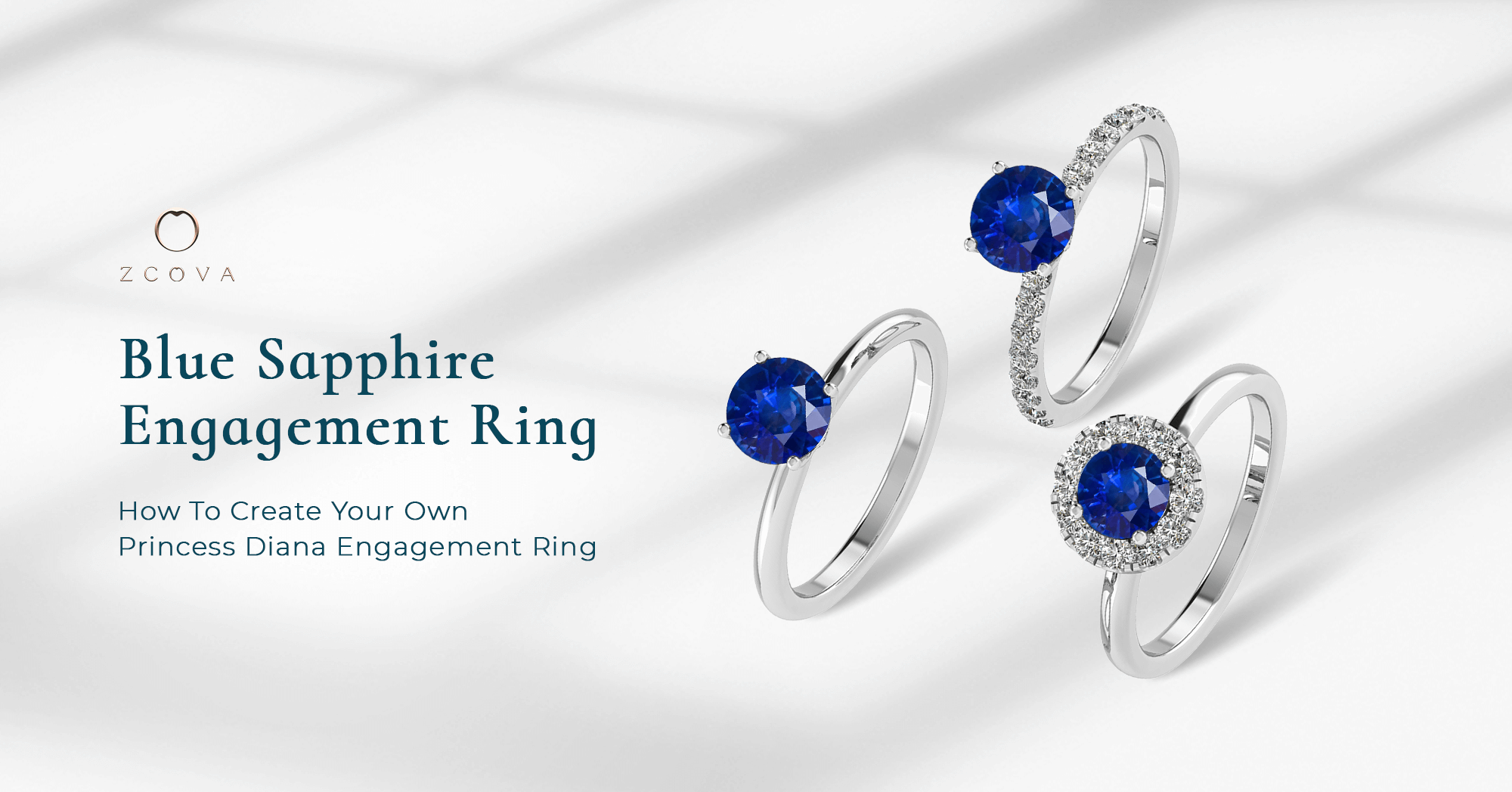 Blue Sapphire Engagement Ring: How To Create Your Own Princess Diana Engagement Ring
If you're planning on straying from the typical diamond engagement ring, we recommend opting for a Sapphire gemstone. This most famous engagement ring style is uniquely beautiful because its stone possesses a blue that is alluring and it comes in various colours and shades.
Wondering if a Sapphire engagement ring is the right fit for you? Let us answer some common questions asked.
Are Sapphires Suitable for Everyday Wear?
Sapphires are perfect for everyday wear as their durability is 9 out of 10 on the Mohs hardness scale.
How Much Does a Sapphire Ring Cost?
For blue sapphire engagement rings, we recommend a price range of RM 5,000 to 7,000 to find a proposal ring that catches your eye and steals your heart.
What Does Wearing a Sapphire Ring Mean?
Sapphire stones carry significant meanings such as bringing luck, loyalty, happiness and love to the wearer. Besides that, getting a blue sapphire engagement ring is a great way to showcase your birthstone for those born in September.
Need more convincing to go for a Sapphire Stone engagement ring? We got you.
Here is a list of famous icons who wore them.
Icons Who Charmed Us With Their Sapphire Rings

Made famous by Princess Diana, a $60,000 12-carat Ceylon sapphire engagement ring was proposed to her by Prince Charles. This ring style is now fondly referred to as the Princess Diana ring and Kate Middleton the current Princess of Wales now bears the iconic blue sapphire ring on her finger.
Other celebrities who chose blue sapphire gemstones for their engagement rings are Victoria Beckham who was proposed to with a massive 15CT oval cut sapphire and Penélope Cruz who said yes to a 3CT sapphire stone and diamond halo set engagement ring.
Now that's one list of stylish icons who made this engagement ring choice popular and we hope we have your minds swayed as we are going to help you effortlessly create your own sapphire ring in just 2 simple steps.
Step 1: Choose Your Sapphire Colour
Choose the shade of sapphire stone that you prefer – whether light, vivid or deep.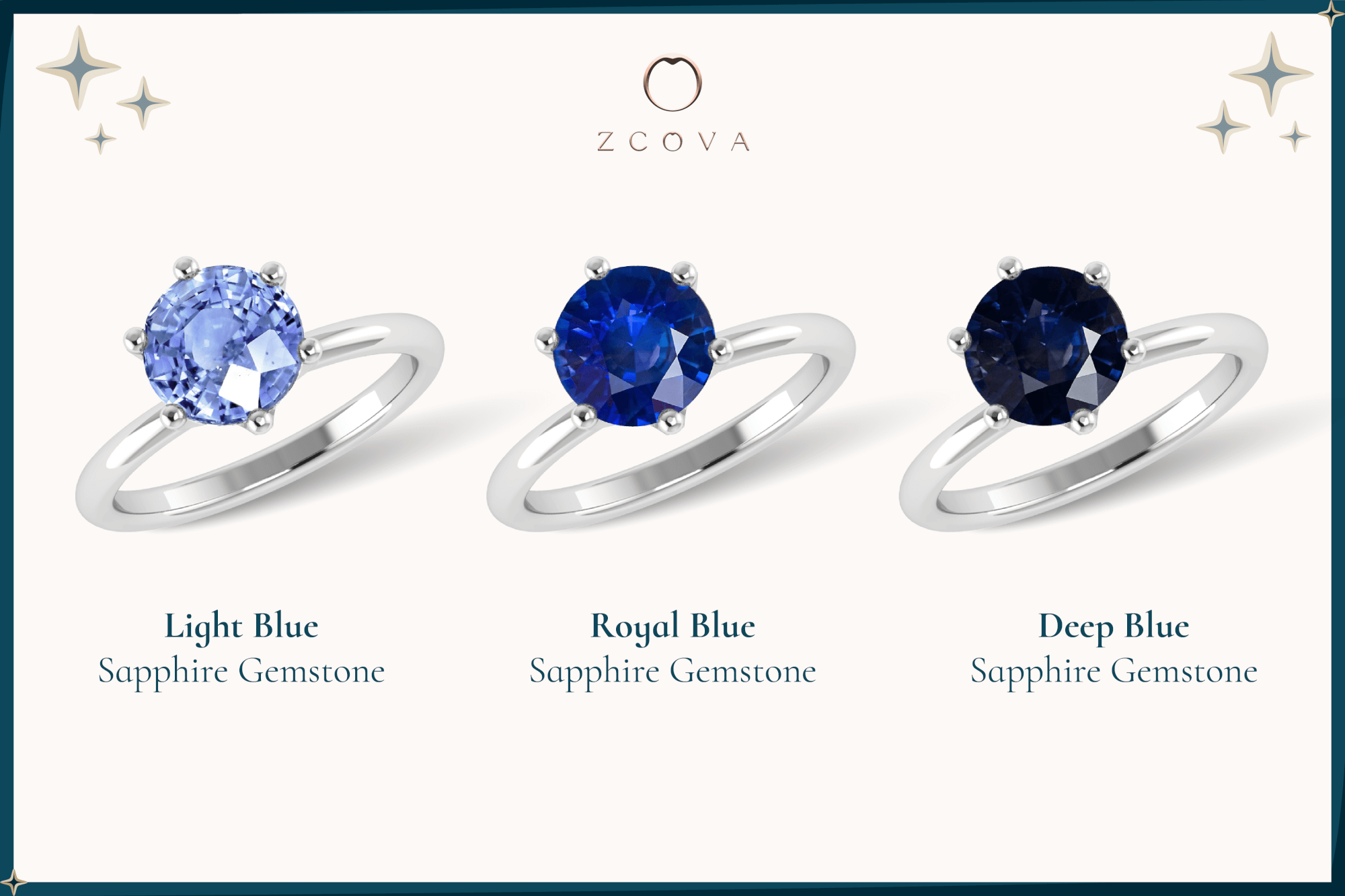 Light Blue Sapphire
Choose this for a delicately soft blue colour and if you adore a modern contemporary flair. You can even explore Cornflower blue sapphires.
Royal Blue Sapphire
Royal Blue Sapphires need to be graded Vivid to qualify. Choose this if you like a vibrant, rich blue colour for a dramatic striking look.
Deep Blue Sapphire
Choose this if you like an elegant sapphire ring with a sophisticated style.
Step 2: Choose A Ring Setting
There are three basic settings to select from to showcase your fabulous sapphire stone.
You can pick an engagement ring setting based on your preferred style, whether it's a clean minimalistic look, a sweet romantic look, or a bold striking look.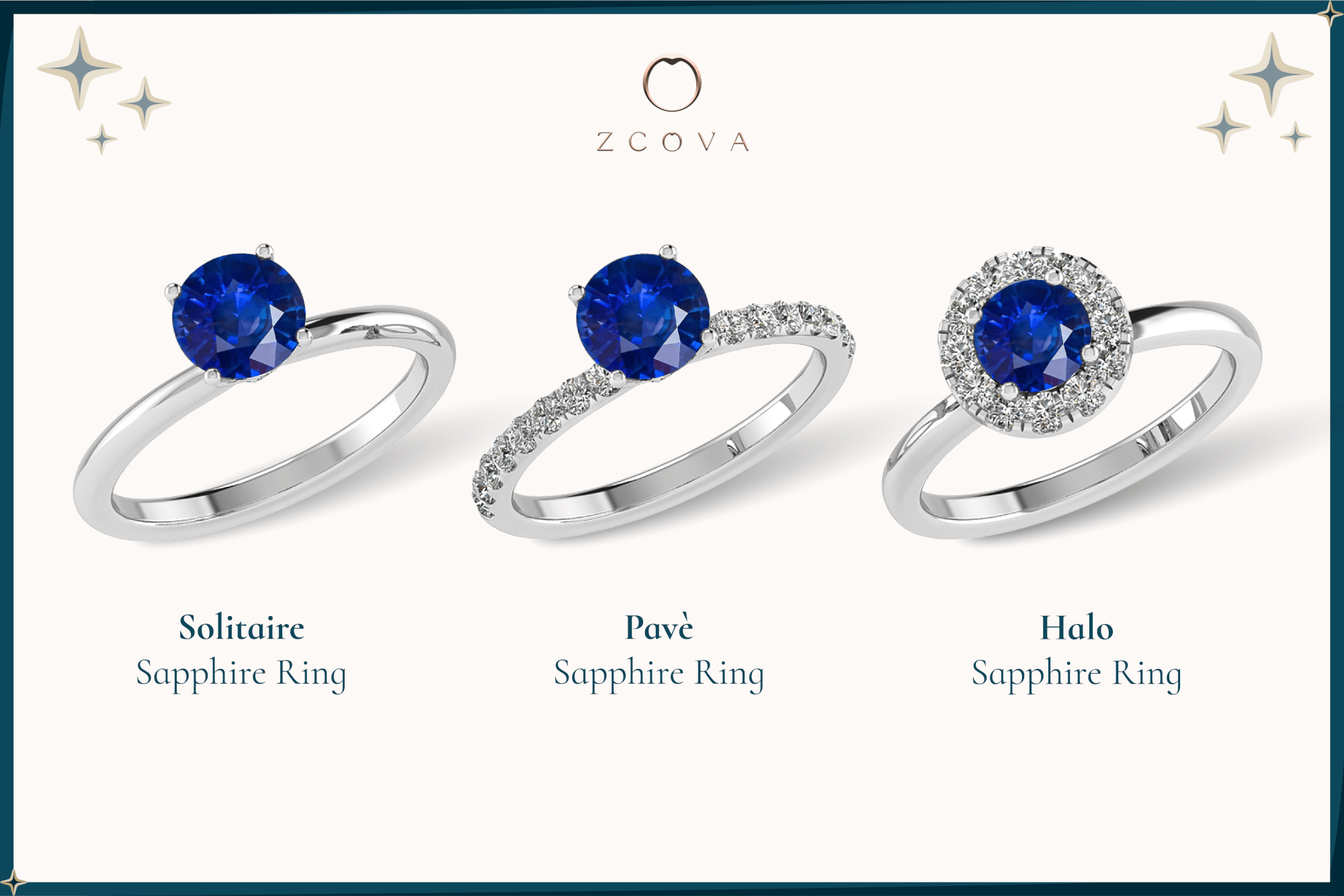 Solitaire Sapphire Ring
Choose this for a more classic and versatile look which will go well with any shape and cut of your choice.
Pavè Sapphire Ring
Choose this if you want to add more sparkle to accentuate your sapphire stone.
Halo Sapphire Ring
Choose this for a bold elegant royal style that resembles Penélope Cruz or Princess Diana's ring.
Which one of these settings will you go for? Whichever you choose, having a blue sapphire gemstone as an engagement ring will surely make you stand out from the crowd.
Take a look at our ZCOVA blue sapphire gemstones to start creating your own iconic engagement ring or speak to our Curators to help you choose your perfect stone!