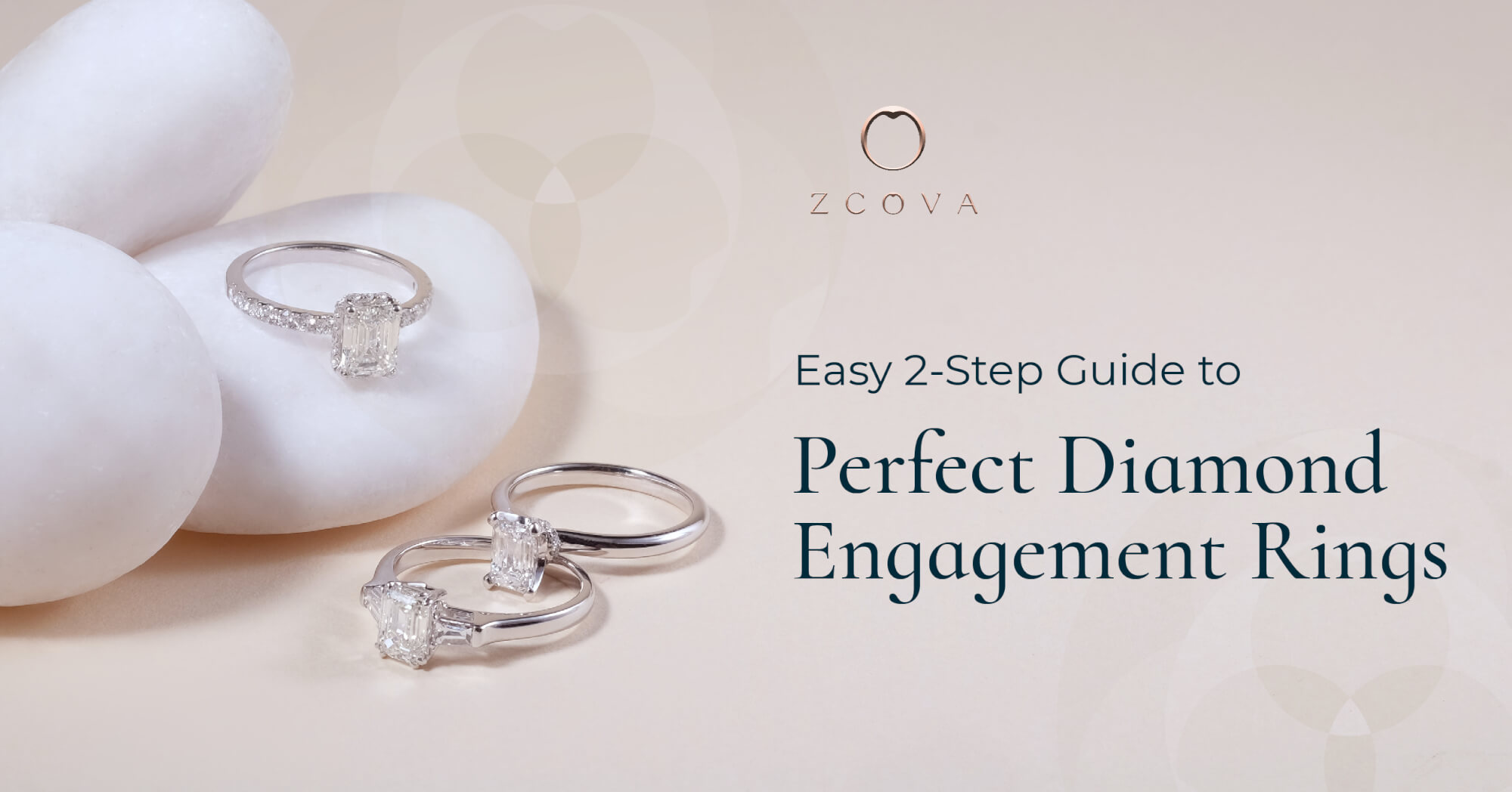 Easy 2-Step Guide to Perfect Diamond Engagement Rings
Buying an engagement ring is not an easy purchase, it is a big investment of money and time as there are many factors to take into account such as budget, insurance, style, durability, diamond cut, diamond clarity, diamond colour and carat weight. 
Choosing an engagement ring may in fact sound complicated and stressful to some because of these factors but with the right guidance and service you can finally say "I do!" or get down on your knee and put a ring on it. 
Once you have chosen your perfect diamond, you will be able to build the engagement ring of your dreams and your partner's dreams in just two steps. This ring will last an eternity while representing the spectacle of your true love for each other.
Step 1: Choose An Engagement Ring Style
Craft a ring that best showcases your style and expresses the love story of both of you with these 8 styles of diamond rings.
1. Solitaire Engagement Ring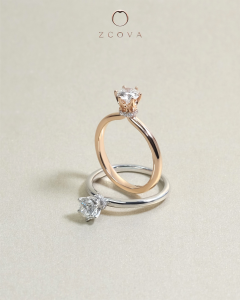 Style: Simple & Elegant
Structure: One diamond stone mounted on a classic band with a prong setting, a cradle that holds the diamond in place.
Why This Design?:
The solitaire proposal ring is a popular classic and traditional style ring that is timeless.
2. Halo Engagement Ring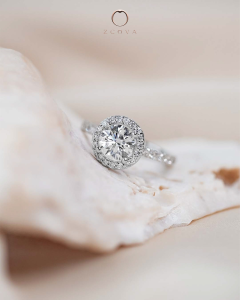 Style: Bold & Vintage
Structure: A centre diamond stone bordered with a circle of smaller pavé-set diamonds.
Why This Design?:
The centre stone shines and the border of smaller pavé-set diamonds gives off a dazzling shimmer.
This halo ring design makes the diamond appear bigger and it is a gorgeous style to set off a beautiful diamond of any shape.
Creates interest and draws attention to the diamond engagement ring.
Brilliant sparkle as the halo stones reflect light onto the centre stone.
3. Pavè Engagement Ring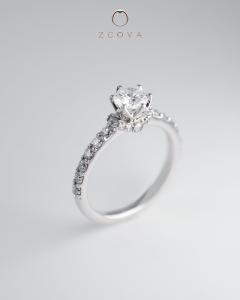 Style: Dainty & Feminine
Structure: Small diamonds or gems are embedded into the ring band
Why This Design?:
It has constant shine.

The pavè setting offers more sparkle for a lesser price.

Add an artisanal look and touch to your ring with your preferred pavè setting such as micro, french or fishtail.
4. Three-stone Engagement Ring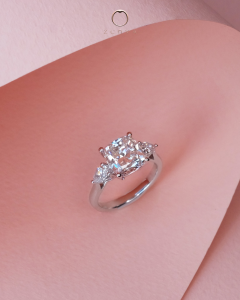 Style: Meaningful & Romantic
Structure: There are many three-stone Engagement Ring designs with endless combinations. One of the most popular designs features a centre diamond or gemstone flanked by two smaller side diamonds. Alternatively, we can also have three equal mid-size stones arranged beside each ​​other. Besides using diamonds, coloured gemstones can be used as the centre or side stones.
Why This Design?:
Holds a symbolic meaning.
The three-stone engagement ring represents the past, present and future; you, me and us within a relationship.
Versatile style based on size, type, colour and shape of stones used.
5. Cathedral Engagement Ring
Style: Classic & Elegant
Structure: A centre stone flanked by a curved metal shank resembling the arches of a cathedral.
Why This Design?:
Spotlights the centre stone as the diamond or gemstone sits higher on the finger making it appear more prominent.
Option to choose a plain or sparkly setting with pavé diamonds.
Beautiful & easy to work with.
6. Vintage Engagement Ring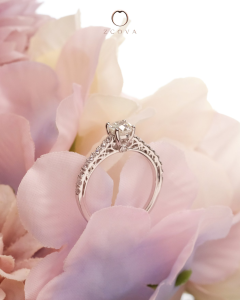 Style: Antique & Versatile
Structure: This ring style contains meticulously designed elements and beautiful intricacies that can be customized to fit every taste. The beautiful details on the ring setting are created through bezel setting, channel setting, and milgrain techniques.
Why This Design?:
Ring style that travels back to the Victorian Era.
Radiates through its stunning intricacies.
This unique design makes a bold statement, captures attention, and allows the wearer to express individuality.
Coloured gemstones like sapphires, rubies and emeralds can be used as side stones.
7. Twist Band Engagement Ring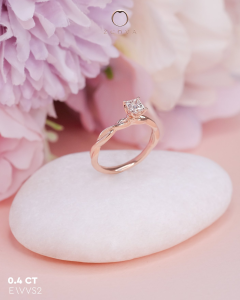 Style: Enchanting & Modern
Structure: Instead of the regular straight band, you can opt for two bands that intertwine like vines. You can choose a plain band, pavé diamonds or a mixture of both.
Why This Design?:
Twist band engagement rings bear symbolic meanings such as the intertwining of two lives; the future of you and your loved one; and a representation of a tightly woven bond between two lovers.
Perfect for an engagement proposal because of the significance behind the ring's design.
Great choice of style paired with a beautiful and meaningful sentiment.
8. Split Shank Engagement Ring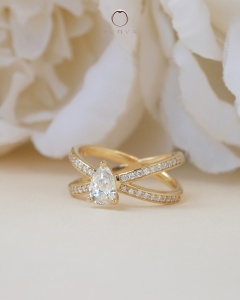 Style: Classy & Striking
Structure: In a split shank diamond ring, the band splits with a small gap as it approaches the centre stone and unites as one towards the bottom of the ring.
Why This Design?:
A symbolic representation of two separate lives uniting through love to become one.
An impressive and fashionable ring style.
The split in the band frames the diamond giving it a stunning focus.
Perfect choice for those who want to embrace a distinctive style.
Step 2: Choose Your Diamond Ring Colour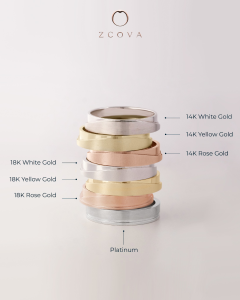 Engagement rings are customisable, stand out from the crowd and make heads turn from a distance by choosing a metal and colour of choice for your ring.
Platinum Engagement Ring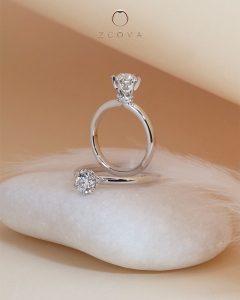 Platinum engagement rings signify purity, true love, rarity and strength and they are made of a naturally white metal that retains a white lustrous surface.
Different Types of Gold for Engagement Rings
Gold engagement rings are a timeless selection when it comes to buying a proposal ring that is long-lasting and durable enough for everyday wear. At ZCOVA, we offer engagement rings in solid 14K or 18K gold. You can choose between 3 colours of gold – white gold, yellow gold or rose gold – at no extra cost.
Let's explore them to see which shade of gold will be an excellent fit.
White Gold Engagement Rings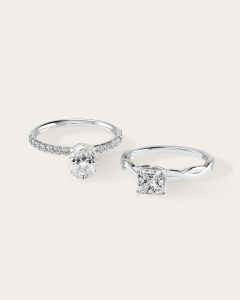 White gold complements cool-toned skin colours and it has a shiny white colour. This gold is an affordable alternative to platinum rings which costs more. If you're looking for something that stands the test of time in terms of fashion, this is a classic and timeless choice.
Yellow Gold Engagement Rings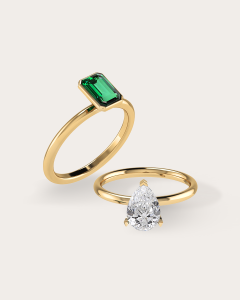 Yellow gold is suitable for warm skin tones and it possesses a luminous yellow tone to it which makes it a refined and alluring piece to be worn.
Rose Gold Engagement Rings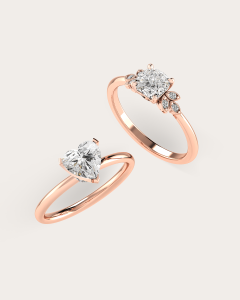 Lastly, rose gold perfectly complements all skin tones and has a delicate appearance. This gold colour is a romantic and elegant selection.
Now that you know these 2 steps, it's time to build the diamond engagement ring of your dreams. Don't forget to keep in mind what your partner likes and what will best suit them when putting the engagement ring together. 
If you are still undecided and have trouble choosing the ring style and colour, don't break a sweat! 
Here are our recommendations of  ZCOVA signature rings that never go out of style and are always a top pick for couples. 
Our best recommendation is our Lia rings, ps. you'll thank us later 😉