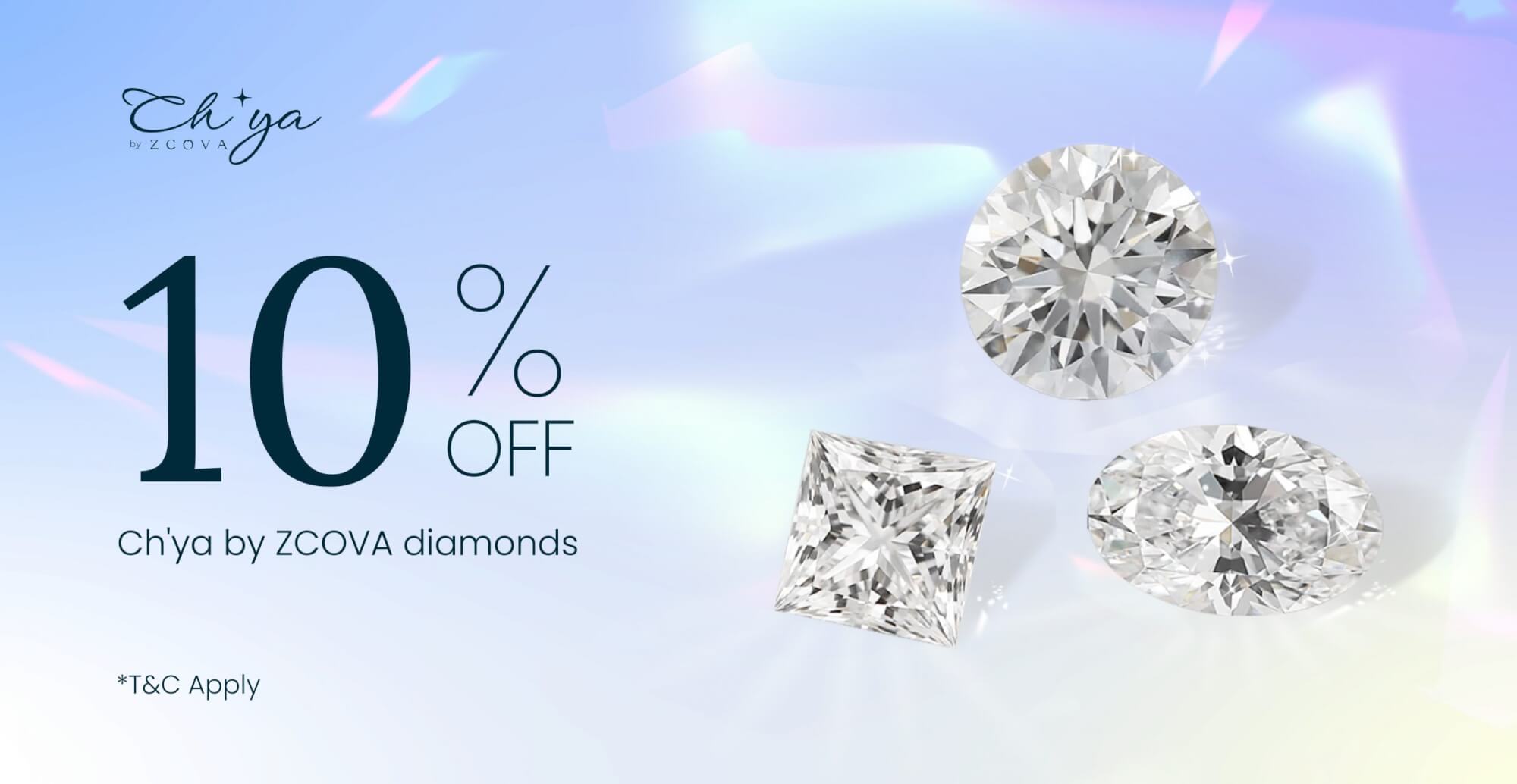 PROMOTION M'sia 10% OFF Ch'ya Lab Grown Diamond
Ch'ya by ZCOVA
As Malaysia's No.1 trusted diamond brand since 2015, we're now introducing Chy'a by ZCOVA – our first foray into Lab-grown Diamonds. All with the same ZCOVA services and assurances that you have been enjoying!
Proudly homegrown, we want to embrace our heritage and culture, hence the name Ch'ya was born.
Ch'ya [chai·uh]
Short for Cahaya, meaning light in Malay
The idea behind this product is to empower confidence with ZCOVA's jewellery that is never shy & always expressive on every occasion, every smile, every moment, and every day. Ch'ya by ZCOVA diamonds are available for all types of jewellery, rings, necklaces, earrings, bracelets, and more.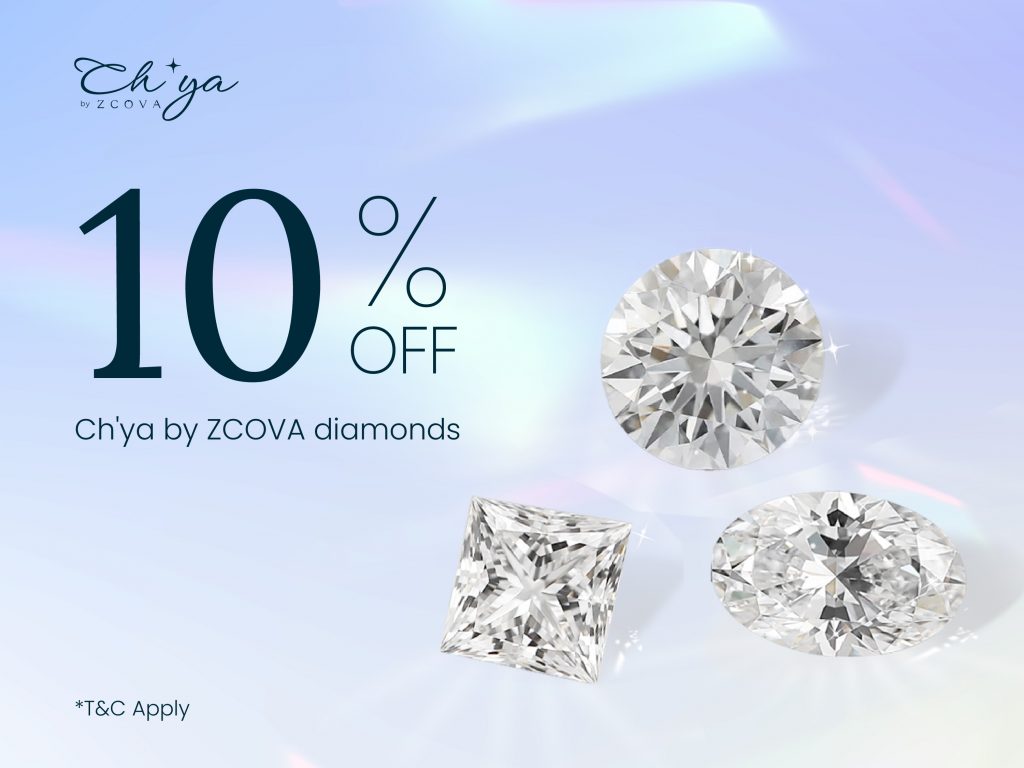 You are entitled to 10% Off Ch'ya by ZCOVA diamonds! No minimum purchases are required! Make your dream carat size come true!
Terms & Conditions
This promotion is valid from 1st June 2022 onwards.
This promotion is redeemable at any ZCOVA Sdn Bhd outlet.
All purchases should be done via an Appointment Basis or Online Consultation.
10% OFF Ch'ya by ZCOVA diamonds are applicable for loose diamonds only.
This promotion is not applicable for gold jewellery purchases.
This promotion is not redeemable with other ongoing promotions and discounts.
This promotion is valid for one (1) single transaction only.
This promotion is non-exchangeable nor refundable for cash.
Free global insured shipping for every order.
ZCOVA Sdn Bhd reserves the right to change, modify or amend the terms and conditions mentioned above at any time without prior notice.
About ZCOVA
As Malaysia's No.1 trusted diamond brand since 2015, we've helped more than 7000 customers save RM 30 million in diamonds. With the most 5-star reviews in Malaysia and features in over 50 media across Malaysia, Singapore & Australia including The Star, New Straits Time, The Edge & Harper's Bazaar SG, you can buy with confidence!
Visit one of our Galerias – Kota Damansara, Penang or Johor – or speak to our Curators online.
View ZCOVA website
What is Lab-grown Diamonds?
As a brand that believes in embracing change, we are now also offering lab-grown diamonds to our customers. Since Ch'ya diamonds are made from the same material as mined diamonds, they have the same sparkle, appearance, and chemical properties!
About Lab Diamonds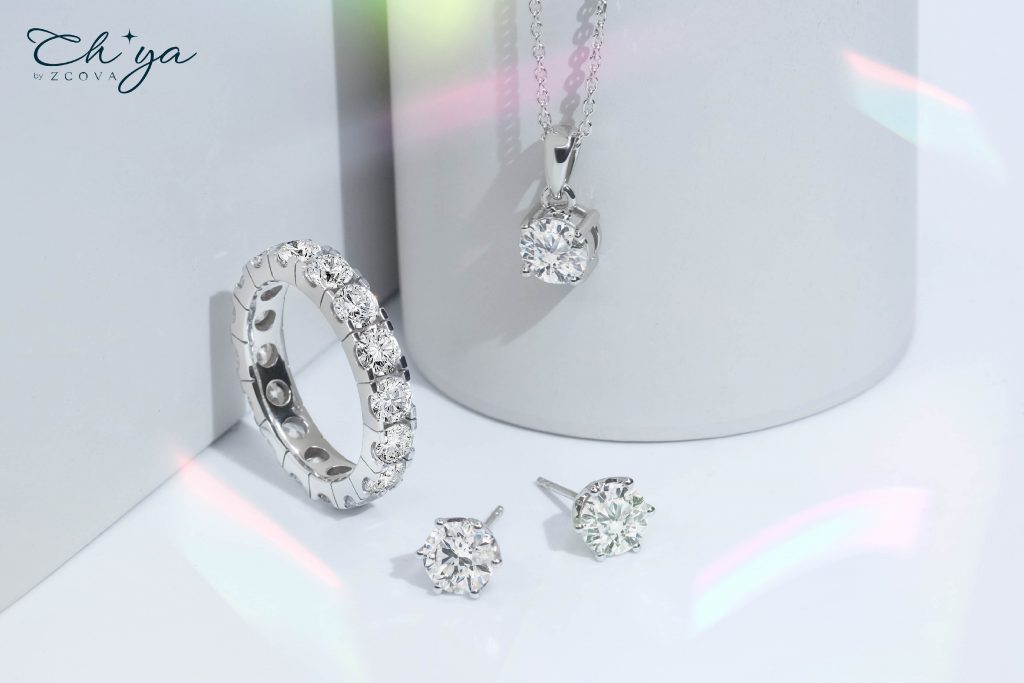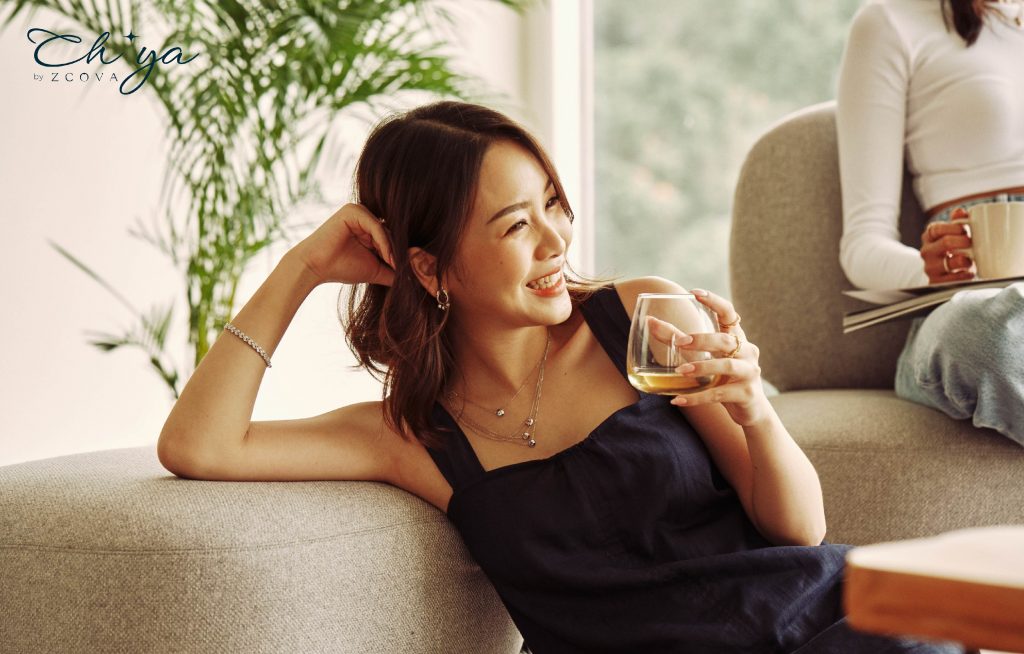 High-Quality Demi-fine Jewellery
ZCOVA praises the empowerment of every woman, we believe all women can buy anything for themselves to stay confident. Let's make a change and enjoy the fun with our daily-wear Ch'ya by ZCOVA jewellery.
View Jewellery Designs
Made For You
Personalised jewellery are the perfect gift to suit every occasion, every moment, every smile, and every day for self-love & the love for others!
100,000 IGI-graded lab-grown diamonds – round, cushion, heart & more
Choices of 14K and 18K white/yellow/rose gold
FREE customisation with our in-house jewellery designers
FREE 3D render & 3D print to try on
FREE jewellery box
FREE polish & cleaning service
Easy 0% interest payment plans up to 12 months
Find Out More!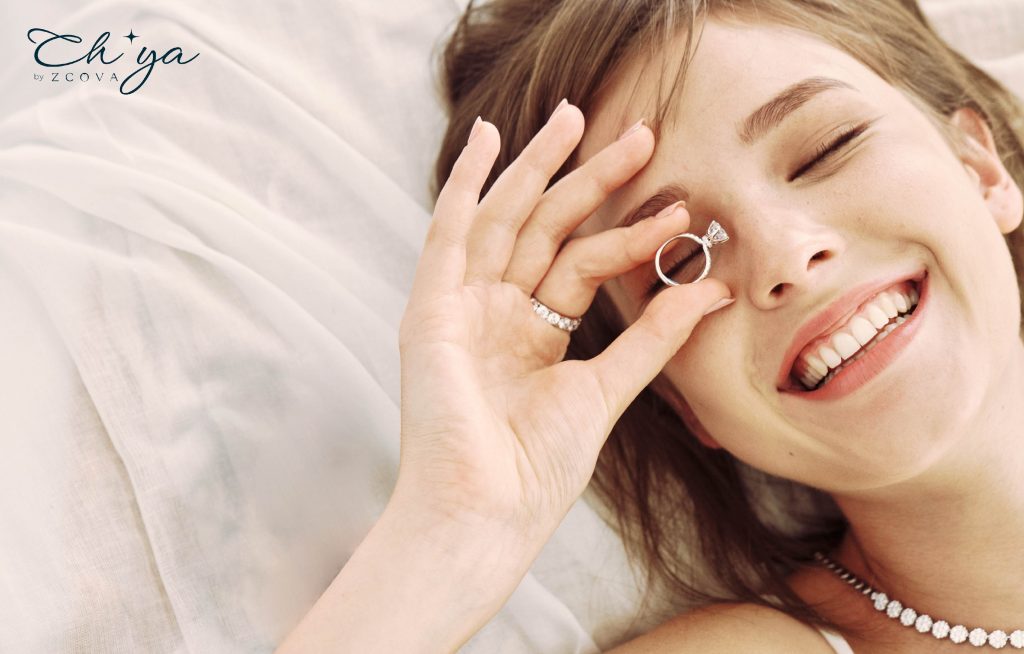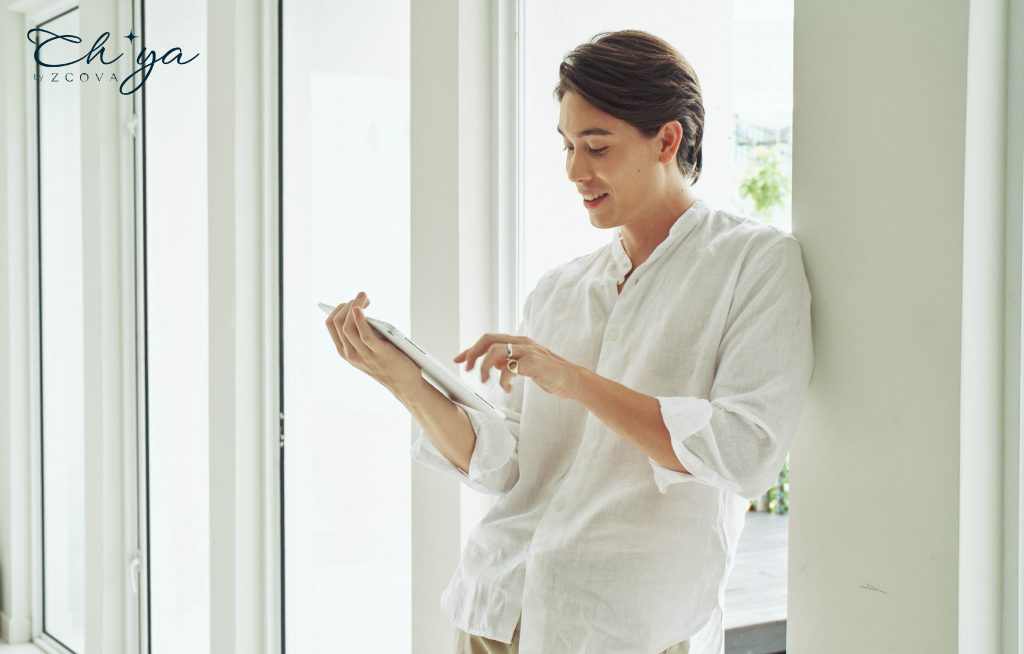 Assurance
All Ch'ya diamonds are certified by International Gemological Institute (IGI), the first laboratory to pioneer full grading of lab-grown diamonds in 2005. Their IGI number is also laser inscribed onto the girdle.
About IGI Certificates
Living Your Diamond Carat Dream
Made possible with Ch'ya by ZCOVA, you can make your big diamond carat size a dream come true. With Ch'ya by ZCOVA, you can get a bigger and brighter lab-grown diamond ring, earring, necklace, and bracelet all within your price range.
Get Your Dream Diamond Carat!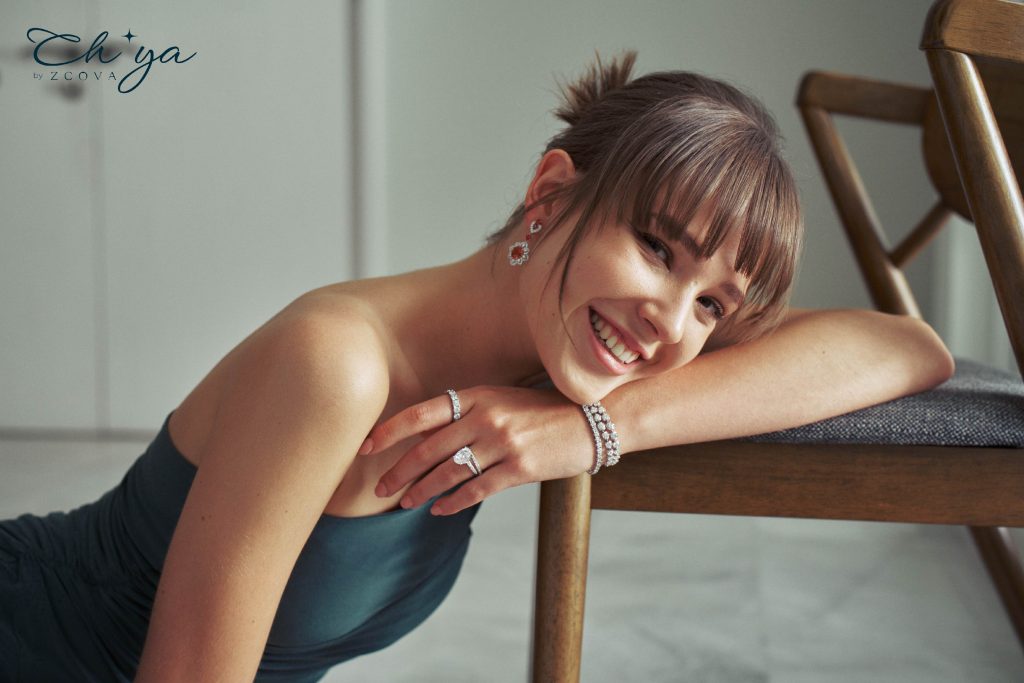 Be our exclusive VIP customers and experience our comprehensive 360-degree jewellery shopping experience in our showrooms!
? Kota Damansara
? Johor Bahru, Southkey Mosaic (Only 15 minutes from Singapore Checkpoint)
? Penang, The Bayu
Let us guide you through the lab-grown diamond buying process in person or you can reach us anytime, anywhere with the convenience of our smartphone today. Our extensive eCommerce platform lets you view our diamond in detail with 10x Magnified technology, compare prices with ease and learn beyond the 4Cs of diamond.