February Birthstone: Buying Purple Amethyst Gemstone Jewellery Malaysia
February Birthstone: Amethyst Gemstone
If your birthday falls in February, you should know that your birthstone is filled with history and meaning. The stunning purple hue of this birthstone makes it a great gift for any occasions. Prized since the ancient Greek times, this stone is frequently associated with nobility, royalty, power, luxury and ambition. Think of it as kings and nobles wrapped in long purplish robes.
Amethyst Colours and Shapes
February birthstone has one of the most abundant shapes, sizes, and purple tones. Originated from geode or rock form, this February Birthstone is also available in a variety of cuts from classic to exciting new free-form cuts such as cabochon (smooth finished cuts with little no facets) to endless other cuts.
From lilacs that have pinkish undertones and delicate lavenders straight to deep plums and raspberries with a hint of red and blue and sometimes a touch rich brown versions. For Amethyst stone, the deeper the colour, the more valuable it becomes. Especially popular if the stone has a strong reddish-purple or deep purple colour.
If it is not purple it is not Amethyst.
However, too deep the colour goes, it darkens the lighting that goes through the gemstone which in turn diminishes their value. Amethyst offer wondrous shapes, sizes, finishes and appearances that fit every age and gender making it the perfect gifting ideas.
Shop Now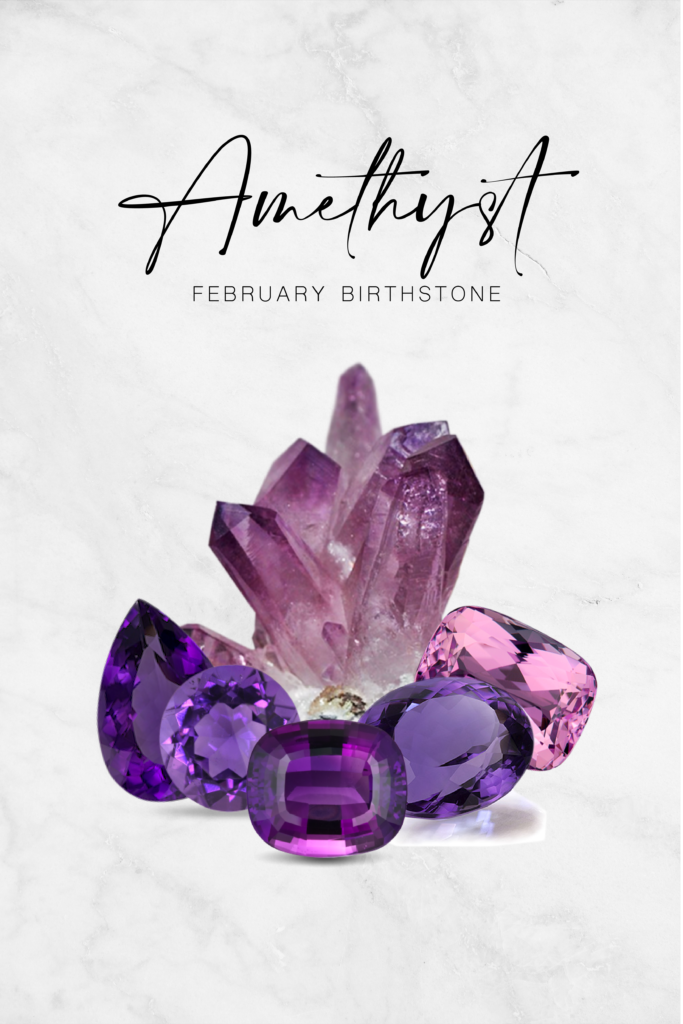 How to care for Amethyst Gemstone
Amethyst is rated 7 in Moh for its hardness (10 being the hardest), this February gemstone is suitable for everyday wear. However, you may want to avoid wearing alongside with Diamond, Emerald, Sapphires or any stones that have a higher Moh rating to avoid scratches.
These gems are also prone to certain acids and alkaline solutions hence, we don't recommend to wear Amethyst jewellery while using household cleaners. Amethyst jewellery can be clean with mild soap and some warm water. Ultrasonic cleaners are also safe but not if your amethyst has had fractures filled (Fractures in Amethyst is rare but it can happen). Find out more about buying and caring for your amethyst gemstone, you can contact our jewellery experts here.
Endless designs with Our In-House Jewellery Designer
Amethyst gemstones are often set into fashion rings for dinner, earrings, pendants necklaces, fashion necklaces, tennis bracelets and more. Talk to our in-house jewellery designer to create your own jewellery set now!
Talk to us
Fashion Ring Design Inspirations
Necklace Design Inspirations
Bracelet & Earring Design Inspirations