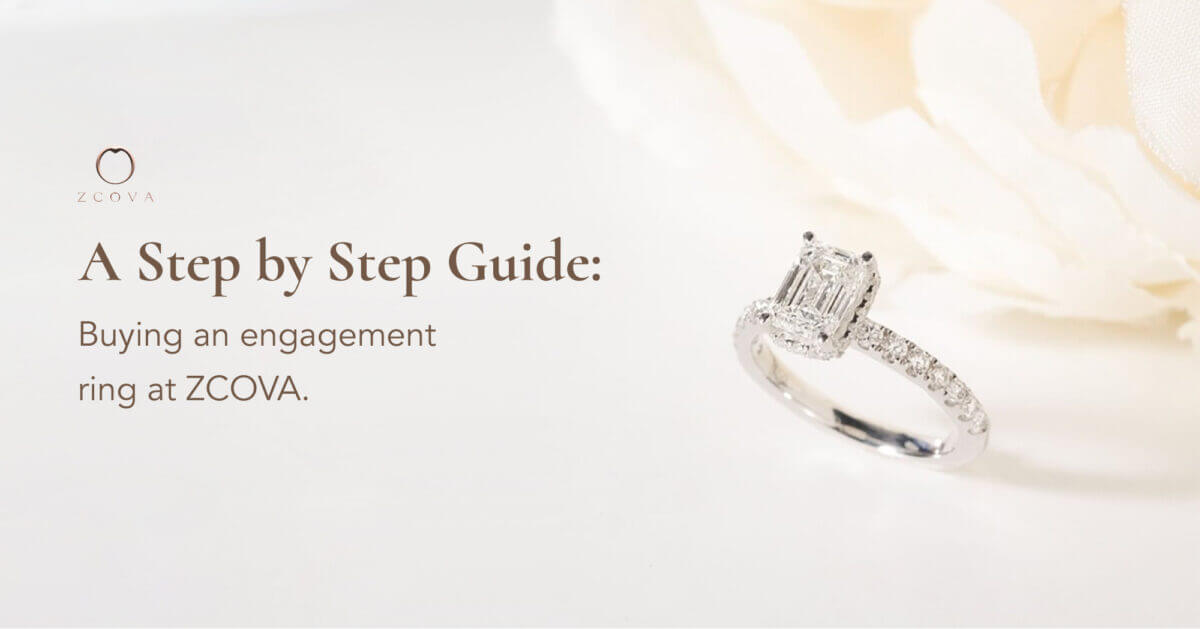 A Step by Step Guide: Buying an engagement ring at ZCOVA
The time has finally come and you are planning a memorable proposal for your other half. We all know that buying an engagement ring can be a daunting task as it may be the most important purchase of your life. You will have to think twice when choosing something that you can imagine your other half will love as she will be wearing it for years to come.
We will guide you to buy an engagement ring in ZCOVA and break down the steps you should take to ensure that you pick the ring that you want! If you are still unsure or concerned about anything, do not hesitate to book a consultation with us and our GIA Graduate Gemologist will give you an unbiased opinion on your perfect diamond ring.
Step 1: Do your homework
It is always good to be familiar with diamond engagement rings in terms of the qualities, prices, and designs. You can browse our website and check out the engagement rings, the designs, 10x magnification diamonds, and also our Instagram page @zcova!
Tips when browsing: Check out the few options by browsing different ring designs and see which catches your eye. Save the designs on your phone and set an appointment with us to try them on! You can also pick a few designs that you like and customise it into something unique for your loved one.
Step 2: Set your price range
The most important thing when buying a ring is to spend what you can afford and get the best quality out of it. Not sure how to estimate your budget? You can browse our website (add the diamond and ring you want) to get the estimated diamond ring price. Doing your homework by understanding the prices and qualities will help you to get an engagement ring with the best value within your price range.
Step 3: Book an appointment / Consultation
Having a consultation helps as we can understand what you want and recommend the best one for you. Our GIA Graduate Gemologist will provide free virtual consultation and guide you through the designs and components of your ring. It does not matter if you don't know about diamonds as our GIA Graduate Gemologist will share diamond knowledge beyond the 4Cs – Cut, Clarity, Colour, and Carat.
Besides that, what you have in mind might not translate to how you feel about the look and designs on your hand. Be prepared that you might change your mind during the appointment if you tried on something that you never expected to love! You can come with your friend or relative to give opinions when choosing your ring but at the end of the day, it is your choice to pick the right engagement ring for your beloved one.
Step 4: Pick the diamond
Once you come for your appointment, our GIA Graduate Gemologist will assist you and explain everything you need to know about diamonds. One of the essential components is the diamond 4Cs, which you should carefully consider before purchasing as the Cut, Clarity, Colour and Carat will affect the quality and appearance of a diamond. Cut is the main beauty factor of a diamond's brilliance while Clarity is the least important 'C' as inclusions in eye clean diamonds cannot be seen with your naked eyes.
Click here to understand the steps to buy diamonds with the best value.
At ZCOVA, we are the only online diamond company in Malaysia & Singapore to provide dual certificates from GIA & GemEx. Our dual-certified (GIA & GemEx) LUMOS by ZCOVA Diamonds are guaranteed to have exceptional quality and superior brilliance.
RELATED: What is the difference between GIA and GemEx Certificates?
Step 5: Choosing the setting and design
The setting and design of the ring is one of the important choices. A solitaire ring features only one diamond in the middle of the ring while a pave or micro pave setting has a row of smaller diamonds on the metal band. If you want more sparkle, you can also try out a three-stone or five-stone setting which features 3 or 5 diamonds set in a linear formation. If you want to create the illusion of a bigger diamond, choose a halo setting which has pave diamonds surrounding the center stone. You will also have to decide how high the diamond will sit off your ring – high settings typically make the diamond appear bigger.
Here are some of our bestselling diamond engagement ring designs.
You can even customise your engagement ring by adding different elements into one. Don't worry, customisation is free! Also, you can engrave your engagement ring to make it extra special! Here are some of the examples of customised rings!
Once you have confirmed your designs, we will send a 3D printed ring for you to see how your ring will look like before committing to the actual ring in 18K gold.
If you have no idea what design she wants, you can propose with a temporary ring! With our Propose with a Diamond service, we will mount your diamond on a temporary ring for your proposal. Once successful, your fiancé can come back to design her ring, from the ring setting to the type of gold.
Step 6: Choose the metal
One of the difficult questions is to decide on the ring metal. Choosing the metal is as important as picking your diamond because it is likely that the ring will be worn every day. Whether or not you want it with a 18K white, yellow or rose gold metal, it is based on what your significant other desires.
Step 7: Her ring size
Many people will be questioning: How do I find out her ring size when it is a surprise proposal?
In ZCOVA, we can estimate her ring size with her height and weight. Not only that, you can also bring over one of her own rings for a more accurate ring size.
Don't worry if you order the wrong size. We will provide you a free ring sizer after your proposal. Your first resize is always free of charge and you can come into our showroom to size her finger correctly. The item will be couriered to you once payment has been made.
However, please take note that our resize allowance has a limitation of three sizes up or three sizes down. If the resize is out of the range, additional charges will apply.
Step 8: Receive your desired ring
All our rings are made-to-order and will take 20 working days to produce. All shipments are fully insured by us until they reach the requested delivery address and your signature is required on delivery!
If you have any questions, just drop us a message on our Facebook Page or an email at service@zcova.com.