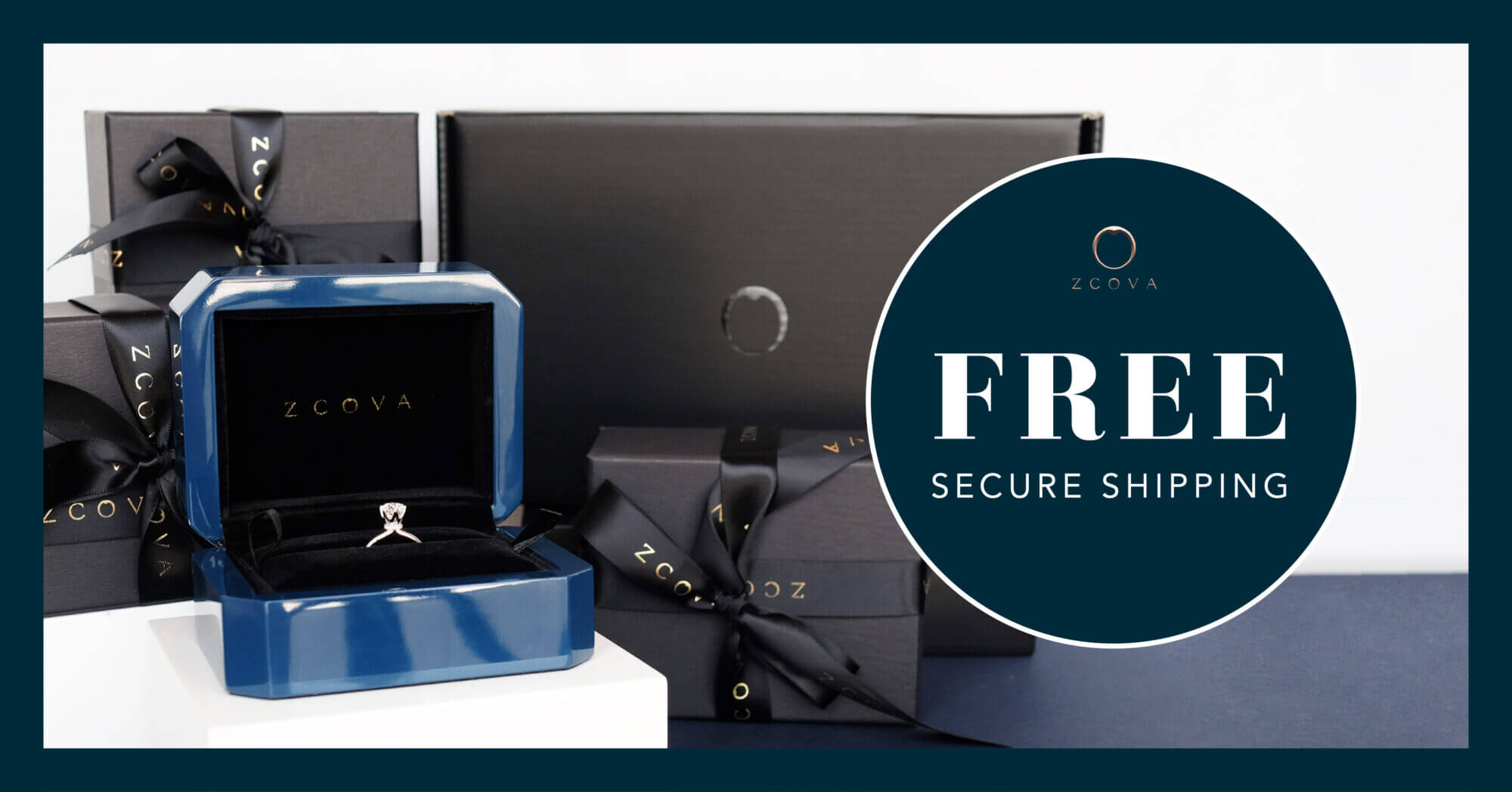 Buy Engagement Ring Online: Free Secure Shipping
Is it Safe to Buy Diamonds Online?
Part of the pleasure associated with purchasing diamonds, engagement rings, wedding band or jewellery online is the expectation of the product arrival. For this reason, the moment payment is made, ZCOVA ensures quick and safe delivery for all parcels to your doorstep.
ZCOVA's Signature Packaging
Every item shipped from ZCOVA is delivered in our signature ZCOVA delivery box, accompanied by all related documents, including the appraisal and diamond certificate (if applicable).
Learn why Dual Certifications are important when buying diamond related products
All product parcels sent out from ZCOVA are secured with a security sticker on the opening section of the parcel. This is to prevent the parcel from tampering. We urge all customers to inspect their package for damage or tampering before receiving or signing for receipt. If the security sticker has tampered please do not sign the parcel and contact our customer service immediately.
Call +603 6150 8100
FULLY INSURED AND SECURE
In ZCOVA, safety is our main objective. We assure our customer that all products bought from ZCOVA are fully insured. International orders are insured by luxury goods logistic company, Malca-Amit or Brinks. While within Peninsular Malaysia, Sabah and Sarawak, orders are insured by Liberty Insurance.
Signature of the buyer is required for all deliveries, regardless of any waivers you may have with the shipping company. For credit card payments, it is only possible to ship to your card's billing and registered address or to your local FedEx, Ferrari express, and Brinks collection branches.
LIFETIME MANUFACTURER WARRANTY
We stand by our products and warrant that all items will be free from manufacturing defects for the life of the products. If you believe your item has a manufacturing defect, you may return it to us for inspection. If we determine your merchandise is damaged due to a manufacturing defect, we will repair the merchandise or, if we deem appropriate, replace the item. If we determine that the damage is not caused by a manufacturing defect, then we will notify you and let you know if repair services are available at cost or otherwise
Read More
For self-collect parcels, orders can be collected from our ZCOVA Showroom in Kota Damansara, Malaysia.
We operate only upon appointment basis. Kindly make an advance appointment with our consultants to avoid disappointments.
Call for Appointment
We provide free global insured shipping for all orders. FedEx Delivery Service is used for international orders and GDex for Peninsular and East Malaysia.
Kindly note that all deliveries are made during working days from Monday to Friday, excluding Public Holidays. Depending on location, deliveries will take up to 10 working days. Following confirmed shipment, a confirmation email with a tracking number and estimated delivery date will be sent over.
*For security reasons, ZCOVA will not ship to any P.O Box addresses.