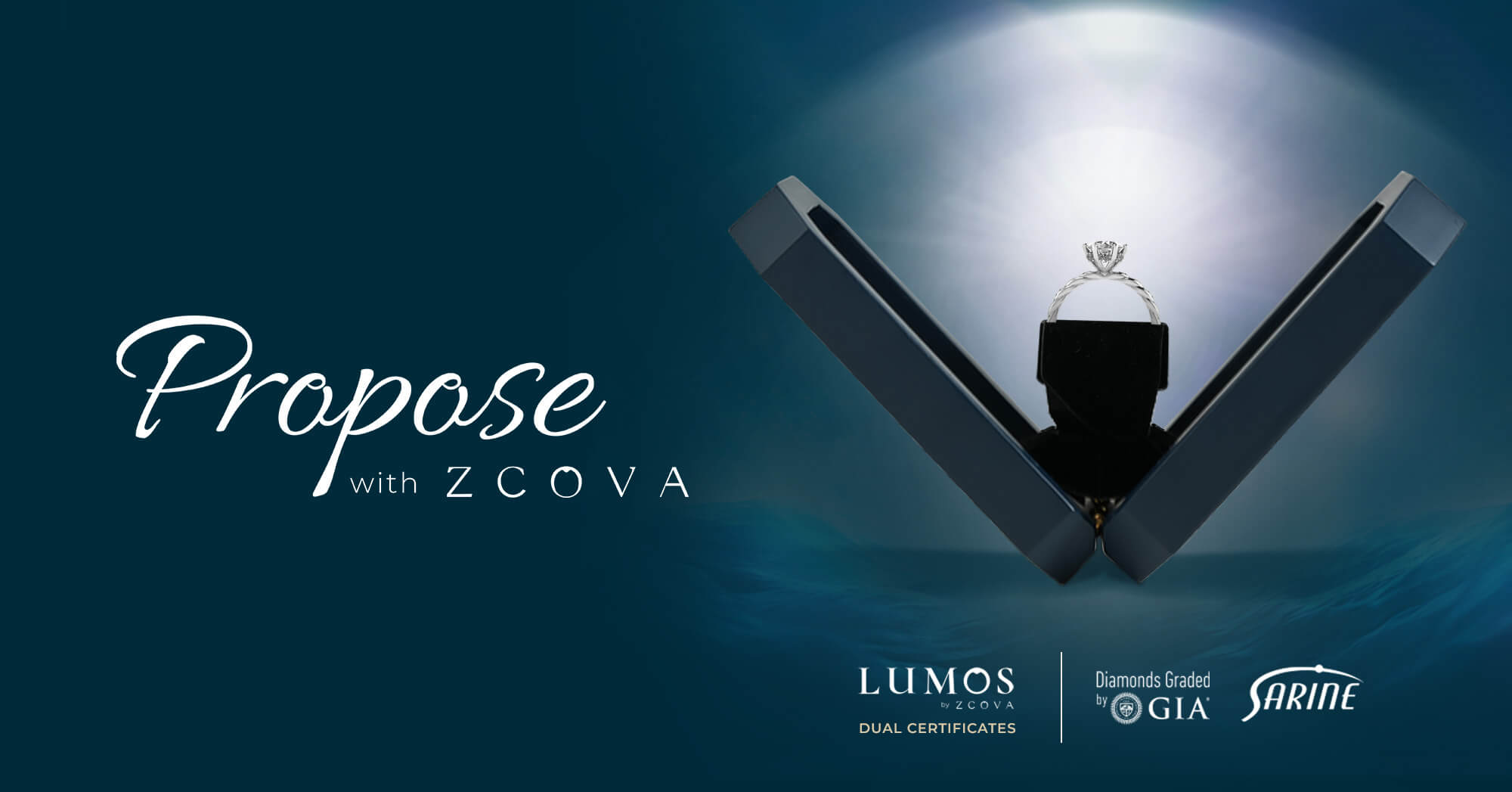 How To Propose With A Diamond At ZCOVA
Don't propose with the 'wrong ring'. Use ZCOVA's unique Propose With A Diamond service to ensure your wife gets her dream ring and your proposal is stress-free!
An engagement ring is a very personal item that she wears every day. Most of the time, the guy buys the ring secretly and has a hard time deciding which is the best ring design for his wife-to-be. If he asks for her opinion, the surprise is ruined. Thus, we have designed this ZCOVA Propose With A Diamond service to solve the number one headache faced by men during proposals: choosing the right ring!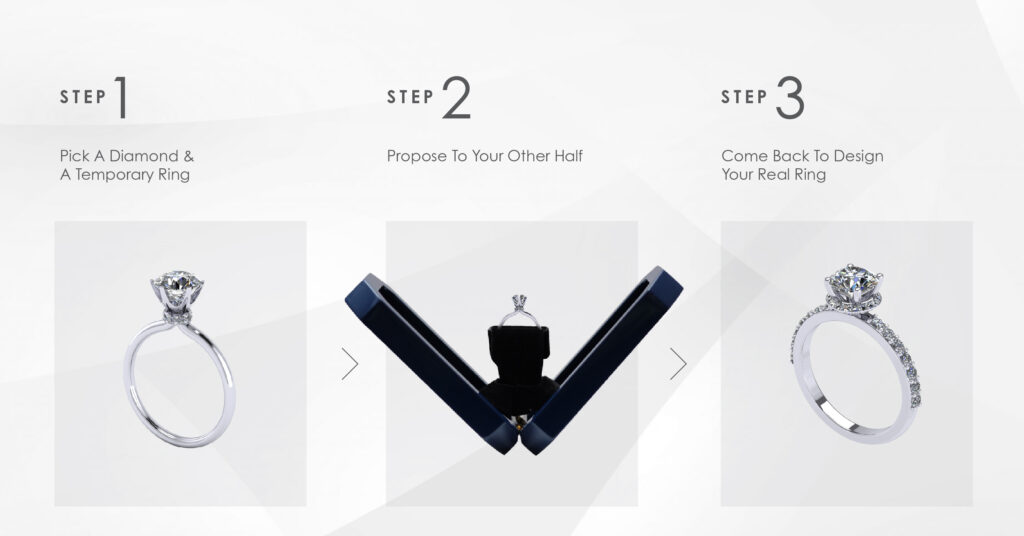 Step 1:
Pick your perfect diamond and mount it on a temporary ring (with limited ring setting choice)
Step 2:
Propose to your loved one with the temporary ring.
Step 3:
Once successful, come back to design your ideal engagement ring setting in choice of 18k Rose Gold, Yellow Gold or White Gold.
Contact Us To Know More
Propose with a temporary engagement ring
With our Propose with a Diamond service, we will mount your diamond on a temporary ring for your proposal. Once successful, your fiancé can come back to design her ring, from the ring setting to the type of gold.
For the temporary ring, we have a range of classic solitaire rings to choose from, comprising of our ZCOVA bestselling ring designs: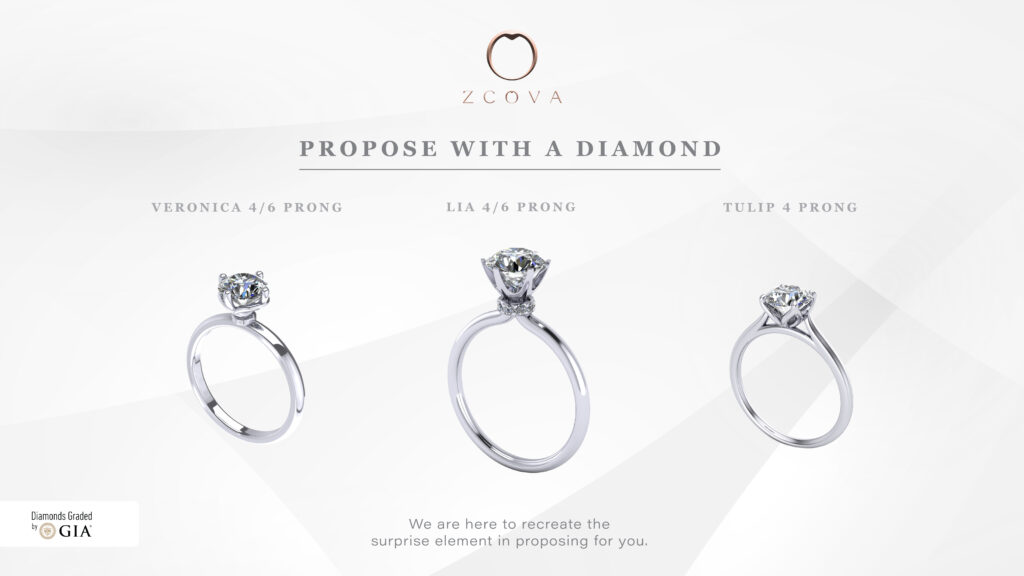 **Subject to availability
Browse Engagement Ring
Lia 4 or 6 Prongs Temporary Proposal Ring
ZCOVA's #1 bestseller – the simple yet elegant Lia Engagement Ring complements any diamond well. An elegant band of diamonds wraps around the base of the center stone, forming a full diamond collar. This, combined with the center stone makes your engagement ring sparkle from every angle. The diamond collar also elevates the center stone to make it more prominent and noticeable.
Veronica 4 or 6 Prongs Temporary Proposal Ring
The Veronica Ring is truly unlike any other. Instead of the usual straight prongs, the diamond perches on a floating basket. A small crisscross is hidden at the base of the diamond, symbolising the moment your paths cross.
This setting is secure yet provides an amazing view of the diamond from the side. The open setting also allows more light to enter the diamond, maximising the brilliance and sparkle.
Tulip in 4 Prongs Temporary Proposal Ring
If you prefer to have a cathedral setting, you can opt for the Tulip in 4 Prong temporary proposal ring. Four delicate petals hold the center stone like a blooming flower while the side arches draw attention towards the diamond, making it the star of your proposal.
If you opt to propose with a loose diamond, we also provide a special proposal box for loose diamonds upon request.
Creating her dream engagement ring
After your proposal, your fiancé can now design her ring and customise it to her liking:
18K white, gold, rose gold or platinum
Add on halo or pavé diamonds
Choose any prong or bezel setting
Customise the design with any element she desires
Get her perfect ring size
For bespoke engagement rings, we provide free custom design, render and 3D printed rings for you to try the design and size on your hand before confirming.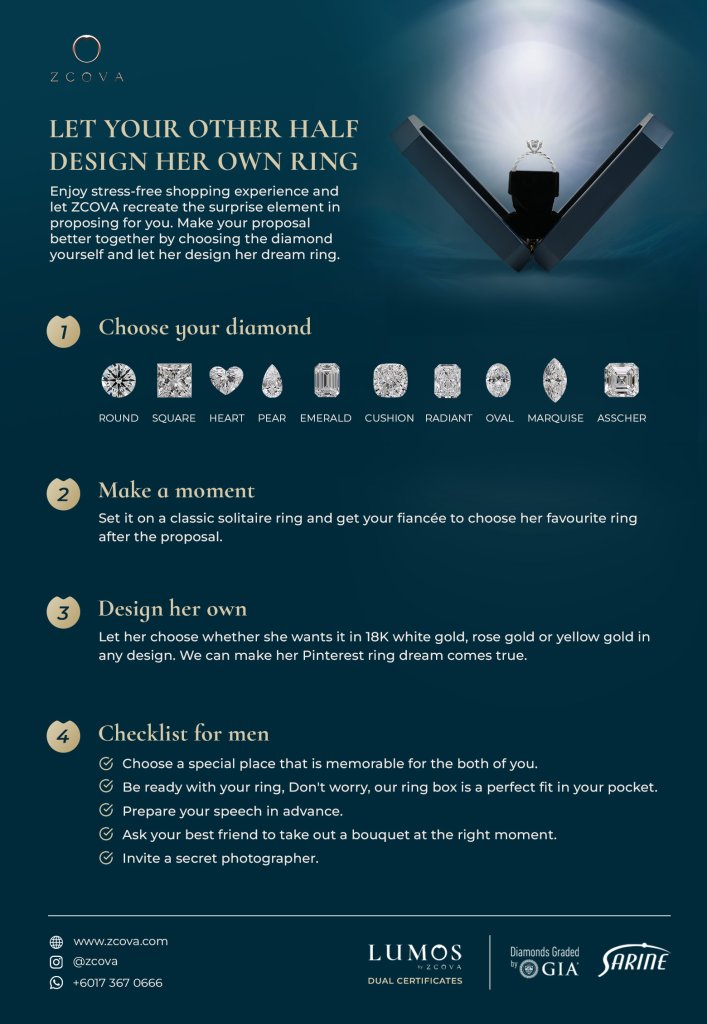 Benefits of Propose With A Diamond
Fully customisable design, no guessing needed
Recreate the surprise element in proposing
It allows you to focus on the diamond's quality to ensure you get the best one
It is easier for you to make a purchase within your budget. Retail stores only have preset rings and you might not always be able to find one that fits your budget or style. Most of the time, you are either forced to raise your budget or compromise and settle for less
At the end of the day, it all comes down to whatever works for you. Feel free to send us an email at service@zcova.com or leave an enquiry so our jewellery consultants can get back to you regarding your questions for our ZCOVA Propose With A Diamond campaign.
We are always here to help you get on the journey to the perfect engagement ring.