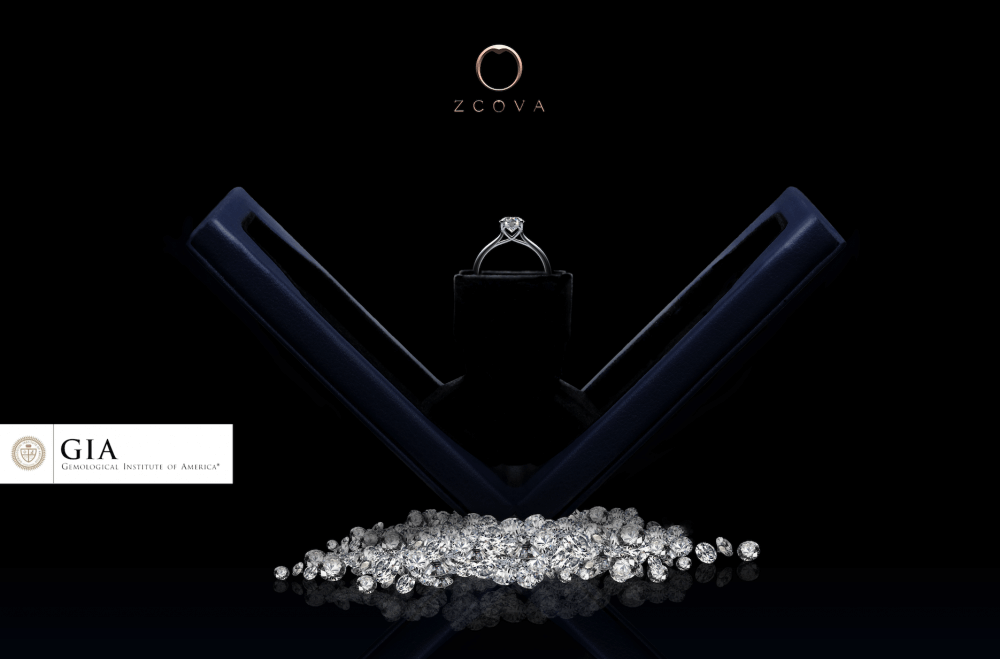 How To Propose With A Diamond At ZCOVA
We know you're planning to propose to her soon, but which brings more happiness – surprise or anticipation? Well, why not both? Enjoy stress-free shopping experience at ZCOVA!
Let me get this straight. I'm pretty sure many of you tend to buy engagement rings with the diamond mounted on the ring setting. Well, that is the only option you have in most retail stores anyway.
What if I tell you that you have another option now?
Many fiancés-to-be are interested in customising their own rings, but at the same time, they are afraid that it will be costly and it will not be the one that she wanted. At ZCOVA, we want to assure our customers that customisation shouldn't be something that will cost them an arm and a leg. Instead, it will be an easy process that will ease their problems.
We offer free customisation to all our customers because we believe that their love story deserves to be reflected in a unique ring that is handmade with love and passion.
At the end of the day, it all comes down to flexibility and convenience that you are looking for. The process of purchasing a preset ring is very straightforward. If you like what you see at the retail stores, just make a payment and there you have it. It is definitely a perfect choice for people who need a proposal ring in a hurry.
We understand that it may be a tedious process to pick a design without knowing exactly which design she really likes. But think about this – what happens when you get the wrong ring for your partner? Eliminating all the guesswork, proposing with a diamond will be a wiser choice for you in this situation. Here are the reasons why:
It allows you to focus on the diamond's quality even before it gets mounted so you can verify any potential problems beforehand.
It is easier for you to make a purchase within your budget. Retail stores only have preset rings and you might not always be able to find one that fits your budget or style. Most of the time, you are either forced to raise your budget or compromise and settle for less.
You can either design the ring the way you wanted it to be or let her choose the ring setting herself. From our founder's personal experience, choosing a ring design is one of the toughest dilemmas he had. So what better way to get around this issue than to let her pick a design she really loves?
Why Should You Propose With A Diamond?
The idea of proposing with a loose diamond probably does not sound as romantic as you wanted it to be since you are already planning to have a ring slip on her finger when you get down on one knee to propose.
At ZCOVA, we are here to recreate the surprise element in proposing for you. You could get the diamond set in a simple temporary ring setting that is ready for your proposal. After having a successful proposal, simply drop by or schedule an appointment at our ZCOVA showroom to choose a new ring setting together with your loved one.
Not only you have met the surprise element, but you can also build the anticipation for her to choose her own ring.
Best Option For Your Proposal?
There are 2 options that you have for proposing with loose diamonds: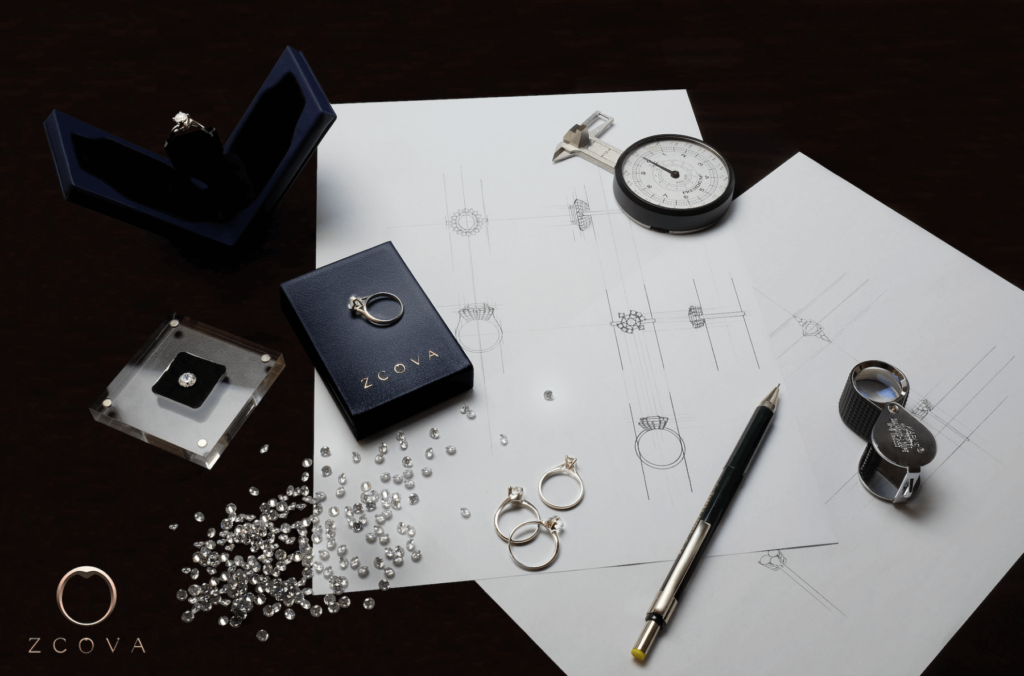 Set it on a classic solitaire ring and get your fiancée to choose her favourite ring after the proposal.
If you opt to propose with a loose diamond, we also provide a special proposal box for loose diamonds upon request.
If you choose the first option, you may choose any of the temporary ring setting below: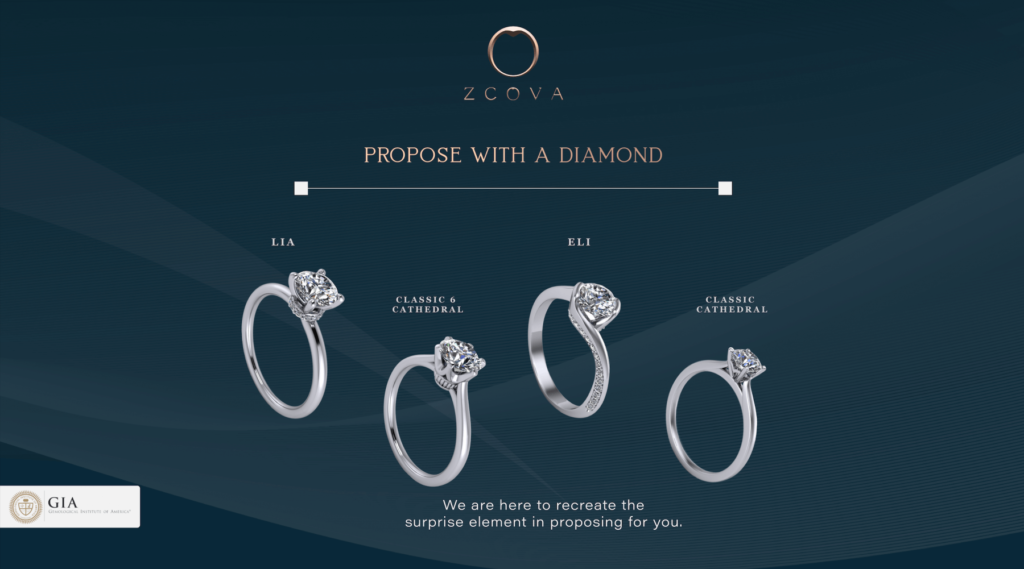 Lia: Features a central collar of round diamonds that complement the engagement ring for an elegant look.
Eli: This striking pavé enhanced ring setting features a bypass shank that brings out the uniqueness in its simplicity.
Classic 6 Cathedral: Simple, yet stunning, the slender finish of this solitaire ring features six prongs for timeless elegance.
Classic Cathedreal: This delicate cathedral shoulder adds a classic touch to the ring setting, showcasing her personal style.
At the end of the day, it all comes down to whatever works for you. Feel free to send us an email at service@zcova.com or leave an enquiry so our jewellery consultants can get back to you regarding your questions for our ZCOVA Propose With A Diamond campaign; How? Which ring and diamond?
We are always here to help you get on the journey to the perfect engagement ring.
TLDR; here's a bonus part for you to get to know more about our ZCOVA Propose With A Diamond quickly.