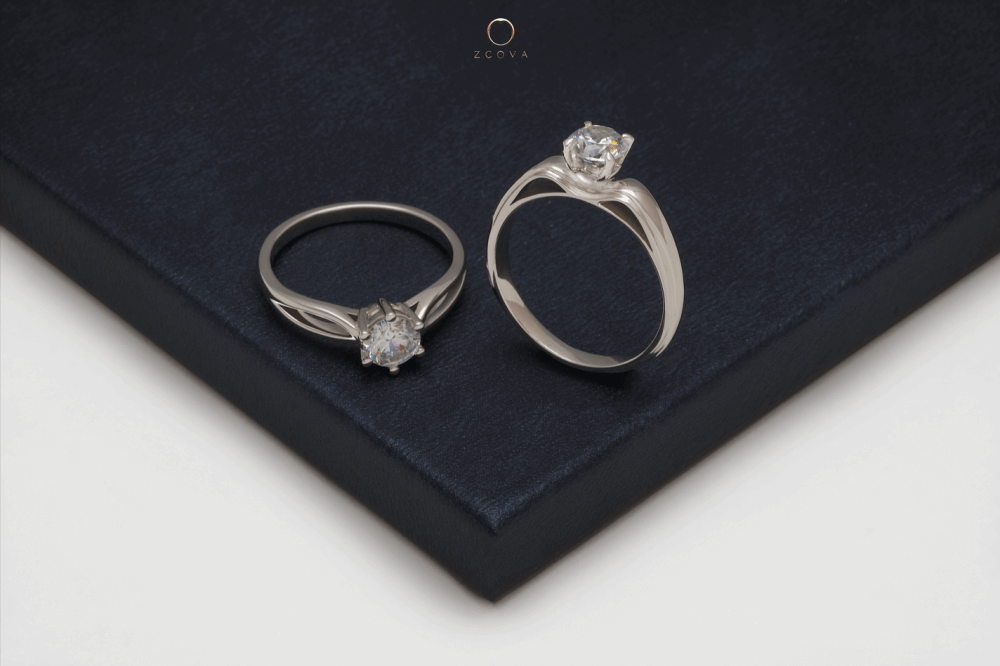 ZCOVA Ultimate Guide To Buying Diamonds Online
Who says buying diamonds online is not safe? This guide will show how to be a smart buyer by choosing the perfect diamond and how to buy diamonds online. Read more to find out why online shopping for diamonds is here to stay.
It is no secret that online shopping is the wave of the future. Shoppers can easily get what they want through online with just a simple click on the mouse.
ZCOVA website is built to make it easier for customers to buy engagement rings online because we believe that customers have to know exactly what they are paying for.
When you visit the retail store, you have to make sure that you are not forgetting any detail that you would like to know. Even a minor detail can impact the value of your diamond. But bear in mind that you will be facing people who are experienced in diamonds and they have a goal to make sure you walk out of that store with a diamond ring.
Things are different when you purchase online. You get to take your own sweet time to make a decision with no pressure at all. Our professional consultants at ZCOVA are friendly and they are willing to help you out with your requests. No unbiased opinions will be given because we aim to educate our customers and give value back to them.
If you are still hesitating about online shopping for an engagement ring or you don't know how to buy a diamond ring, here are some tips for you to shop smarter:
1) Make Sure That You Will Get What You See
We have heard many unhappy stories about customers not getting what they have bought, which is why many are having doubts about buying diamonds online.
Taking that personal experience to the business, ZCOVA wants to provide a brand new online shopping experience to the customers. We want our customers to shop comfortably and know that we are always there for them.
Other than 24/7 customer service, you can actually find the actual photos of the diamonds on our website. If you have ever shopped for diamonds online, I'm pretty sure you have asked this question – "Can I see the real diamond?". This is a popular question asked by our customers since day one.
What's particularly great about ZCOVA is that although we don't store our diamonds, customers are still able to see all the facets of a diamond on our website in 10x magnification. To be honest, it is more beneficial to look at the magnified diamond that the actual product because customers will be able to see where the inclusion lies, as well as the BGM (Brown, Green, Milky).
The photos are provided directly by our suppliers, so customers can rest assured that they will be getting the diamond that they are purchasing. Seeing really is believing.
2) A Picture Is Worth A Thousand Words
Another myth that we often stumble upon is the Hearts and Arrows of a diamond. No one will tell you this, but we want to be honest with our customers. Hearts and Arrows are the fundamentals to create a round diamond. Without the Hearts and Arrows, it will be impossible to produce a round brilliant diamond.
So all the Hearts and Arrows and Super Ideal Cut are really just a marketing gimmick that most retailers use to market their products as a Premium Cut. Super Ideal or A Cut Above The Rest are basically very well cut Hearts and Arrows.
Other than round shape diamonds, many people also love the shape of princess, oval, and marquise shape diamonds. However, retailers might price it slightly more expensive than a round brilliant diamond. Little did you know, the price for any other diamond shapes are always cheaper than round shape diamonds. Don't believe it? Compare it yourself at ZCOVA diamonds page.
What you see on ZCOVA website is exactly what you will get because every picture is linked to that particular diamond. In fact, looking at the picture of a diamond is 100% more beneficial than looking it at a physical store because the pictures of our diamonds are taken in a controlled lighting environment with a specialized machine dedicated for diamonds. So you don't have to worry that you will be getting a different diamond.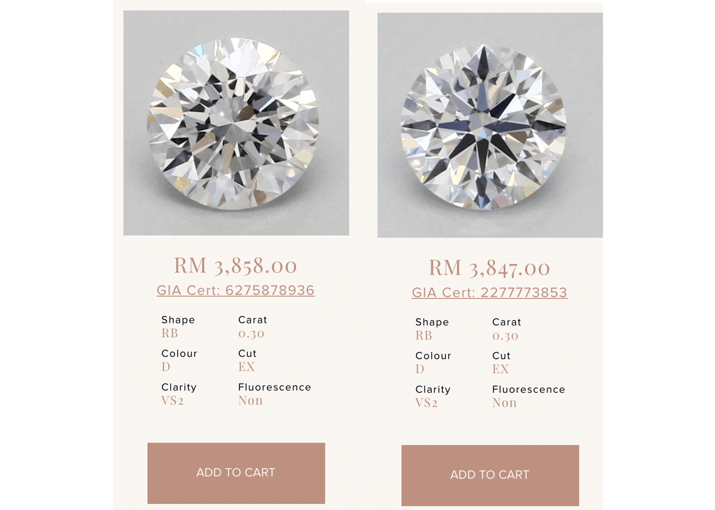 Let's look at some of the examples of Hearts and Arrows from excellent to poor so that you know how to buy a diamond ring.
Excellent Hearts and Arrows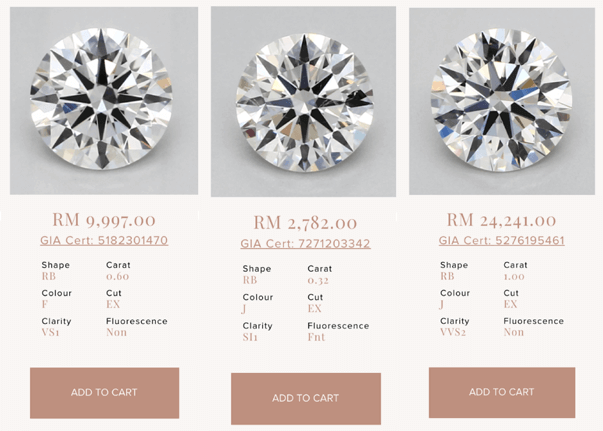 Arrows: Well highlighted. The upper portion of the Arrows and the lower portion of the Arrows are aligned without looking too wide or thin.
Overall: Symmetrical. There is no symmetry variation like misalignment, non-pointing or misshapen facets.
Pavilion Depth: It is centred. The circle in the middle is not too big or too small.
Very Good Hearts and Arrows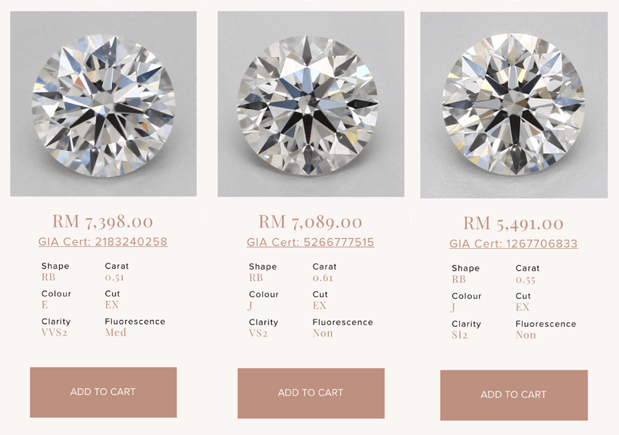 Arrows: Majority of the Arrows are well highlighted without looking too wide or too thin.
Overall: Symmetrical with a light of symmetry variation like misalignment, non-pointing or misshapen facets.
Pavilion Depth: It is centred, but some might appear off-centred. The circle in the middle is not too big or too small.
If you are not familiar with diamonds, it may be difficult for you to tell the difference between Excellent Hearts and Arrows with Very Good Hearts and Arrows. However, choosing Very Good Hearts and Arrows is actually good enough for a diamond.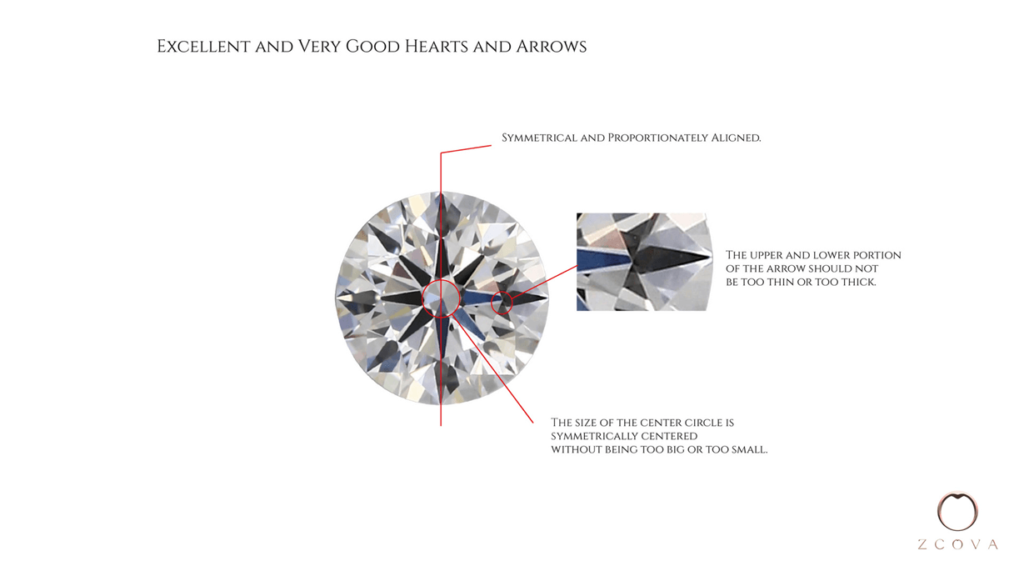 Feel free to make an appointment with us at our ZCOVA showroom so that our professional consultants can explain every detail to you.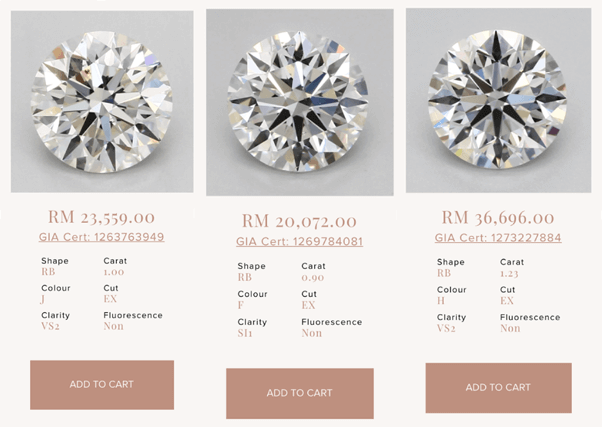 Arrows: Majority of the Arrows are well highlighted, but some may appear white.
Overall: There will be slight symmetry variation of misalignment, non-pointing or misshapen facets.
Pavilion Depth: The circle in the middle is not too big, but it could be small and it will look off-centred.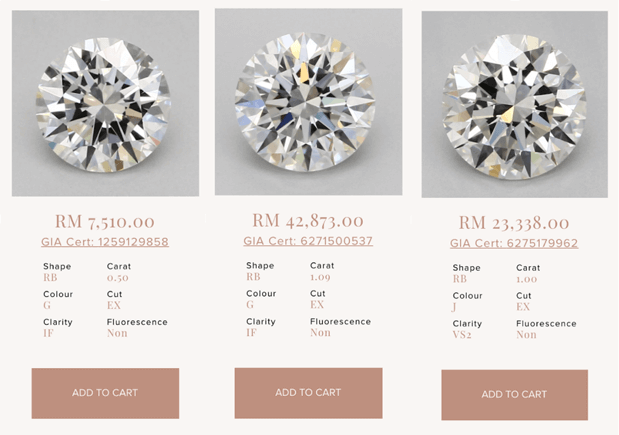 Arrows: Not highlighted.
Overall: It will look clustered with an obvious symmetry variation like misalignment, non-pointing or misshapen facets.
Pavilion Depth: The circle in the middle is too big. The overall look appears to be clustered and off-centred.
Now with such detailed photos and explanation, we can guarantee that all the diamonds purchased from ZCOVA are absolutely beautiful without the need to look at the actual product.
3) Know How Much You Should Spend
"What is your comfortable price range?" This will always be the first thing that our professional consultants will ask. You must have heard of the myth where guys should spend their two or three month's salary on an engagement ring. But how true is that?
With the convenience of online shopping today, anyone can find the engagement rings within their budget whether it's under RM5,000 or RM10,000. You don't have to limit yourself to buying an engagement ring based on your salary. Simply choose a budget that is comfortable for you and makes her happy at the same time.
Take our quiz to discover the perfect diamond ring picked specially for you.
Whenever you walk into a store, you will always be overwhelmed by all the choices that you have. Hence, you will get caught in the moment easily and subconsciously agree with whatever information the salesperson is giving you.
Without the pressure from the salesperson, you get to control your spending and make a better decision so you don't spend more than you can afford. Isn't that great?
Online shopping for diamonds is different. There are so many resources online that you can get to learn what is it that you want to buy so you won't be making an impulse purchase. Additionally, you get to compare prices online from store to store, at anywhere, anytime. There is no need for you to visit the physical stores anymore.
Another important thing that you can look for when online shopping for diamonds is the product information. Everything is updated upfront on the website such as prices, materials, and total carats. There are no hidden fees.
5) Understand The 4Cs of Diamonds
ZCOVA has over 150,000 diamonds graded by GIA and a huge variety of settings to choose from, allowing you to create the right combination of the 4Cs (Colour, Clarity, Cut, and Carat) for your desire and budget. With the aim to educate our customers, we have the 4Cs of diamonds page for them to learn about diamonds.
Since a diamond's Cut is the most important element that we should look at, ZCOVA provides only Triple Excellent Cut, for our customers deserve the best. Knowing about diamonds will give you an advantage because with that information, you will be able to select the best combination of Carat Weight, Colour, and Clarity that suits your preferences.
Do take note that some retailers may also tell you that they offer a Super Ideal Cut, which is the best Cut in diamond. This information is just a different terminology for Excellent because GIA certificates do not have Super Ideal or Ideal.
When you understand about the 4Cs of diamonds and how to buy a diamond ring, you can be a smart buyer and now what you are actually buying instead of listening to what the salesperson has to offer. Remember, you don't have to compromise on the diamond quality when you can actually get it within your budget.
6) Always Read The Reviews
Knowing that many are still sceptical about buying diamonds online, reviews are always there to help you out. You can get an honest opinion from people who have purchased online so you know what to expect from the company.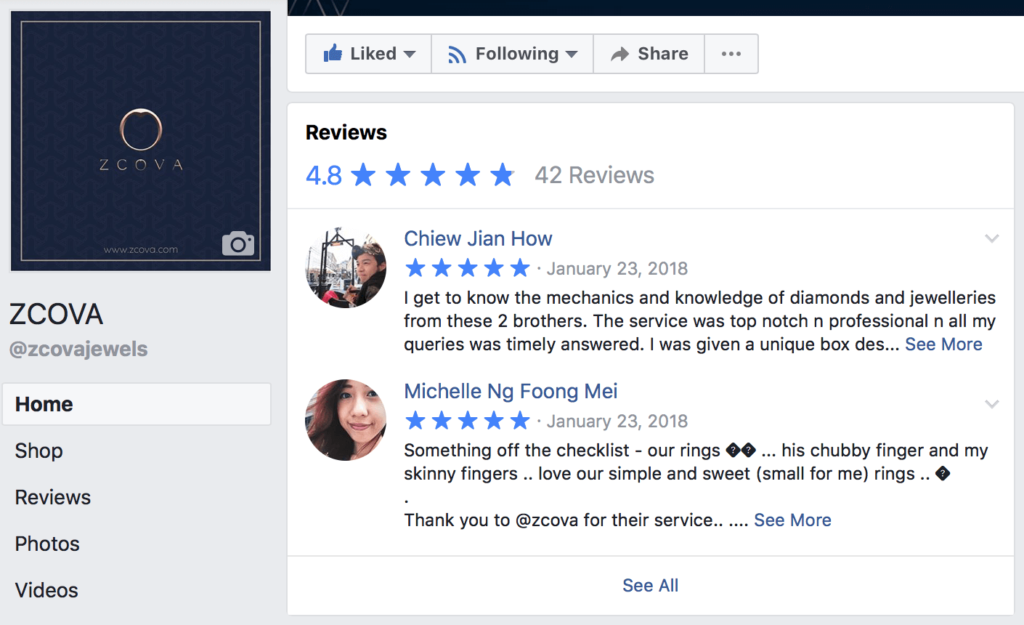 Apart from the supportive customers, ZCOVA is also the first jewellery company that received SSM BizTrust certificate with the highest level of trust (Level 3). With this certificate, customers can now shop smartly and safely.
7) ZCOVA 3-Point Check: Verifying Your Real Diamond
When it comes to security, ZCOVA ensures that our customers will always get what they paid for. For every diamond purchased, we have a ZCOVA 3-Point Check where our professional gemologist or jewellery consultants will do a security check to verify your diamond. Here's how it works: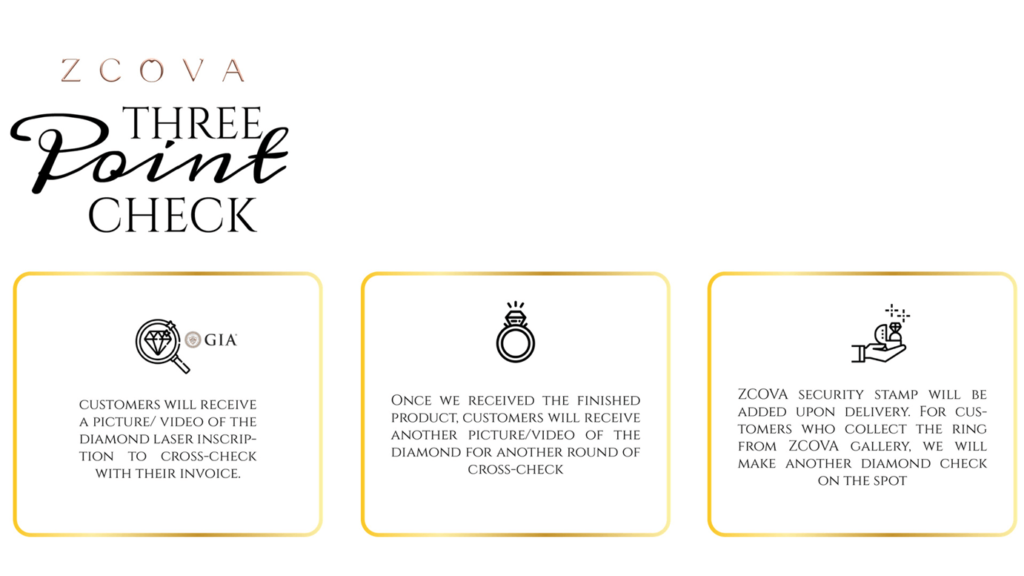 Every single diamond will be checked by our in-house GIA Graduate Gemologist before being set into jewellery. ZCOVA also provides delivery insurance for every online purchase made. With such secure process, customers can sit back, relax, and let ZCOVA handle the rest of them.
8) Check The Warranty Policy
Jewellers who care about their customers will usually have warranty policy to reassure their customers. So once you have set your eyes on the diamond that you want, always check with the jewellers if they have a warranty policy. This is important because the policy can save you a lot of money in the long run where you don't have to pay extra after getting the ring.
Knowing that customers are always busy and rushing, the rings might get defected in the future. Therefore, ZCOVA offers a lifetime warranty whereby we will refurbish a new ring for you if there are any manufacturing defects.
Online Shopping For Diamonds Is Here To Stay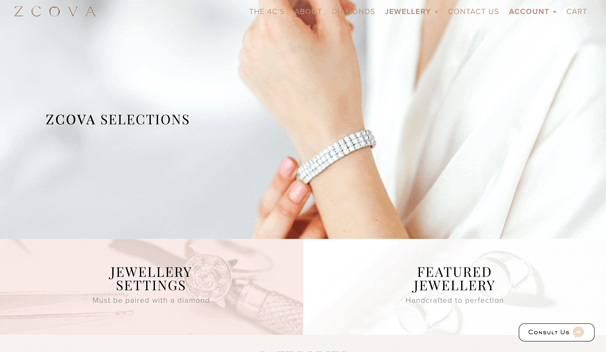 If you think that buying an engagement ring online is not special, then you are overthinking. Online shopping for diamond does not take away the experience. In fact, it will always be special because what better option do you have when you need to send a surprise gift to your loved ones?
Visiting online jewellery company like ZCOVA is the right way to do it. You no longer have to make excuses to the jewellery stores. Being able to speak to a graduate gemologist or professional jewellery consultants about a ring that you really love (without pressure) is the reason why people choose ZCOVA for unique, affordable, and quality diamond rings.
Benefits such as free shipping, resizing, engraving, and gift wrapping are offered in ZCOVA. To make you even happier, there are no design fees required for customization. We do not charge for unnecessary cost as we believe in providing value to our customers. You can also avoid paying for the engagement full price if you are tight on a budget because ZCOVA offers payment by instalment.
If you are out there looking for the best diamond for your money, feel free to contact us and let us know what sort of price range you are comfortable with. Even if you don't know what you are looking for yet, don't worry. We will sift through thousands of diamonds on our website and send you suggested diamonds for you to choose from that will fit your needs the best.
With ZCOVA, we will provide you with a step-by-step guide on how to buy a diamond ring. Many have also asked us, "Why is it better to buy a diamond engagement ring online?" We've got you covered right here.