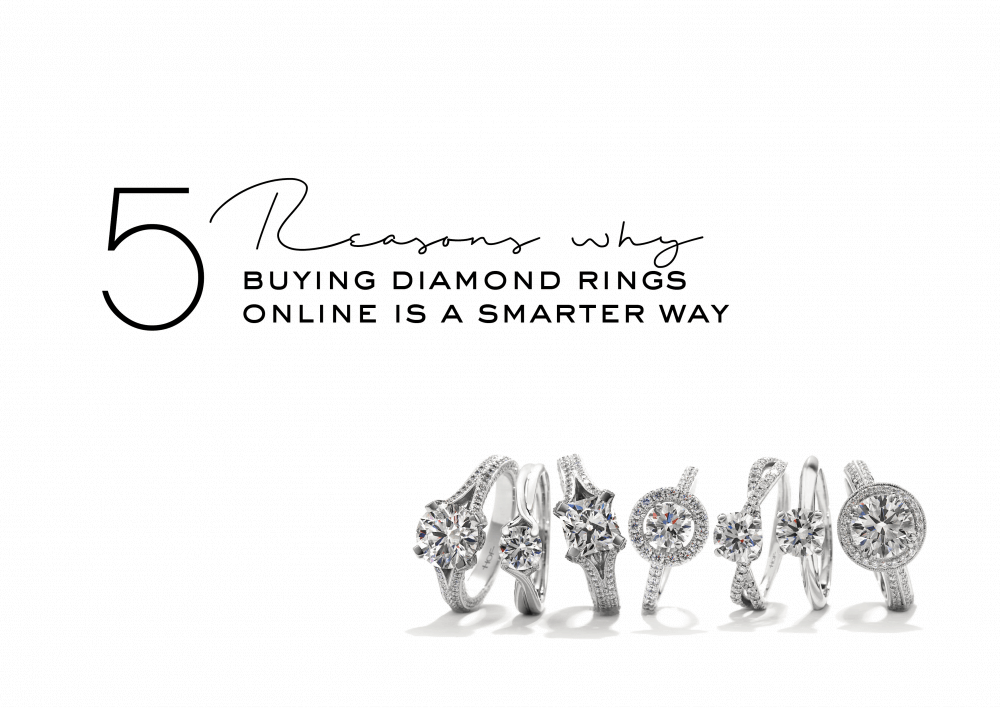 5 Reasons Why Buying Diamond Rings Online Is A Smarter Way
Gone are the days where you had to visit more than one jewellery stores and get tensed about not being able to find the perfect diamond ring.
Do you still remember those days when you had to visit more than one jewellery stores and stress about not being able to find the perfect one? Well, those days are now gone.
Today, there are unlimited choices for engagement rings online worthy of being worn for a lifetime with a brand new shopping experience. It may be common in the States to get diamonds online, but now, customers can finally get it in Malaysia! How convenient is that?
Say goodbye to the traffic jam and having to take a day off from work to survey for the dream diamond ring. Instead, choose the diamond ring in your own sweet time without any interruption. Shopping for diamond rings online is really simple!
1) It's Not Just Beyond Easy, It's Safe
These days, people not only buy clothes online. They also buy furniture and groceries online. So why not buy engagement ring online? Customers can select an engagement ring at home without the stress and fuss from a salesperson pressuring them into an over-budget engagement ring and ended up with an impulse purchase.
To get the perfect diamond ring with no regrets, the very first step to take is researching. Customers should have a rough idea on which ring they would like to buy. At this stage, getting their diamond rings from a trusted source is really important. Online diamond and jewellery company like ZCOVA is known for its personalized consultation services with professional advice.
Rest assured, our consultation service is not commission based, so there will be no intimidation or pressure given. Not only that, we also have an online chat to ensure safe transaction. (Yes, customers can always trust us.)
Custom design for a unique engagement ring that belongs only to our customers and their soulmates is also available. We want to provide our customers with options and resources to create an unforgettable experience, tailored to their specific needs and desires. Visit our website to personalize that significant diamond ring to represent your love story.
As someone who knows nothing about diamonds, it's very important to know about this: is the diamond conflict free and is it certified by an independent GIA lab report?
We have ZCOVA 3-Point Check to clarify this information when customers make a purchase from us. Here are the steps that will be taken during the ZCOVA 3-Point Check: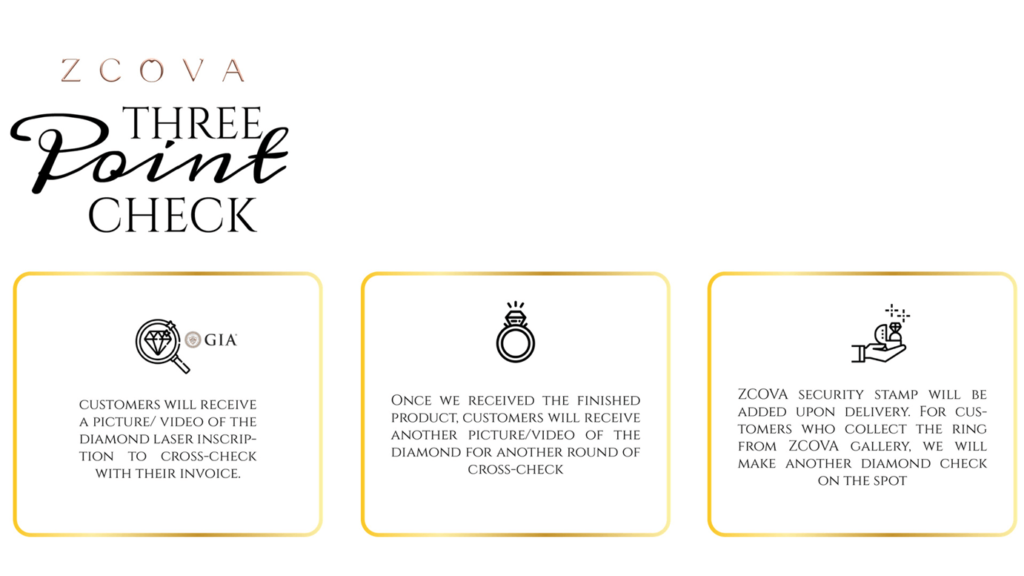 However, if customers choose to collect the diamond ring from ZCOVA showroom, our consultants will make another check for them on the spot.
Of course, if customers are still having doubts, they can cross-check the number on the certificate with GIA website. The GIA number is unique to every diamonds, so there's no need to worry about having the same GIA number on two different diamonds.
3) Affordable, Yet Trendy Diamond Rings
Walk around. Go to the malls! Customers can survey for their preferred engagement ring from a few jewellery shops that always claim they have the cheapest diamond in the market. But how true is that?
A perfect scenario would be customers browsing through the catalogue at home without getting intimidated or judged by a salesperson. What if the perfect scenario can actually happen? Honestly, getting engagement rings online is cheaper than brick and mortar because they don't have overhead cost.
That's exactly what we offer. Since we're sourcing our diamonds directly from the manufacturers, our price is almost wholesale price to the retail market.
Together with our bespoke service, even when the customers have a particular jewellery design in mind that does not currently exist in our jewellery collection, they can upload the design here. Our professional consultants will then discuss with them directly on the options for their piece with a quote.
4) Customers Have Endless Possibilities
It's a different situation when it comes to getting a ring from the brick and mortar. Most of them have limited choices and customers won't be able to create something unique for their loved ones.
With ZCOVA Selections full of diamond rings online, customers get to see more varieties, which consists of the classic designs, trendy choices, and also unique pieces.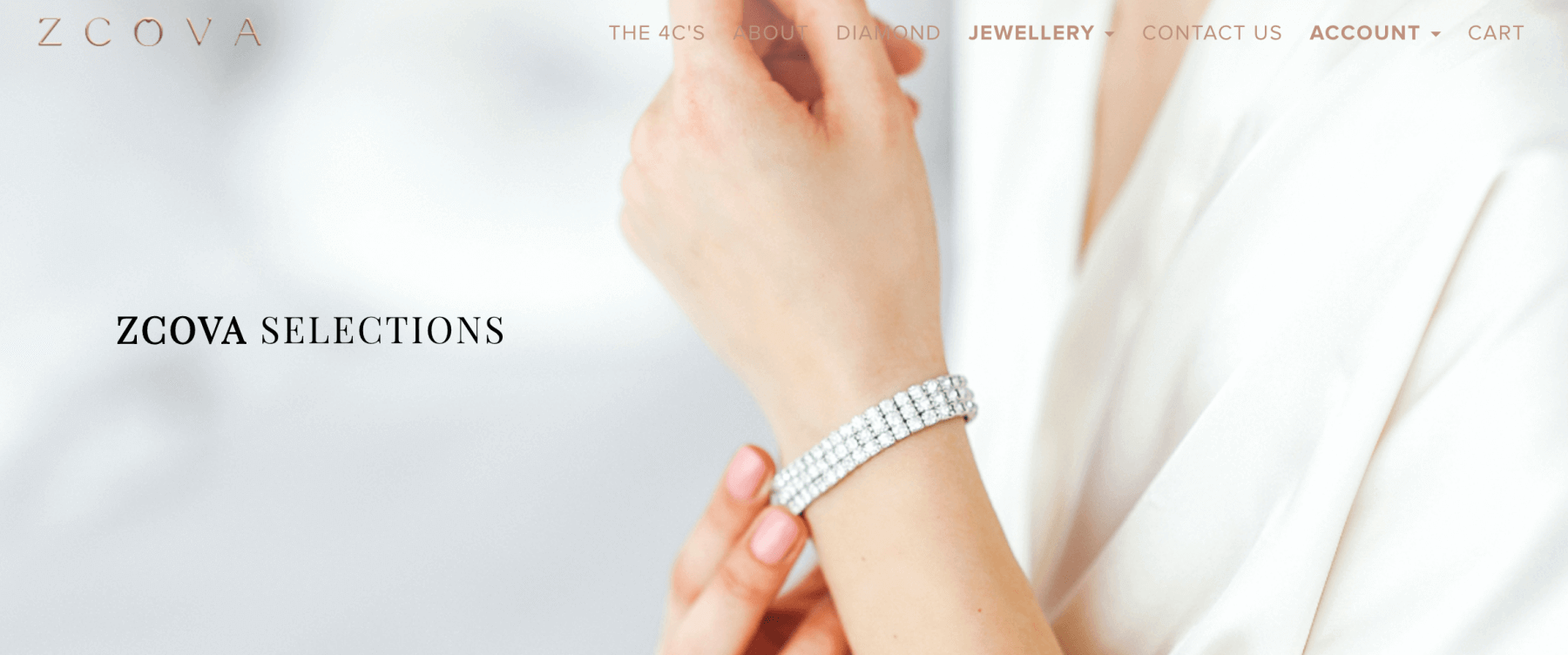 We have over 150,000 diamonds graded by GIA with more than 100 designs to choose from, allowing customers to create the right combination of the 4Cs (Cut, Clarity, Color, and Carat) for their desire and budget.
5) It Will Always Be Unique
Trekking from store to store can be stressful, expensive, and potentially nerve-wrecking. But getting an engagement ring online does not take away the experience. In fact, it makes diamond ring shopping MUCH better because you can get it at anytime, anywhere you want.
Customers can speak to our gemologist and professional consultants at any time about an engagement ring that they fell in love with on our site, and tweak the design based on your preferences.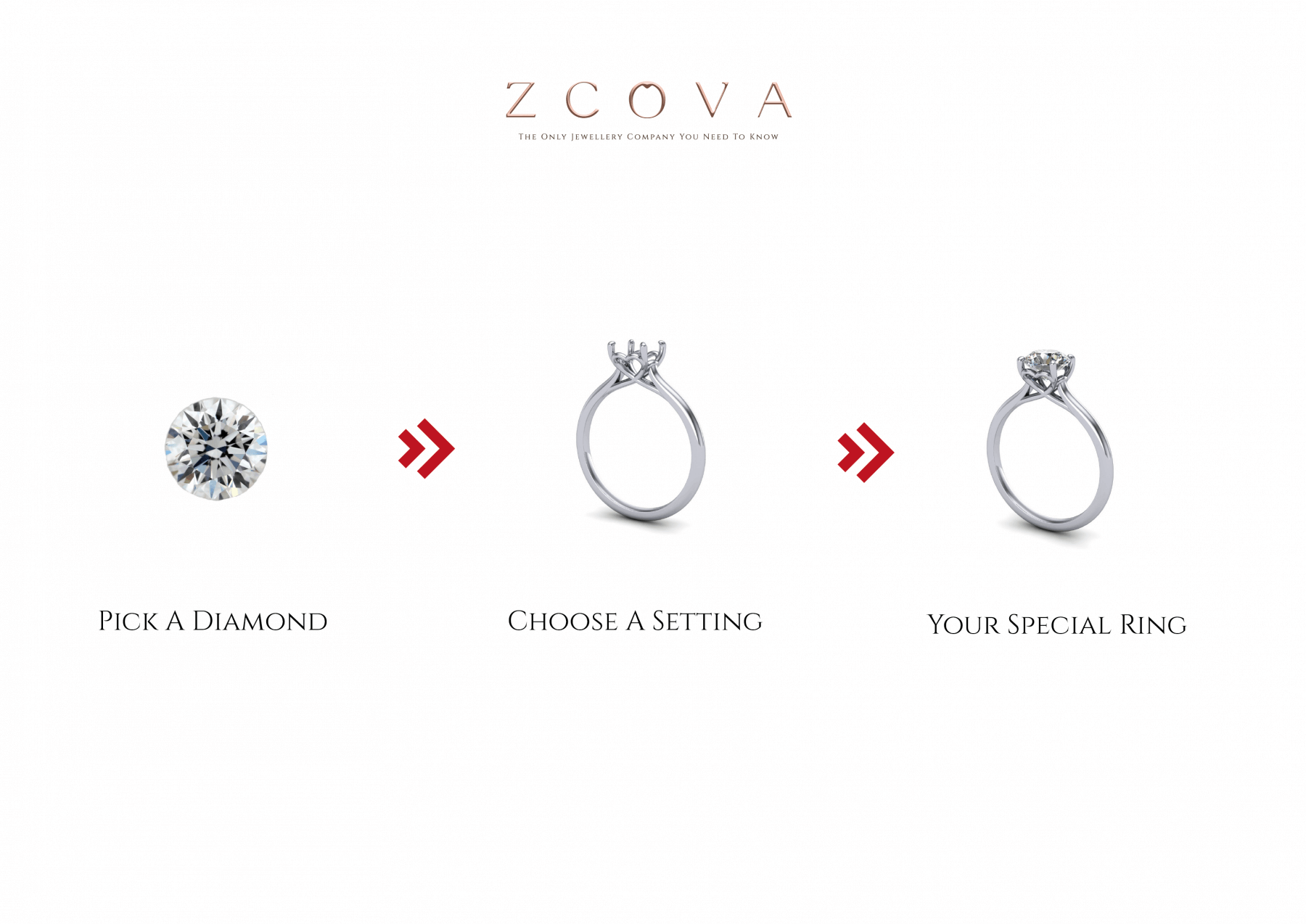 To get the special ring that represents your love story, ZCOVA is the go-to source for unique and affordable, quality engagement rings.
If customers are still uncomfortable buying online, we suggest to spend some time talking to our consultants who can walk them through the options and help to choose the perfect ring. At ZCOVA, customers can shop for engagement rings online in Malaysia with confidence as they can always chat with our personal consultants anytime, anywhere.