7 Doubts You Should Clarify When Buying Diamond Rings From ZCOVA
How to make sure if online platforms can be trusted and the diamond received is exactly what you've paid for?
Established in 2015, ZCOVA is an online diamond and jewellery company that modernizes the way customers purchase diamonds. We have a highly experienced team providing our customers with the best quality diamonds to meet their budget and requirements.
ZCOVA is not just about diamonds and other gemstones, we also offer personalized consultation services to help customers get unbiased advice and recommendations on the diamond jewellery that best suit their needs.
Over the years, we have received many enquiries including ZCOVA reviews, which gives us a better understanding of the customers' top concern. So today, we have compiled every question together with the answers to clear the doubts about getting a diamond ring online in Malaysia.
How Can I Be Sure That Purchasing Online With ZCOVA Is Safe?
We get it. Many customers are wondering if online platforms can be trusted and how to make sure that the diamond received is exactly what they have paid for. Let's start off with what every customer really want to know about ZCOVA diamonds.
Are Your Diamonds Real?
One can never cease to be amazed by the timeless elegance of genuine diamonds. Although there are some artificial diamonds that may look like the real diamonds, over the time, they will lose its beauty and become cloudy and chipped.
Exclusively on ZCOVA, the ZCOVA 3-Point Check is a security process created to ensure customers can shop for diamonds with confidence.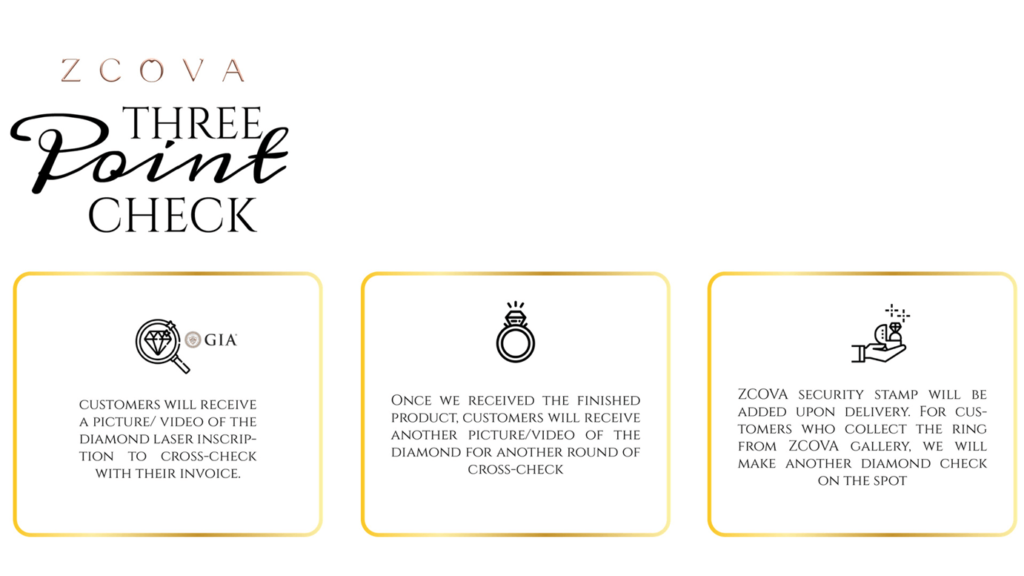 Our gemologists will examine the diamond.
Customers will receive a picture/video of the laser inscription to match it with GIA Diamond Grading Report™.
After verification, the diamond ring will be delivered with our security seal stamp.
When the diamond chosen by the customer has arrived, our gemologists will examine and send a clear picture or video of the laser inscription from the diamond for him/her to match it with the GIA Diamond Grading Report.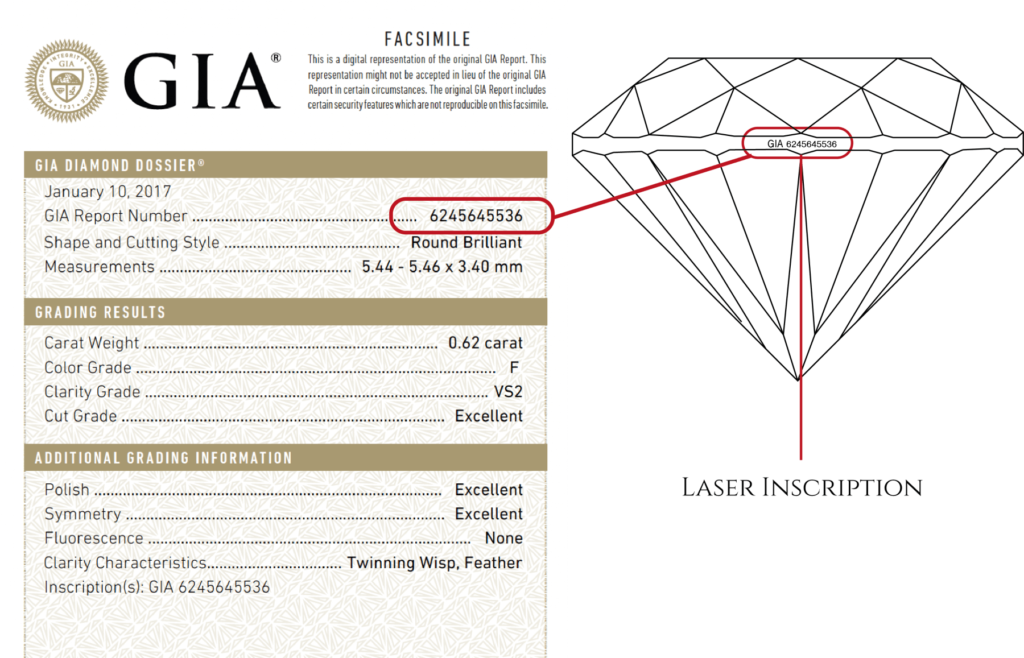 With our outstanding customer service, customers will be updated from time to time so they can follow very closely with every progress from initial design to delivery.
Delivery Insurance
While many are wondering if secure shipping is provided, all deliveries are insured and a signature is required upon receiving the diamond ring.
ZCOVA products come with a lifetime warranty against manufacturing defects on jewellery. To be certain of the diamond authenticity, we only offer diamonds graded by GIA or HRD.
However, if customers find dissatisfaction with our product quality (excluding diamond graded by GIA and design preference) after getting the diamond ring, please contact us for an official refund within 14 days. Our team will then verify the authenticity of the product for confirmation and proceed with the refund.
Within the 14 days of exchange policy, the first resize (if needed) will be free of charge.
Why Should I Buy From ZCOVA?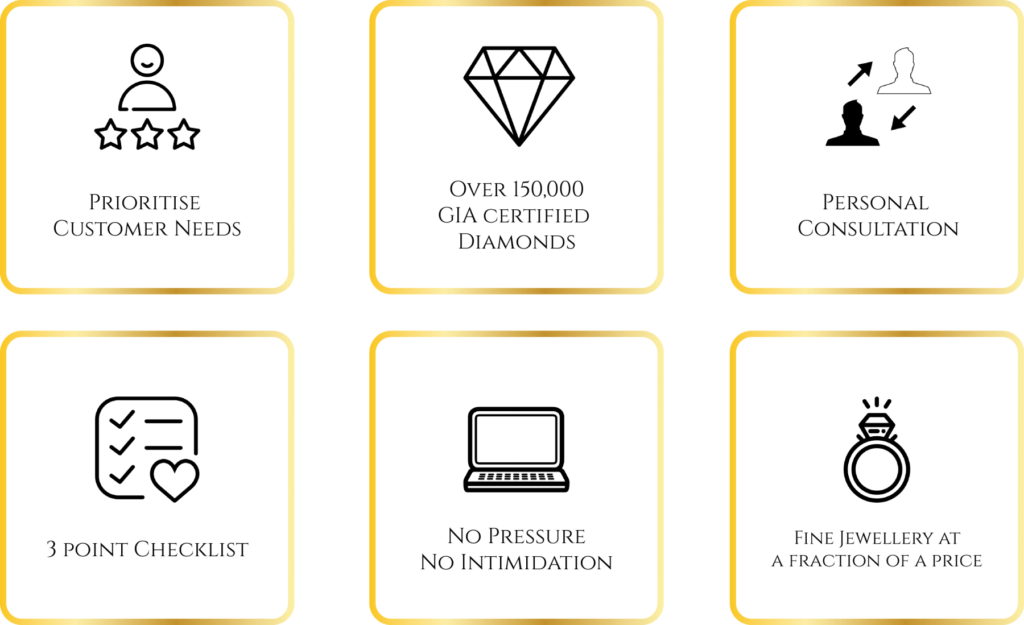 What Are The 4C's Of Diamonds?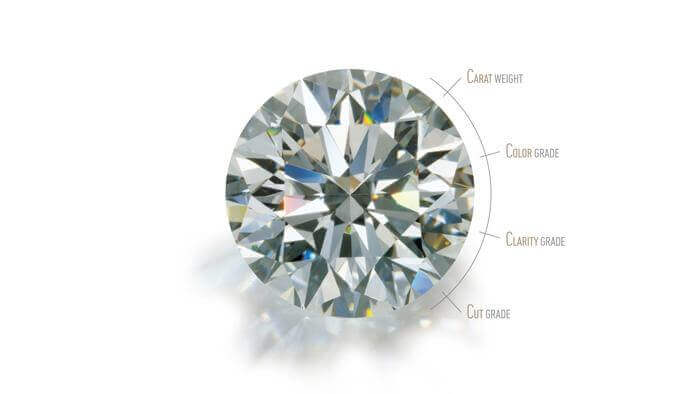 The 4Cs of diamonds is the universal method used to assess the quality of diamonds based on the Color, Clarity, Cut, and Carat.
Before the 4Cs of Diamond Grading was created by GIA, there were many different terms used to evaluate the diamonds. For example, Clarity was used to describe as "without flaws" or "with imperfections". Until the early 20th century, Robert M. Shipley, who established GIA in 1931 to provide formal gemological training to the jewellers.
Shipley then standardized the diamond value terms to the 4Cs which are Color, Clarity, Cut, and Carat so that everyone can understand about diamonds.
To learn more about it, we have a 4C's interactive page for customers to buy diamond rings the smart way.
How Long Does It Take For My Diamond Ring To Arrive?
Our diamonds will arrive within 5-8 working days excluding jewellery production lead time. For orders with setting services, customers can expect to receive the diamond ring within 18-30 days, depending on the design and material chosen. This process is longer because the rings from ZCOVA are all handcrafted. Still, we are one of the fastest diamond jewelers online to make jewellery in Malaysia.
In case the order takes a longer time to process, our team will inform the customers within 48 hours. For every order within Malaysia, complimentary express shipping is offered.

To inform the customers on the status of the product, an email with the tracking number and online link will be sent for them to track the order status. Customers can also check the delivery status from their personal account on ZCOVA website.
Can I Design My Very Own Diamond Ring?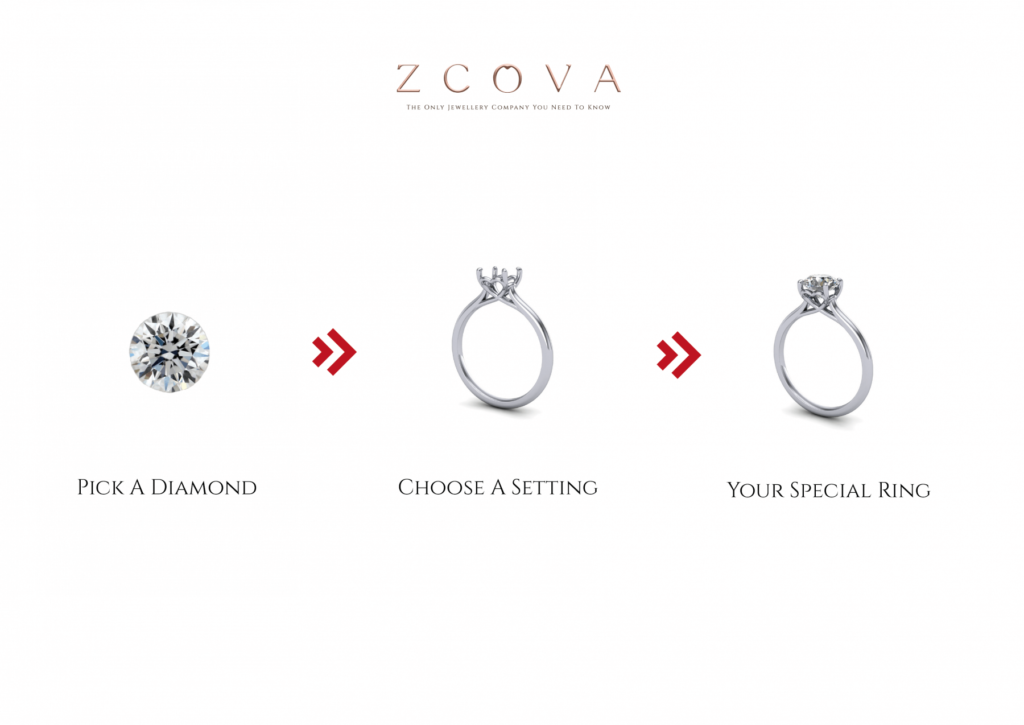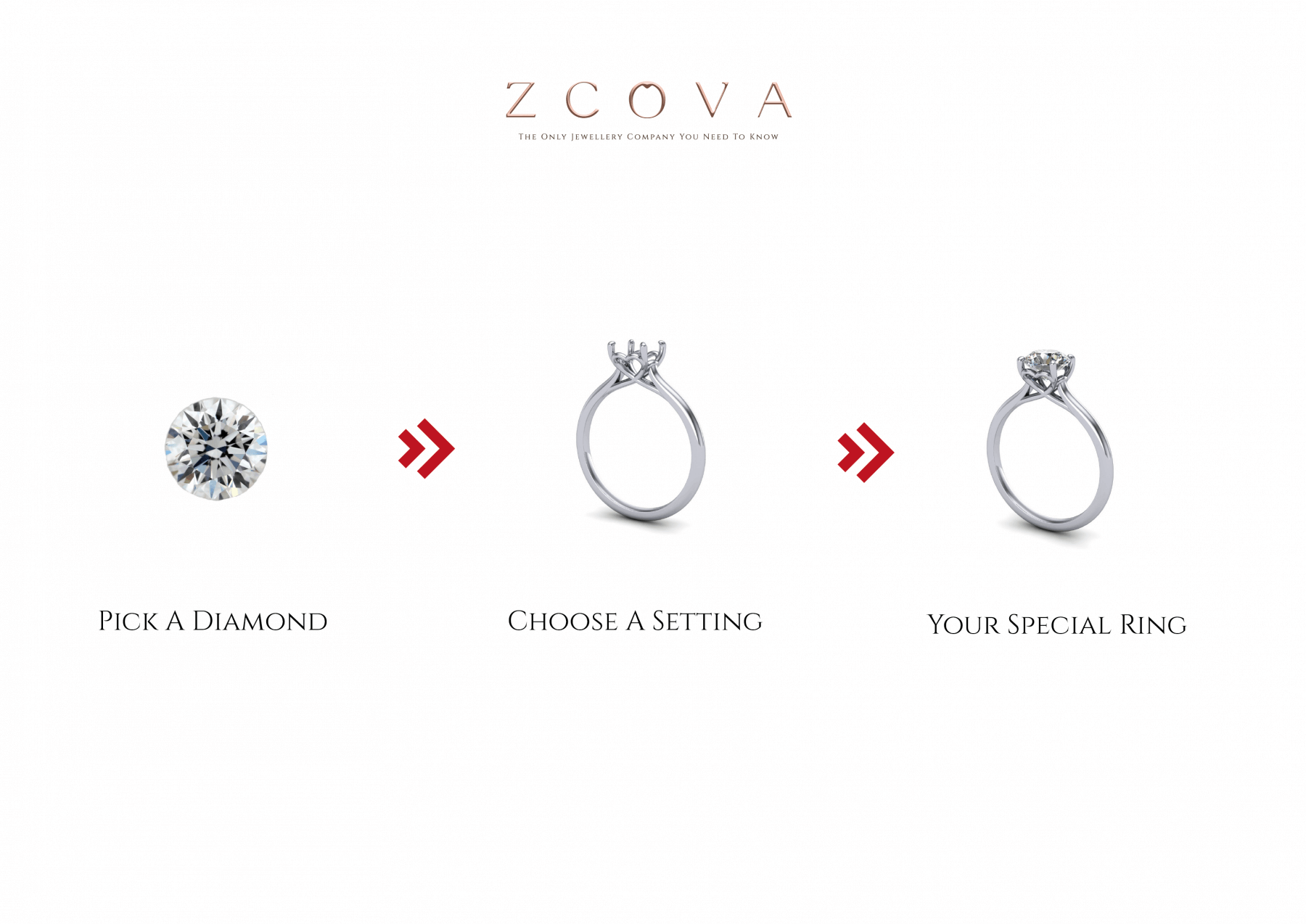 Definitely! We have a personalised consultation service where our consultants will help to select the perfect piece of diamond tailored to the customer's desire and budget. Our experienced team not only produce bespoke and custom made jewellery designs, we will also give professional advice on the design and fitting of the ring.
Let's say if there are other shapes which will look nicer when made into engagement rings, we will make that suggestion to our customers.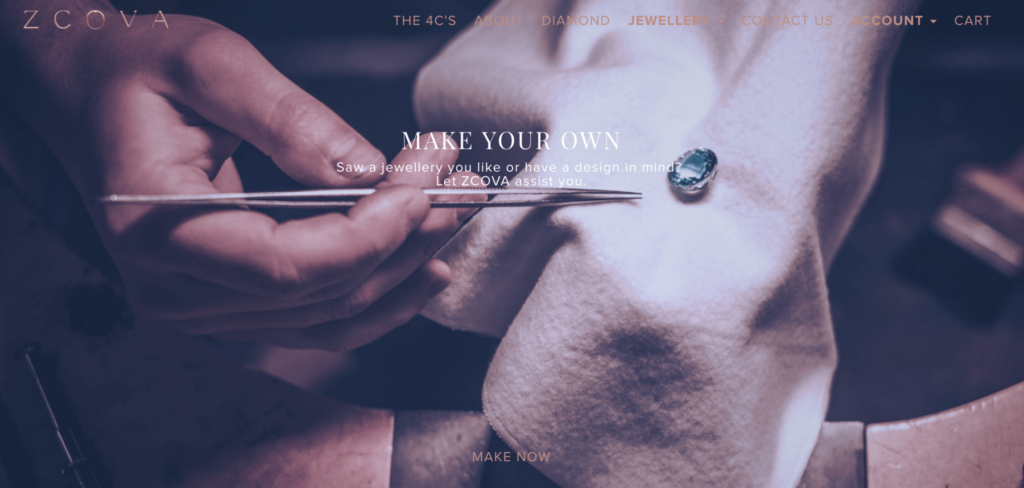 Why Are Your Diamonds So Much Cheaper?
Diamonds and jewellery often come with a huge markup in retails. But when it comes to online platforms, things will be different. Customers are able to save a lot more money when they purchase online with ZCOVA because we don't have the overhead that most retailers do. Customers can even find a higher quality diamond with a lower price on our website.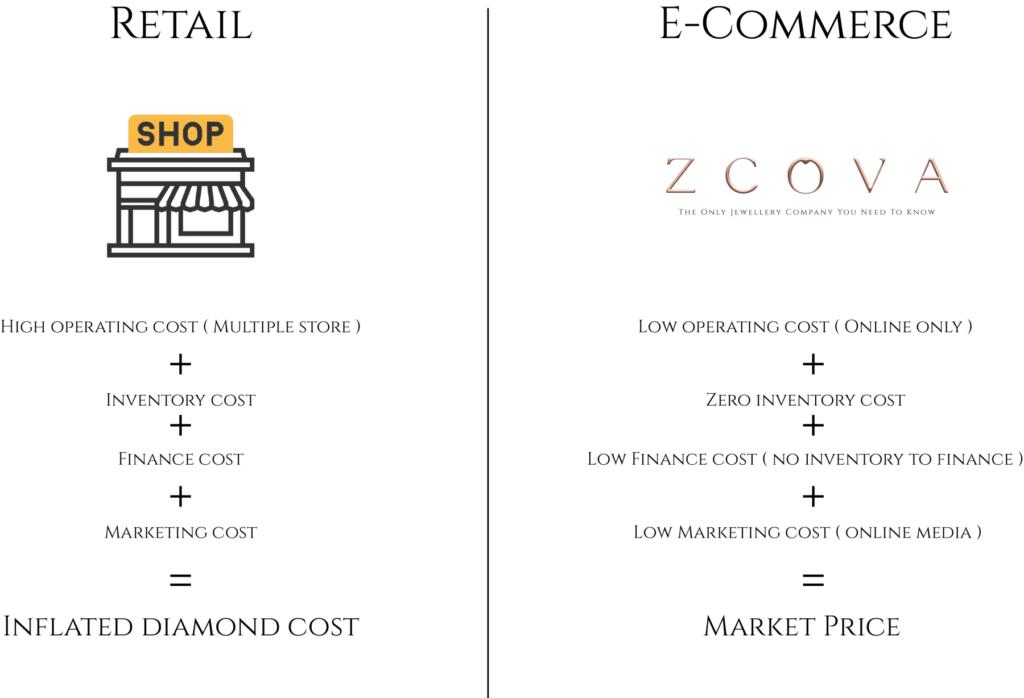 ZCOVA aims to introduce the innovative way for customers to buy quality diamond ring online in Malaysia. We want customers to have the privacy of their own homes and take their own sweet time to choose the perfect diamond ring in Malaysia. While not many customers know about diamonds, all the education and guidance will be provided to make online purchasing easy.
Like any other online platforms, ZCOVA is available 24 hours a day, seven days a week. There's no need to go all the way to the mall for diamond rings. Our professional consultants offer support through live chat and email with no commission taken, so customers wouldn't experience any intimidation or pressure to buy.
With our innovative diamond selection system, there are over 150,000 diamonds graded by GIA and more than 100 designs, giving customers the choices of the 4Cs (Cut, Clarity, Color, and Carat).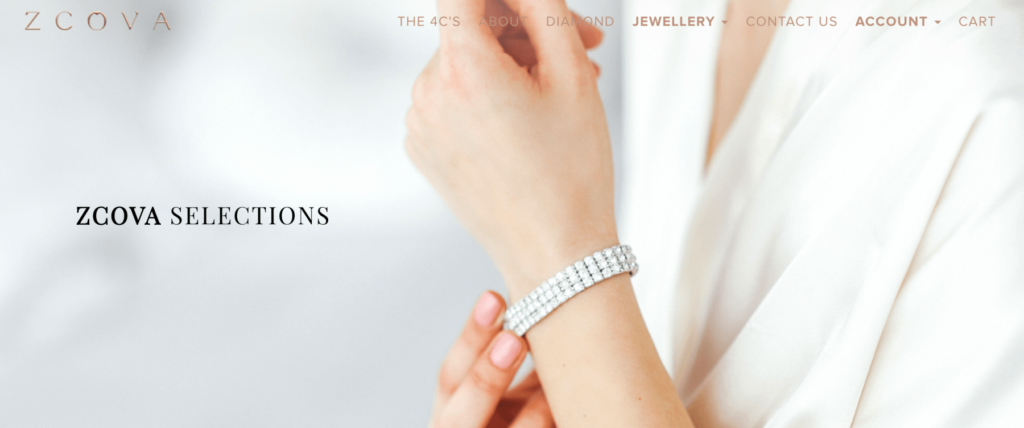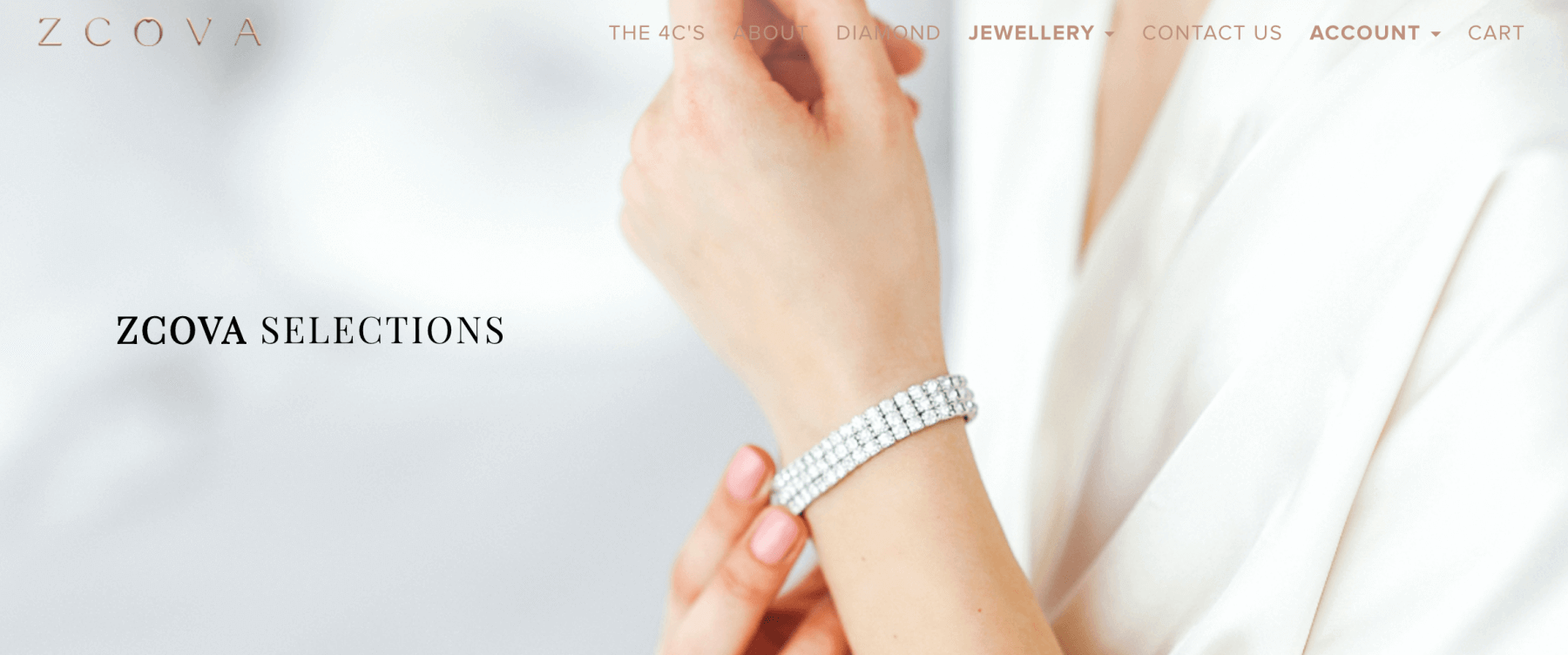 For those who are looking for engraving services, a maximum of 10 characters (only once per purchase) is available for free. Simply include the personal message on the instruction card delivered together with the free ring sizer, and our production team will proceed with it.
Other than that, we also have ZCOVA Diamond Price Match for customers to make a smarter choice.
ZCOVA Diamond Price Match
It's really common for customers to survey the market before deciding to make a purchase, but we know very well that there is no comparison when it comes to the value and quality of ZCOVA diamonds.
So if the customers find a comparable GIA graded diamond at a lower price, let us know. Submit the request here and our team will contact the customers to further understand their needs based on the budget. If the offer meets our qualifications, we will match the price or even lower.
Why Are Your Diamonds So Much Cheaper?
Many people have overlooked this, but from the time a diamond leaves the diamond mine, the diamonds have to pass through many hands – from traders to wholesalers and retailers before ending up with the ring on your finger. This means that at every stage, the price of the diamond increases until it reaches the retail market where it becomes ridiculously expensive.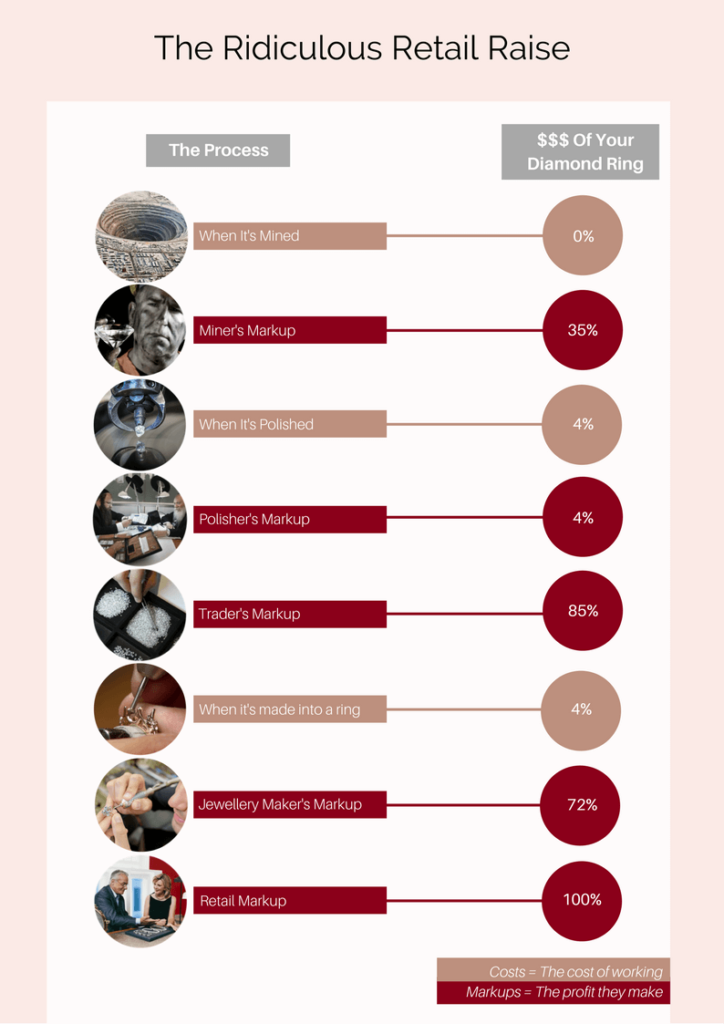 ZCOVA diamonds are sourced directly from the diamond manufacturers that produce the stones globally, which means we can offer the stones at almost wholesale price to the retail market.
ZCOVA Is More Than Just Online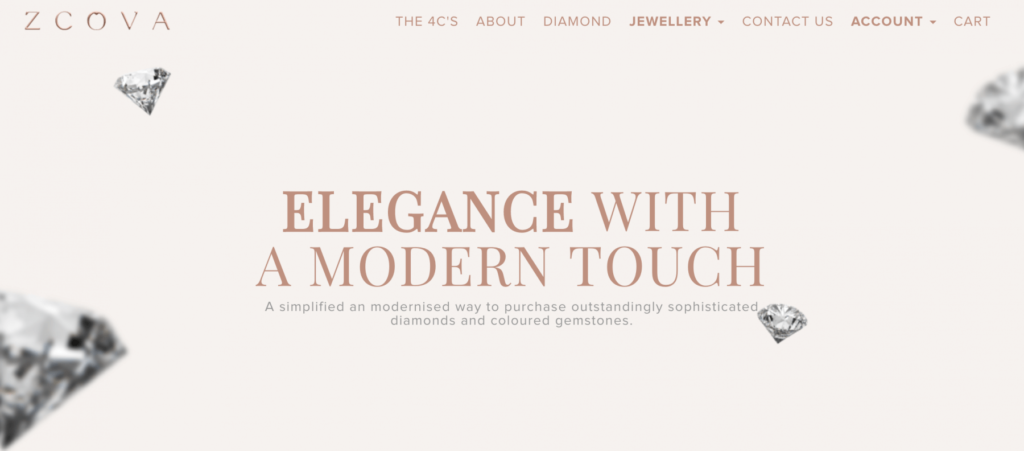 With over 150,000 GIA certified diamonds and more than 100 designs to choose from, customers can shop online with confidence knowing that their diamond is being QC and checked before sending it out. We want to provide customers with a larger variety of choices, better services, a frill-free experience, and reasonable prices for them to walk through life with their soulmates.
We deliver the best online shopping experience for getting a diamond ring in Malaysia. At ZCOVA, we ensure that our customers will get a lifetime value. Why pay more for the exact same thing, right? We want our customers to know about diamonds because most of the margin that they are paying for the traditional stores is for the branding and not for the value of the diamond.
Our core value is to provide value to customers and the design community. Not only customers will have the best, but they will also understand the true value of these precious diamonds.