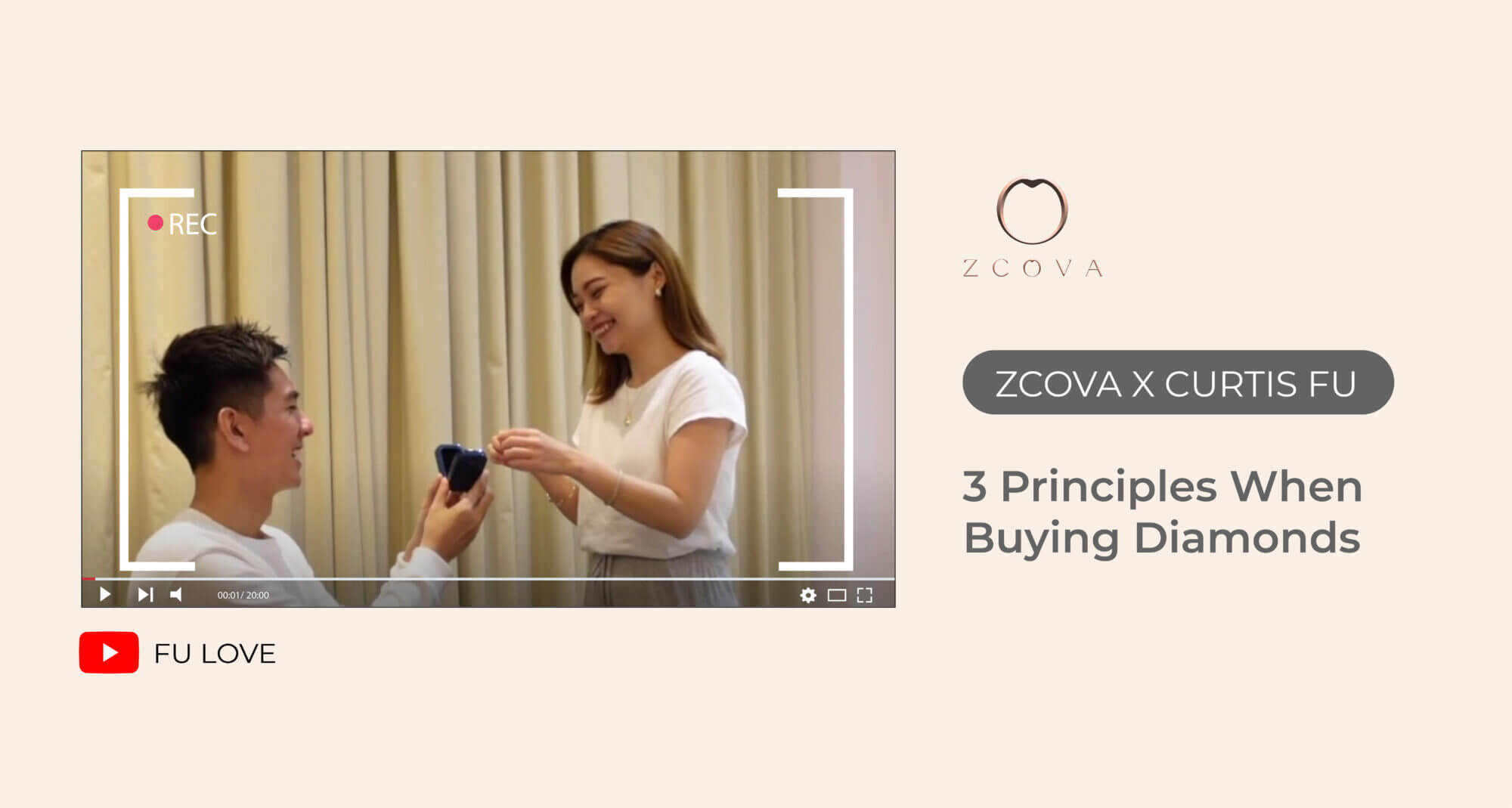 ZCOVA X CURTIS FU: 3 Principles When Buying Diamonds
Thank you to all our amazing fans who have recommended ZCOVA! And also thank you Curtis and Jmie for dropping by our showroom.
Join us and check out what Curtis and Jmie chose for their engagement ring in ZCOVA!
Watch the video on Youtube here:
The Diamond 4Cs
It is important to learn about the diamonds 4Cs- Cut, Carat, Clarity & Colour, when shopping for diamonds. ZCOVA provides this education for every customer before they make their lifetime purchase.
Free Customisation in ZCOVA
This is when you can unleash your creativity.
Take a look at some designs online for inspiration. You can bring pictures or drawings for our in-house jewellery designers to create a special engagement ring!
Things to consider when creating your ring:
1. Do you prefer one centre stone, halo engagement ring or a pavé engagement ring setting?
2. Do you prefer the classic solitaire diamond or a gemstone engagement ring?
3. Do you prefer 18K white gold, rose gold or yellow gold?
After you have decided on your engagement ring designs, we'll send you a 3D printed ring to try on before production!
Book your consultation now and speak to our GIA gemologist via Facebook or Email!
GIA Certificate
Regardless of whether you're buying diamonds online or offline, it is important to check the diamond's authenticity and specifications by asking for its GIA certificate number. This is the only way to be 100% sure you're getting exactly what you paid for.
The ZCOVA 3-Point Check is part of our SOP to reassure customers they get what they paid for. Our GIA Graduate Gemologist checks each diamond personally before sending them out to customers. We want our customers to buy with confidence and have a completely worry-free experience.
RELATED: How to Check if a Diamond is Real with GIA Certification
3 Principles when buying diamonds
There are 3 principles that we will tell our customers when they shop for diamonds in ZCOVA:
#1 Always be comfortable with your price range
It is important to us that you are comfortable with your price range. Give us your price range and we'll recommend the best diamond specifications without compromising on its quality.
#2 There's no point spending extra on things you can't see
Diamond Colour & Clarity.
Colour:
It's nearly impossible to see the difference between diamond with a D colour and another with a H colour.
Clarity:
As long as the chosen diamond is eye clean, differences in Clarity grade cannot be seen with the naked eyes.
#3 If it takes you more than 15 secs to see a difference, it is insignificant to you
When you are comparing a loose diamond or diamond ring be it the size, colour or clarity. If it takes you more than 15 seconds to tell the differences it is not important enough to be noticed.