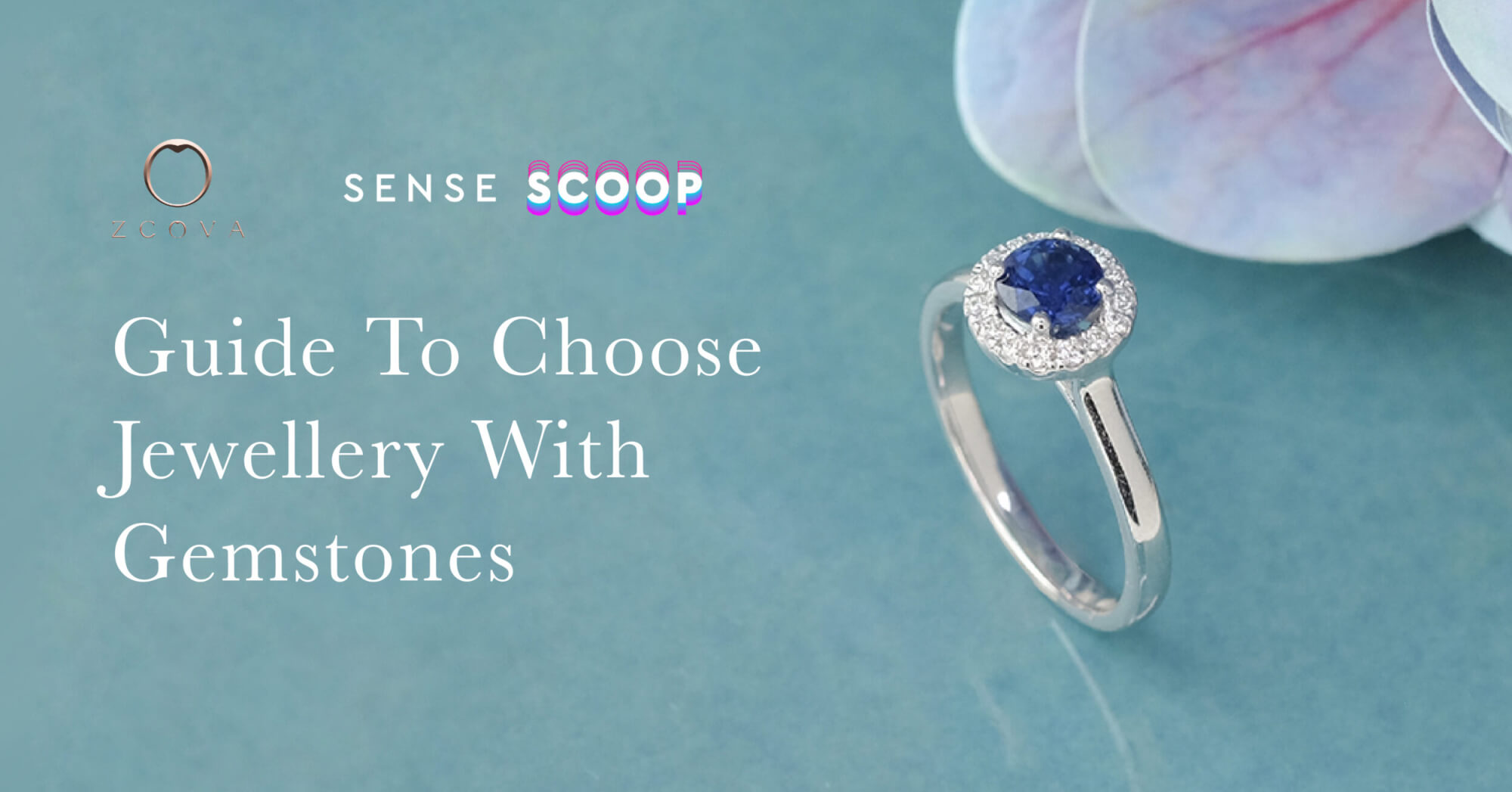 ZCOVA X SENSE SCOOP: A Beginner's Guide To Choosing Jewellery With Precious Stones
Date: 18 May 2021
Thank you Sense Scoop for featuring us! ZCOVA has launched 100,000 gemstones and made personalization easier for customers by showcasing Asia's Biggest Virtual Gemstone Inventory.
Read more at: https://scoop.sense.my/blog/gemstones-101-a-beginners-guide-to-choosing-jewellery-with-precious-stones
Over 100,000 Gemstone Choices – Rubies, Sapphires, Emeralds, and more
360-degree gemstone videos
Gemstone education from Gemologist
Free customised design and 3D Print; speak to our in-house jewellery designer via WhatsApp
Free delivery, Engraving, and Resizing
1-to-1 consultation done safely online via WhatsApp (017-367 0666 / 017-686 6693), Facebook Messenger, Call, email, or Video Call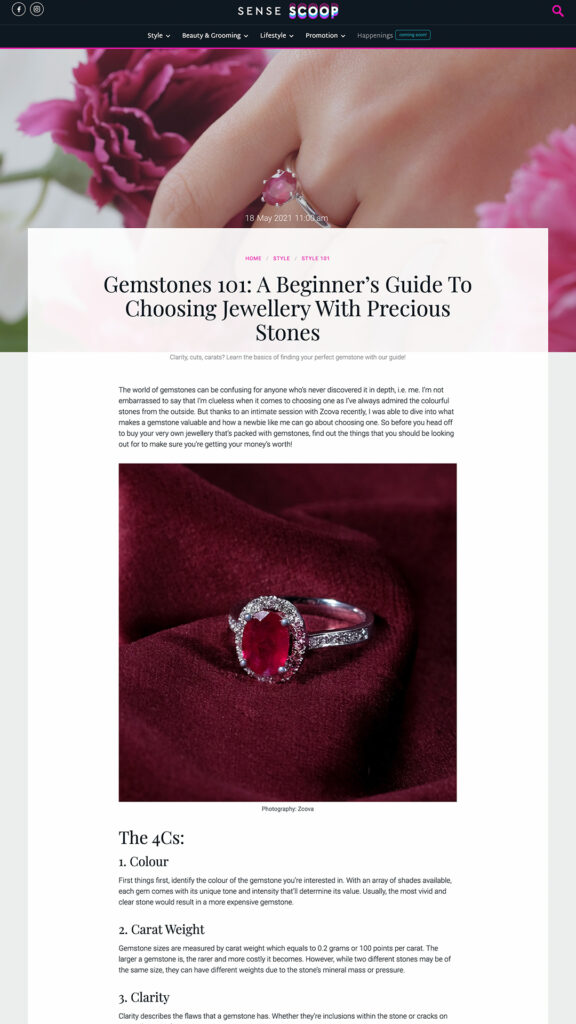 GEMSTONES 101: A Beginner's Guide To Choosing Jewellery With Precious Stones
The world of gemstones can be confusing for anyone who's never discovered it in depth, i.e. me. I'm not embarrassed to say that I'm clueless when it comes to choosing one as I've always admired the colourful stones from the outside. But thanks to an intimate session with Zcova recently, I was able to dive into what makes a gemstone valuable and how a newbie like me can go about choosing one. So before you head off to buy your very own jewellery that's packed with gemstones, find out the things that you should be looking out for to make sure you're getting your money's worth!
The 4Cs:
1. Colour
First things first, identify the colour of the gemstone you're interested in. With an array of shades available, each gem comes with its unique tone and intensity that'll determine its value. Usually, the most vivid and clear stone would result in a more expensive gemstone.
2. Carat Weight
Gemstone sizes are measured by carat weight which equals to 0.2 grams or 100 points per carat. The larger a gemstone is, the rarer and more costly it becomes. However, while two different stones may be of the same size, they can have different weights due to the stone's mineral mass or pressure.
3. Clarity
Clarity describes the flaws that a gemstone has. Whether they're inclusions within the stone or cracks on the surface, the fewer clarity characteristics the stones possess, the rarer they become.
4. Cut
Also referred to as the gem's shape, its cut is just as important as the rest of the stone's characteristics. Whether you're choosing an oval-, round-, pear-, marquise-, triangle- or emerald-shaped stone, take note of how its facets are arranged as well as its overall proportion and finish. When a stone is well-proportioned with a fine finish, the gemstone will show its ultimate brilliance and beauty, and at the same time add to its value.
With the 4Cs in mind, be sure to also take into consideration its origin and treatment of the gem. While stones from locations with limited supply or come with special characteristics will command a higher price, the number or type of treatments that gemstones receive to improve their appearance will also influence their value.
Let Zcova Simplify The Process
I know, I know – that's a lot of info to process in one go. But thankfully, Zcova allows you to choose your gemstones with ease as the brand has made it super accessible to shop for its products online! Since its inception in 2015, the Malaysian-based company has modernised the way precious stones are purchased while offering customer consultation and customisation to its range of 100,000 different gemstones – no kidding!
Authenticity
Shopping for gemstones online can be intimidating. Recognising this, the retailer provides assurance by offering certified stones that originate from the International Coloured Gemstone Laboratory (ICL) and LOTUS Gemology or GRS Laboratory to confirm the colour intensity and origin.
Customisation
As precious stones can resonate personally with us, you can even customise your gemstone jewellery through Zcova's website. With complimentary personalisation and 3D-printed samples, Zcova's in-house jewellery designers are able to provide high-quality handcrafted designs based on your reference image and requirements.
Transparency
Offering full transparency to the customer, Zcova lets you know what you're getting yourself into with images and 10-times-magnified 360° videos of the gemstone you're looking at. With visuals taken at the lab that processes the stones to show their true characteristics, Zcova uses a technology called the Application Programming Interface (API) so that you're able to virtually view the stones up-close as if you're right at their showroom at Kota Damansara!
Head over to Zcova to start personalising your gemstones.