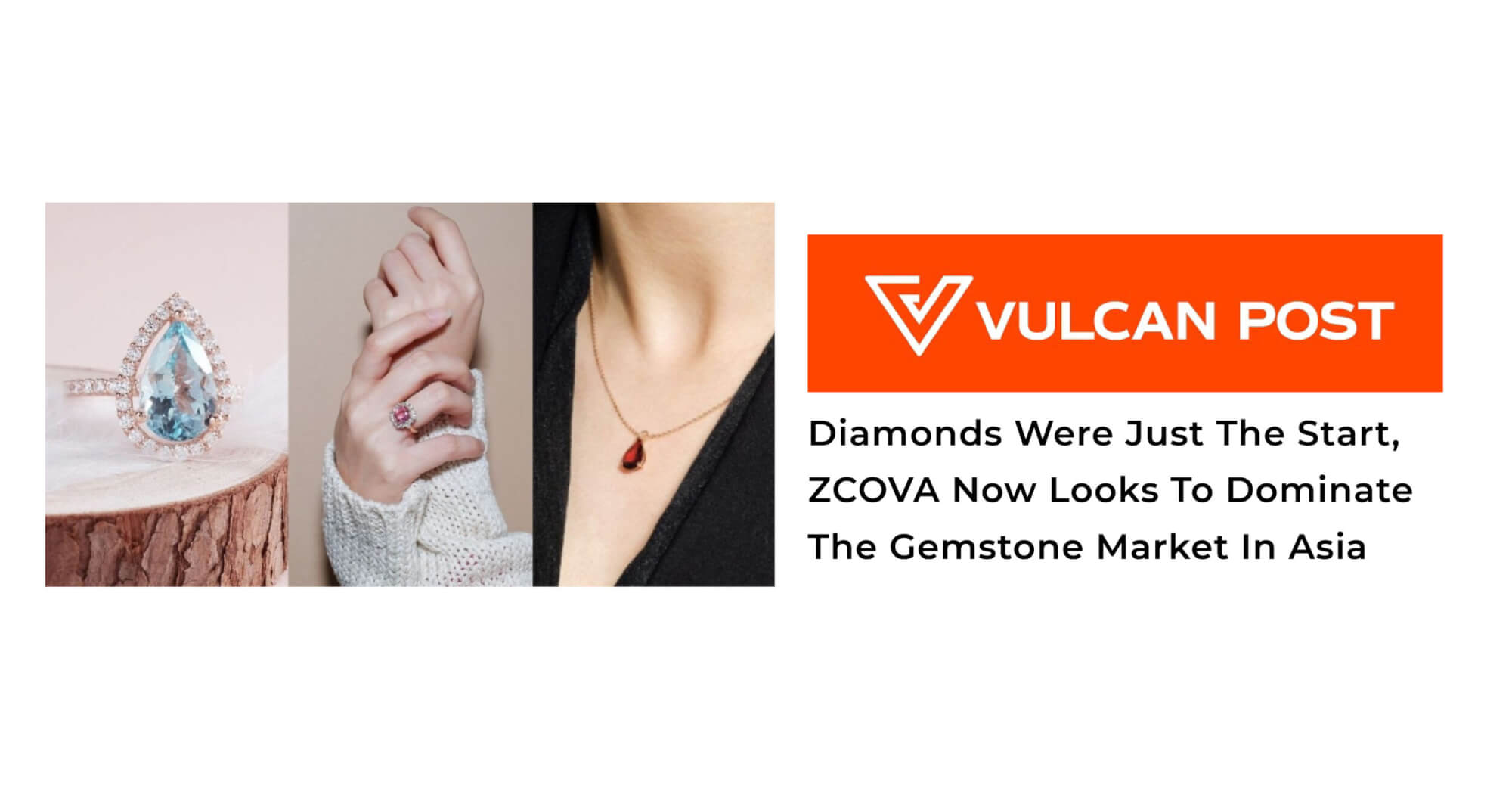 ZCOVA in Vulcan Post: Dominating Asia's Gemstone Market
Date: 26 January 2021
Thank you Vulcan Post for featuring us! ZCOVA has launched 100,000 gemstones on Asia's Biggest Virtual Gemstone Inventory!
Read more at: https://vulcanpost.com/731133/zcova-virtual-gemstone-inventory-online-customisable-jewellery
Over 100,000 Gemstone Choices – Rubies, Sapphires, Emeralds and more
360-degree gemstone videos
Gemstone education from Gemologist
Free customised design and 3D Print; speak to our in-house jewellery designer via WhatsApp
Free delivery, Engraving and Resizing
1-to-1 consultation done safely online via WhatsApp (017-367 0666 / 017-686 6693), Facebook Messenger, Call, email or Video Call
ZCOVA founders Low Ziwei and Low Ziyin started up with a laser focus on diamond industry disruption. They've innovated touches like 360° diamond viewing videos, personalised virtual consultations, virtual try-ons using augmented reality, and even brought in a dual diamond certification.
The end goal has always been to provide transparency and reliability, which allows their customers to make educated purchasing decisions and have a positive buying experience.
Along the way, they noticed that their customers regularly voiced dissatisfaction with another industry: gemstone purchasing. The problems? Lack of choices, designs, authentication, and education.
All these sounded very familiar to ZCOVA—in fact, these were some of the very issues they've worked to conquer in the diamond industry.
They've seen their share of success; over the years, the team told us that they've helped their customers save an estimated RM10 million while shopping for diamonds.
This was done by using ZCOVA's technology that enables customers to skip unnecessary additional charges and browse diamonds online without being influenced by the opinions of the salespersons. They're now applying the same principles and expertise to gemstones.
A Market Ripe For Disruption
The ZCOVA team describes the gemstone market as "fragmented". Due to this, the technology needed to categorise gemstones was not available, even though there was a demand for it.
Thanks to the introduction of such technology, ZCOVA has been able to launch their very own Virtual Gemstone Inventory, where users can browse through a selection of 100,000 certified gemstones from around the world. 100,000 gemstones is a lot, so ZCOVA has split the categories into different types, shapes, colours, carats, clarity, origin and more.
The listings come with 10x magnified 360° videos and while taking a closer look at the gems, you can compare prices easily.
Each gemstone sold in ZCOVA will also be certified under ICL Certificates.
The More You Know: Unlike diamonds which have a universally recognised grading system through GIA, coloured gemstones currently lack that. Instead, the International Colored Gemstone Laboratory (ICL) established its own proprietary grading system.
However, for the gemstone market, ZCOVA recommends getting the gemstones certified at more than one laboratory so that customers can confidently know their gemstone's origin and specification.
They provide an additional service to further certify gemstones under 2 separate laboratories, LOTUS and GRS, if customers would like to grade their gemstone further.
ZCOVA places a lot of emphasis on certifying the origin of gemstones, because each origin may have slight differences in its hue and saturation which will ultimately affect its value.
It's important to them that customers are educated and aware of such differences, so that they can make the best decisions when choosing a gemstone.
After deciding on a gemstone, customers can get further access to more of ZCOVA's services including unbiased gemologist consultations, in-house jewellery designers, 3D print technology, and experienced craftsmanship.
3D printing technology has proven to be a key differentiating factor for ZCOVA's diamond sales in Malaysia and Singapore.
With that, the team were able to print customers' desired designs precisely for them to try on and view in person. This way, customers can see how big the diamond looks on their fingers, get the right size, and actually see their designs before confirming.
"Customers have told us that this is much better than going to a store because normally you can only see the final ring after 2 months and it is already set in gold. At ZCOVA once a 3D printing is requested by a customer it will take 3-7 days for the design to be rendered and additional 2 days for printing," said the team.
The Right Tech At The Right Time
"Consumers can now take advantage of the variety and transparency that has never been done in Asia," the team announced in a press release about their virtual gemstone inventory launch.
These are bold words, but if their endeavours in the diamond industry thus far is the yardstick, ZCOVA does seem to have the clout to keep to their goal and bring the gemstone industry here to a whole new level.
With the ongoing pandemic limiting visits to physical stores, a large, easy-to-browse virtual collection of gemstones could be exactly what consumers are looking for. ZCOVA has already seen increased numbers on their diamond front. "Over the past 9 months even with the pandemic, our number of customers have more than doubled, " they said.
It's not hard to imagine how their gemstone sales could see a similar trajectory.