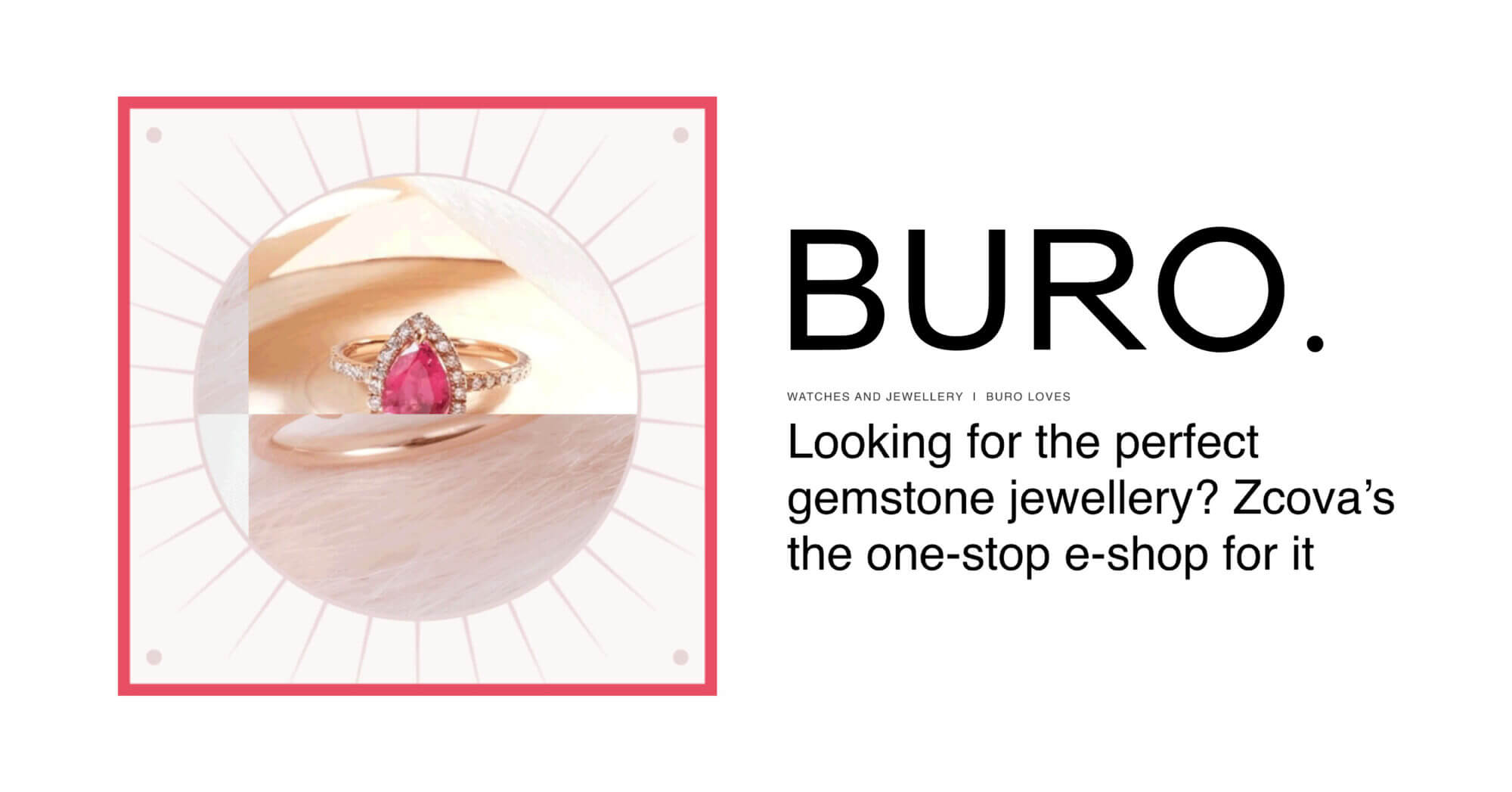 ZCOVA in BURO: Asia's Biggest Virtual Gemstone Inventory
Date: 22 January 2021
Thank you Buro 24/7 for featuring us! ZCOVA has finally launched 100,000 gemstones on Asia's Biggest Virtual Gemstone Inventory!
Read more at: https://www.buro247.my/watches-and-jewellery/buro-loves/perfect-gemstone-jewellery-zcova-one-stop-shop.html
Over 100,000 Gemstone Choices – Rubies, Sapphires, Emeralds and more
360-degree gemstone videos
Gemstone education from Gemologist
Free customised design and 3D Print; speak to our in-house jewellery designer via WhatsApp
Free delivery, Engraving and Resizing
1-to-1 consultation done safely online via WhatsApp (017-367 0666 / 017-686 6693), Facebook Messenger, Call, email or Video Call
Looking for the perfect gemstone jewellery? Zcova's the one-stop e-shop for it
Known for its diamonds, the online jeweller has now added gemstones to its selections
Locally, Malaysian online jeweller Zcova has always prided itself as a disruptor in the diamond industry thanks to its no-frills way of purchasing diamond pieces. But after making waves and leading the pack for five years, the brand is taking the next big step by introducing the biggest virtual gemstone inventory in Asia. Its aim? To bring better value and quality gemstones to consumers.
The idea came about after the brand noticed the struggles that its customers were facing. While quality diamonds are within reach, gemstones, on the other hand, are a different story. Sourcing the perfect piece in the size, shape, quality or price of choice is already a long and difficult task, what more when you have more than one request? After listening and answering enquiries from its solid clientele over the years, Zcova took the next natural step by launching a gemstone inventory that's similar to its diamond counterpart.
"The gemstone market in Malaysia has been around for generations, and it is thriving more than ever because of the vibrant colours and options that attract a new set of young collectors, especially customers who are looking for an heirloom piece that has a significant value. However, the industry's very fragmented because there isn't a place with a wide selection of gemstones to choose from and to further understand the beauty of a gemstone and its origin," explains co-founder Ziyin in a statement.
With over 100,000 certified gemstones available, explore the brand's inventory by filtering according to type, colour, shape, carat, clarity, and/or origin of the gemstones. After you've picked a gemstone (the 10 times magnification 360-degree videos allow you to take a closer look at the quality and colour), choose a setting that you like, and you'll be able to review the complete ring. It's that simple.
If you need any help during the process, you can also request for consultation. With its in-house gemologist, designers and 3D-printing technology, trust us when we say that you're in good hands.
Co-founder Ziwei added, "Zcova's ultimate goal from the start has always been to provide the best value and transparency to our customers in everything we do. We've accomplished that for diamonds and are now doing the same for gemstones. In the future, when there is a demand for other products in the market we will do our best to provide better solutions for them as well."
Not sure where to start? Opt for a gemstone that best suits your personality:
If you are a… goal-chaser
Ruby
The red stone symbolises power and passion—they're hard-workers who are motivated by success. It represents love and courage too.
If you are a… problem-solver
Emerald
Analytical and organised, they're the thinkers of the bunch.
If you are… the life of the party
Sapphire
Sapphire is synonymous with royalty and luxury, so it's perfect for those who are all about having fun.
If you are… always calm and collected
Aquamarine
Like its colour, the Aquamarine is often associated with peace and calm, but it symbolises youth, love, and hope too.
If you are an… optimist
Spinel
Spinel is a stone of revitalisation, and it radiates positive energy.
If you are… confident and compassionate
Tourmaline
The gem is believed to promote happiness and inspiration, hence it complements those who are wise and loving.
If you are… romantic
Morganite
Morganite's energy attunes to the heart, so it helps to attract and maintain love. The stone's also an increasingly popular pick for engagement rings.