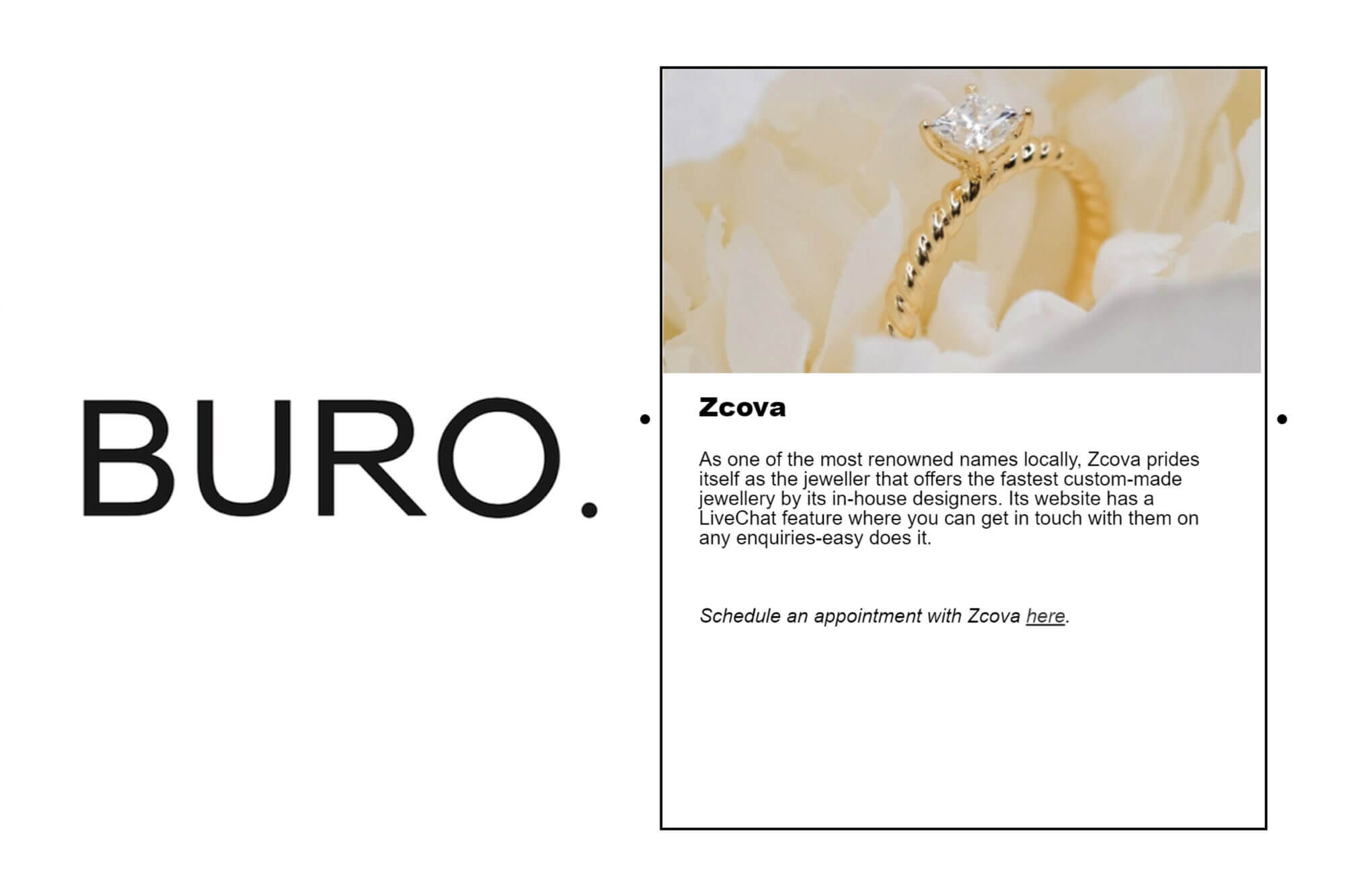 ZCOVA in BURO 24/7: Best places to customise your jewellery in KL
Date: 29 September 2020
We are grateful to be featured in Buro 24/7 Malaysia once again! Thank you for featuring ZCOVA and sharing about our free customisation for engagement rings!
Read more about it at: https://www.harpersbazaar.com.sg/watches-jewels/jewellery-brand-zcova/
1-to-1 consultation done safely online via WhatsApp (017-367 0666 / 017-686 6693), Facebook Messenger, Call, email or Video Call
Can choose any diamond spec you want including Carat, Cut, Color, Clarity & Fluorescence with price transparency.
Can view the diamond in 10x magnification 360° video to check before buying.
Free global insured shipping
Free ring sizer and 3D printed ring design
Customise your ring design for free; speak to our in-house jewellery designers via WhatsApp.
Singapore & Malaysia's only brand with dual certificates from GIA & GemEx
Dual-certified diamonds are guaranteed brilliant
100% pass GemEx High Light Performance
"As one of the most renowned names locally, Zcova prides itself as the jeweller that offers the fastest custom-made jewellery by its in-house designers. Its website has a LiveChat feature where you can get in touch with them on any enquiries-easy does it."
Schedule an appointment with ZCOVA here.
In the past few decades, more and more people are moving towards personalized engagement rings that signify your one-of-a-kind love story. Instead of the traditional route of finding your engagement ring in the jewellery store, it is becoming more and more common to have a ring customized and created by a professional jewellery designer. Furthermore at ZCOVA, you can customize and buy your engagement ring online with free secure shipping!
Why are custom-made rings becoming popular? There are plenty of reasons for this gradual shift in interest, but one of the major reasons is that a customised engagement ring is now becoming more affordable and accessible to all. At ZCOVA, the entire process is provided free of charge as part of ZCOVA's Services and customers have access to our in-house jewellery designers. We're also using the advanced technologies of 3D printing so customers can not only view a 3D render of their design but also try on a physical ring! Designing and customising your ring is now easy, creative, affordable, and accessible to every couple!
Many new customers are unfamiliar with the process of customising a ring from scratch in ZCOVA so let us explain to you about the process and what you need to know when customising your engagement ring!
#1 Choose your diamond
Ask your friends, family members, or other brides whose style you admire for personal recommendations. If you're buying a diamond, make sure it comes with GIA or GemEx Certificates. ZCOVA is the only brand in Malaysia & Singapore to have both GIA & GemEx certified diamonds.
Besides, you have to consider the 4C's of a diamond and choose the best stone for your budget. Our GIA Graduate Gemologist will recommend you the diamond 4Cs along with your budget.
If you are looking for the best cut and brilliance, get LUMOS by ZCOVA Diamond. Speak to our GIA Graduate Gemologist to get an unbiased opinion on your perfect diamond or shop online!
#2 Unleash your creativity
Coming out with ideas of your very own diamond engagement ring for her is the most difficult, but also the most exciting part of customising a ring. There are many options out there including the settings and diamonds. How do you even start?
First of all, take a look at some designs and settings for inspiration. You can bring pictures, drawings, or even tell us your love story for our in-house jewellery designers to create a special engagement ring for your beloved one!
However, there are other things to consider: Do you prefer one centre stone, halo engagement ring or a pavé engagement ring setting? Do you prefer the classic solitaire diamond or would you opt for a gemstone engagement ring?
ZCOVA has choices of 18K white, rose and yellow gold. White gold has grown in popularity and it is the most popular choice among the customers. It all depends on your liking.
Some of our customer's customised engagement rings:
#3 Make your design
After you've decided on the design, our in-house designers will build a digital render of your engagement ring and create a 3D printed ring. You'll be able to see how your ring will look like before it is sent for production. That way, if something doesn't look quite like you imagined, you can easily make changes. On a side note, you can even request to get your ring engraved for free!
#4 Propose
It's time to pop the question! Designing your custom ring is a great option to take when buying an engagement ring. With the unique design that only belongs to you and your fiancé, it will make your proposal a memorable one.
Customise your engagement ring now! With so many custom options to choose from, it can be difficult to decide on the perfect ring. If you have any questions, just drop us a message on our Facebook Page or an email at service@zcova.com.