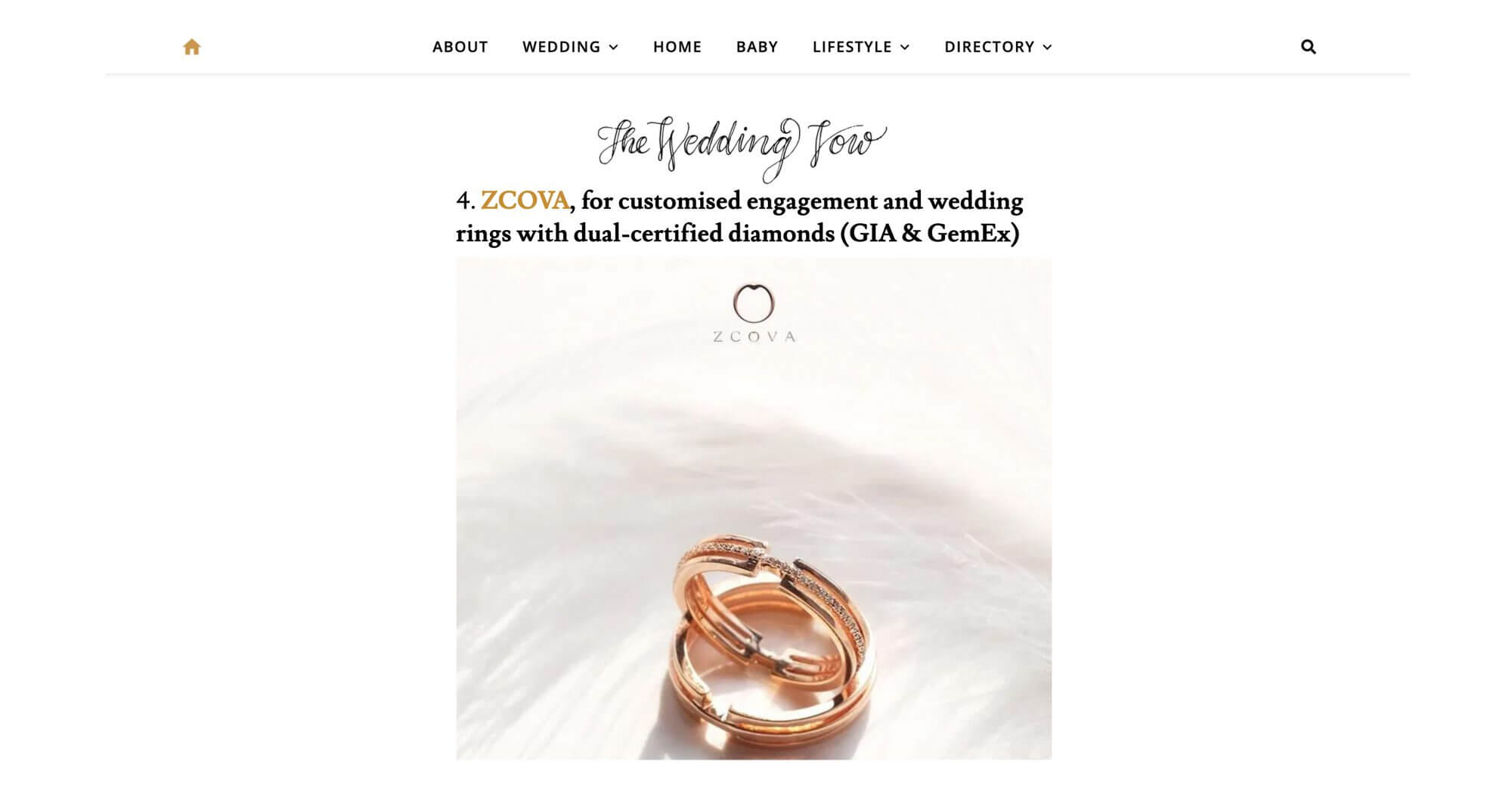 ZCOVA in The Wedding Vow Singapore: Noteworthy Jewellers in Singapore
Date: 22 July 2020
ZCOVA is selected as The Wedding Vow's Top 10 Noteworthy Wedding Rings & Engagement Ring Jewellers in Singapore! Thank you for featuring ZCOVA and sharing about our customised engagement and wedding rings with dual-certified diamonds (GIA & GemEx).
1-to-1 consultation done safely online via WhatsApp (017-367 0666 / 017-686 6693), Facebook Messenger, Call, email or Video Call
Can choose any diamond spec you want including Carat, Cut, Color, Clarity & Fluorescence with price transparency.
Can view the diamond in 10x magnification 360° video to check before buying.
Free global insured shipping
Free ring sizer and 3D printed ring design
Customise your ring design for free; speak to our in-house jewellery designers via WhatsApp.
Singapore & Malaysia's only brand with dual certificates from GIA & GemEx
Dual-certified diamonds are guaranteed brilliant
100% pass GemEx High Light Performance
ZCOVA, for customised engagement and wedding rings with dual-certified diamonds (GIA & GemEx)
Featured in various media publications such as NST, The Star, Oriental Daily, Luxe Society and more, ZCOVA is the only brand in Singapore & Malaysia to guarantee brilliant diamonds with dual certificates – GIA and GemEx. If you are looking for crème de la crème, diamonds with the best cut and brilliance, check out the LUMOS by ZCOVA Diamonds. With diamonds personally handpicked by their in-house GIA graduate gemologist with the strictest of requirements, you get the best of both worlds in terms of exceptional quality and superior brilliance.
By skipping the middlemen, ZCOVA provides a lowest price guarantee and allows you to browse over 150,000 diamonds directly from their supplier's virtual inventory. Looking for a bespoke engagement ring or wedding band, simply start your customisation process here (free of charge!) to create something truly unique. What we love is their utmost dedication to customer service excellence, whereby they even send a complimentary 3D printed ring to you to test out the ring size and design on your hand. Once confirmed, they will then proceed to handcraft the actual design.
For those concerned about shipping, fret not as ZCOVA offers free secure shipping for all orders globally, with the orders 100% fully insured by luxury goods logistics company Malca Amit. What more, ZCOVA has also worked with renowned Malaysian designers such as Khoon Hooi and Alia Bastamam to launch their respective co-branded accessories collections, a testament to the top-notch quality of their products.
Read more about it at: https://www.theweddingvowsg.com/top-10-places-buy-wedding-rings-singapore/