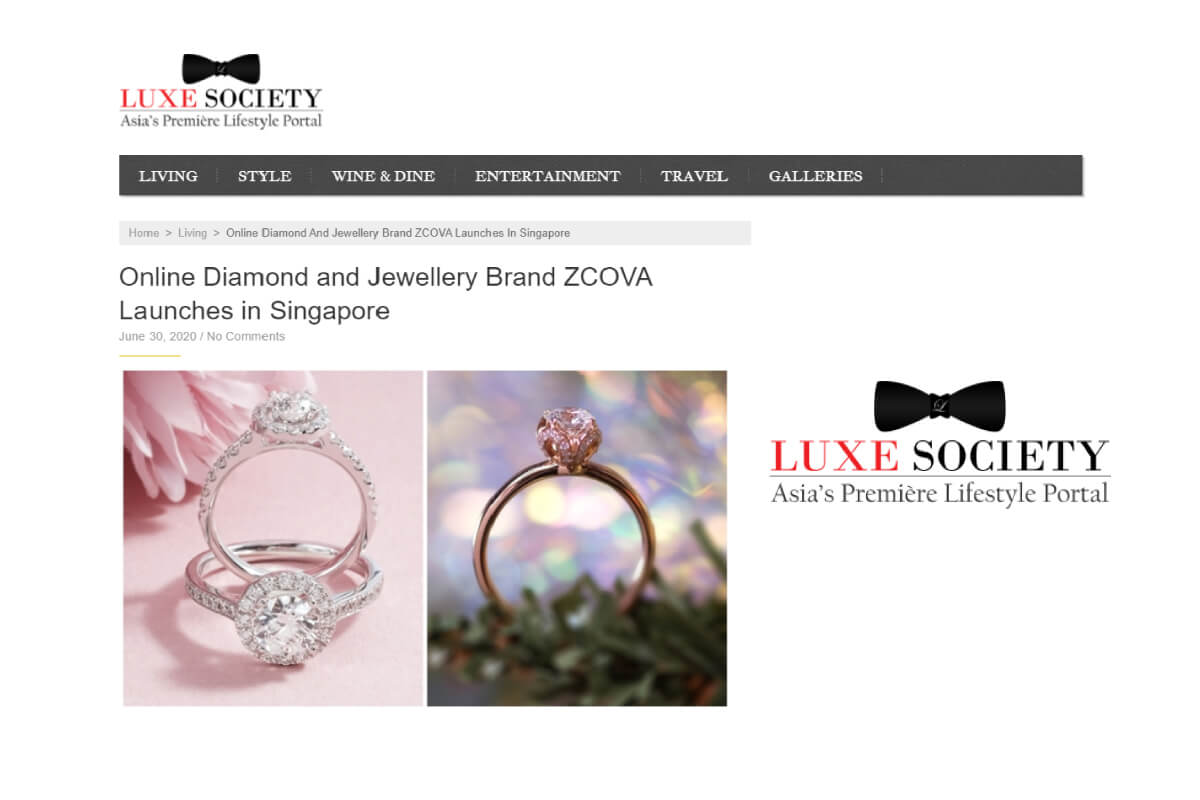 ZCOVA in Luxe Society: Online Diamond and Jewellery Brand ZCOVA Launches in Singapore
Date: 30 June 2020
Thank you Luxe Society for featuring ZCOVA and sharing about purchasing diamonds online in Singapore!
1-to-1 consultation done safely online via WhatsApp (017-367 0666 / 017-686 6693), Facebook Messenger, Call, email or Video Call
Can choose any diamond spec you want including Carat, Cut, Color, Clarity & Fluorescence with price transparency.
Can view the diamond in 10x magnification 360° video to check before buying.
Free global insured shipping
Free ring sizer and 3D printed ring design
Customise your ring design for free; speak to our in-house jewellery designers via WhatsApp.
Singapore & Malaysia's only brand with dual certificates from GIA & GemEx
Dual-certified diamonds are guaranteed brilliant
100% pass GemEx High Light Performance
With a growing reputation throughout the region, online diamond and jewellery company, ZCOVA is no stranger to the e-commerce world. Launching in Singapore this month, the progressive brand aims to innovate and modernise the diamond buying process while educating and shaping consumer's purchasing behaviour.
Founded by brothers Low Ziwei and Low Ziyin in 2015, online business ZCOVA sources and sells diamonds directly from international suppliers, eliminating the mark-up costs middle-men wholesalers have traditionally imposed on the industry.
A non-traditional jewellery company, ZCOVA is the first retailer to carry dual-certified diamonds from both GIA and GemEX. This two-tiered certification process guarantees the brilliance, fire and sparkle of each gem, equipping consumers with the knowledge required to make the best purchasing decision possible.
With customer service at its core, ZCOVA offers a user-friendly process to educate consumers on the main components of buying a diamond with a 10x magnification and a 360-degree view online where customers can create their bespoke designs. Each ZCOVA customer receives a complimentary consultation with a GIA Graduate Gemologist and recently launched is ZCOVA's 3D printing technology, where the rings are printed and sent to customers so they can try the style and size on at home ahead of making their purchase.
"Our mission is to help change the perception of purchasing diamonds online. We want to educate customers that by doing this, it is not only up to 40 per cent more cost-effective than buying in-store, but also means that the quality can be assured,"

– ZCOVA's CoFounder and Managing Director Low Ziwei.