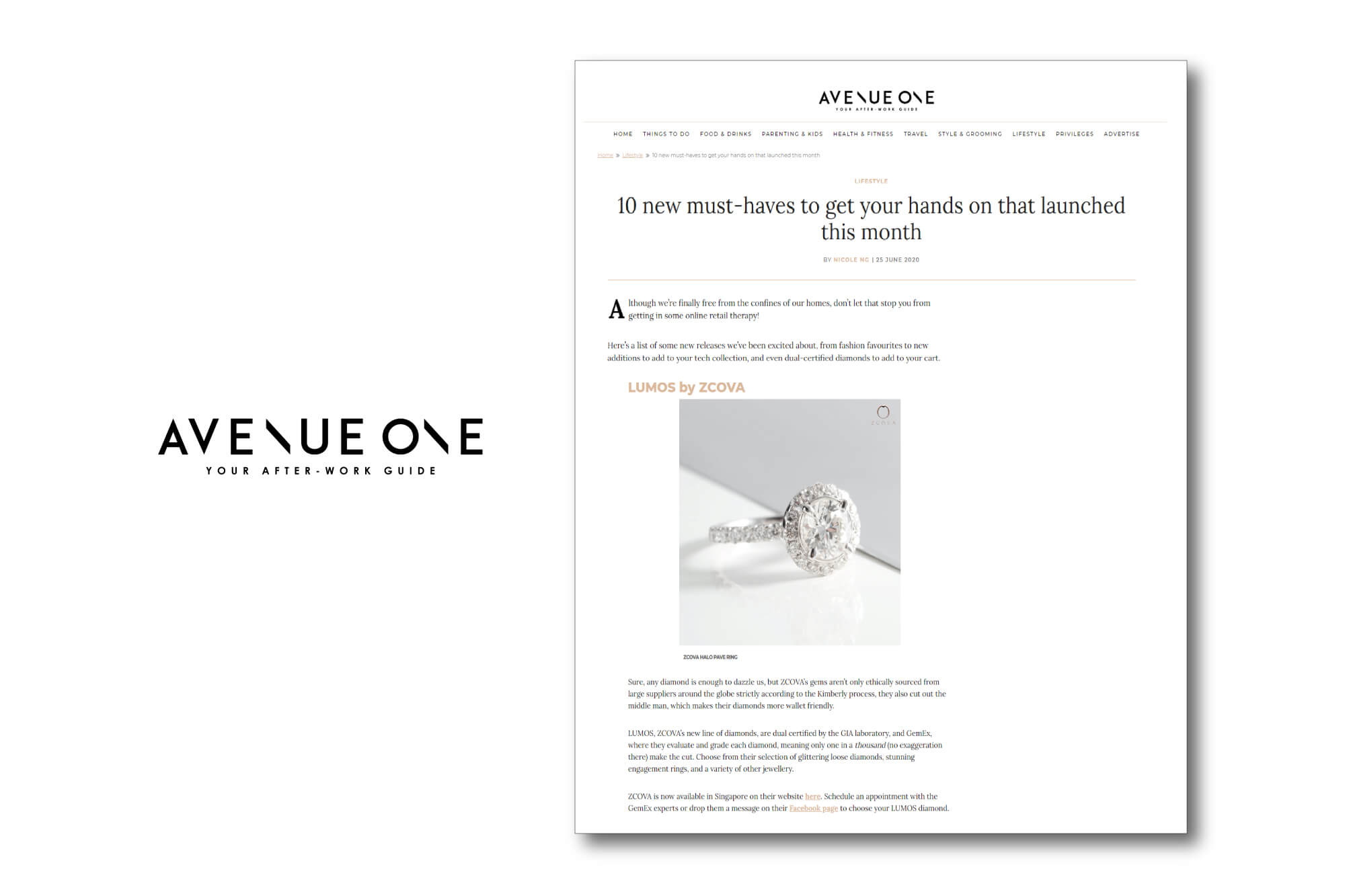 ZCOVA in Avenue One: 10 new must-haves to get your hands on that launched this month
Date: 25 June 2020
Thank you Avenue One for featuring ZCOVA!
1-to-1 consultation done safely online via WhatsApp (017-367 0666 / 017-686 6693), Facebook Messenger, Call, email or Video Call
Can choose any diamond spec you want including Carat, Cut, Color, Clarity & Fluorescence with price transparency.
Can view the diamond in 10x magnification 360° video to check before buying.
Free global insured shipping
Free ring sizer and 3D printed ring design
Customise your ring design for free; speak to our in-house jewellery designers via WhatsApp.
Singapore & Malaysia's only brand with dual certificates from GIA & GemEx
Dual-certified diamonds are guaranteed brilliant
100% pass GemEx High Light Performance
Although we're finally free from the confines of our homes, don't let that stop you from getting in some online retail therapy!
Here's a list of some new releases we've been excited about, from fashion favourites to new additions to add to your tech collection, and even dual-certified diamonds to add to your cart.
LUMOS by ZCOVA
Sure, any diamond is enough to dazzle us, but ZCOVA's gems aren't only ethically sourced from large suppliers around the globe strictly according to the Kimberly process, they also cut out the middle man, which makes their diamonds more wallet friendly.
LUMOS, ZCOVA's new line of diamonds, are dual certified by the GIA laboratory, and GemEx, where they evaluate and grade each diamond, meaning only one in a thousand (no exaggeration there) make the cut. Choose from their selection of glittering loose diamonds, stunning engagement rings, and a variety of other jewellery.
ZCOVA is now available in Singapore on their website here. Schedule an appointment with the GemEx experts or drop them a message on their Facebook page to choose your LUMOS diamond.
Read more about it: https://avenueone.sg/lifestyle/10-new-must-haves-to-get-your-hands-on-that-launched-this-month/