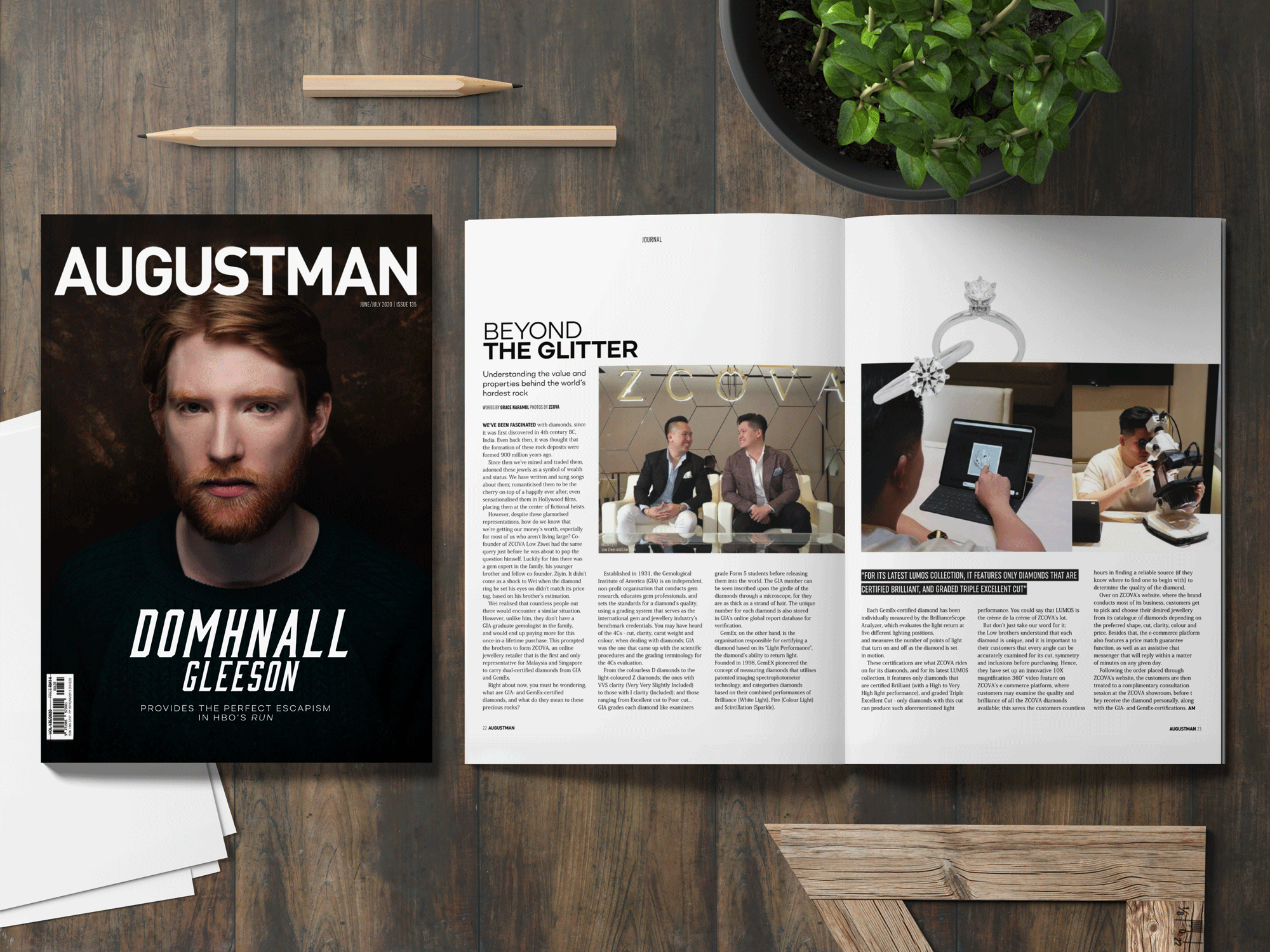 ZCOVA in Augustman Magazine: Beyond the Glitter
We've been fascinated by diamonds since it was first discovered in 4th century BC, India. Back then, it was thought that the formation of these rock deposits began 900 million years ago, before its discovery. Since then we've mined, traded and adorned these jewels as a symbol of wealth, glamour and status. We wax lyrical about the gems; romanticise it to be the cherry-on-top of a happily ever after – even sensationalised the stones in Hollywood, most often the desired object for fictional heists.
However, despite the glamour and elegance, how do we know that we're getting value for money when purchasing diamonds? Low Ziwei, the co-founder of ZCOVA had the same query just before he was about to pop the question to his (then) fiance. Luckily for him, there was a gem expert in the family, his younger brother and fellow co-founder, Ziyin. It didn't come as a shock to Ziwei when the diamond ring he set his eyes on didn't match its price tag, based on his brother's estimation. Ziwei realised that many would encounter the same unseen costs he did.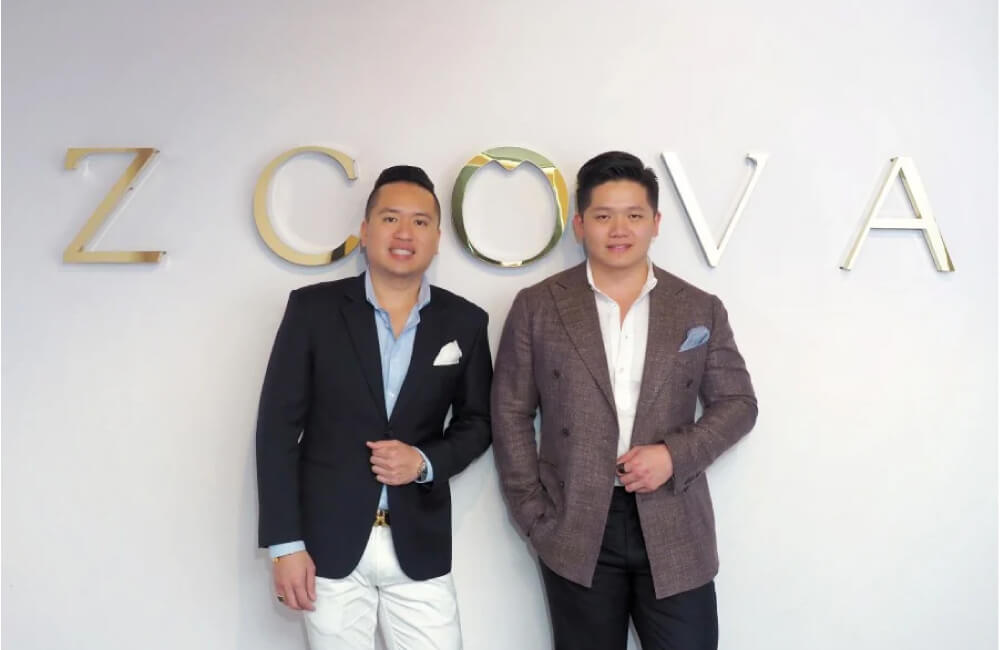 Though, unlike Ziyin, most don't have a GIA-graduate gemologist certification, and would end up paying more for this once-in-a-lifetime purchase. This prompted the brothers to form ZCOVA, an online jewellery retailer that is the first and only representative for Malaysia and Singapore to carry dual-certified diamonds from GIA and GemEx. Right about now, you must be wondering, what are GIA- and GemEx-certified diamonds, and what do they mean to these precious rocks?
Established in 1931, the Gemological Institute of America (GIA) is an independent, non-profit organisation that conducts gem research, educates gem professionals, and sets the standards for a diamond's quality, using a grading system that serves as the international gem and jewellery industry's benchmark credentials. You may have heard of the 4Cs: cut, clarity, carat weight and colour, when dealing with diamonds; GIA initiated the scientific procedures and the grading terminology for the 4Cs evaluation.
From the colourless D diamonds to the light-coloured Z diamonds; the ones with VVS clarity (Very Very Slightly Included) to those with I clarity (Included); and those ranging from Excellent to Poor cut… GIA grades each diamond-like examiners grade students before releasing them out into the world. The GIA number can be seen inscribed upon the girdle of the diamonds through a microscope, and is as thick as a strand of hair. The unique number for each diamond is also stored in GIA's online global report database for verification. GemEx, on the other hand, is the organisation responsible for certifying diamonds based on its "Light Performance," the diamond's ability to reflect light.
Founded in 1998, and pioneered the concept of measuring diamonds that utilises patented imaging spectrometer technology, GemEx categorises diamonds based on their combined performances of Brilliance (White Light), Fire (Colour Light) and Scintillation (Sparkle). Each GemEx-certified diamond has been individually measured by the BrillianceScope Analyzer, in which it evaluates the light reflected at five different positions, and measures the number of points of light that turn on and off as the diamond is set in motion. These certifications are what ZCOVA rides on for its diamonds, and for its latest LUMOS collection, it features only diamonds that are certified Brilliant (with a High to Very High light performance), and graded Triple Excellent Cut – only diamonds with this cut can produce the aforementioned light performance.
You could say that LUMOS is the crème de la crème of ZCOVA's lot. But don't just take our word for it: the Low brothers understand that each diamond is unique, and it is important to their customers that every angle can be accurately examined for its cut, symmetry and inclusions before purchase. Hence, they have set up an innovative 10X magnification 360° video feature on ZCOVA's e-commerce platform, where customers may examine the quality and brilliance of all the ZCOVA diamonds available; this saves customers countless hours in finding a reliable source (if they know where to find one to begin with) to determine the quality of the diamond.
Over on ZCOVA's website, where the brand conducts most of its business, customers get to pick and choose their desired jewellery from its catalogue of diamonds depending on the preferred shape, cut, clarity, colour and price. Besides that, the e-commerce platform also features a price match guarantee function, as well as an assistive chat messenger that will reply within a matter of minutes on any given day. Following the order placed through ZCOVA's website, the customers are then treated to a complimentary consultation session at the ZCOVA showroom, before they receive the diamond personally, with the GIA- and GemEx-certifications that come with the diamond.