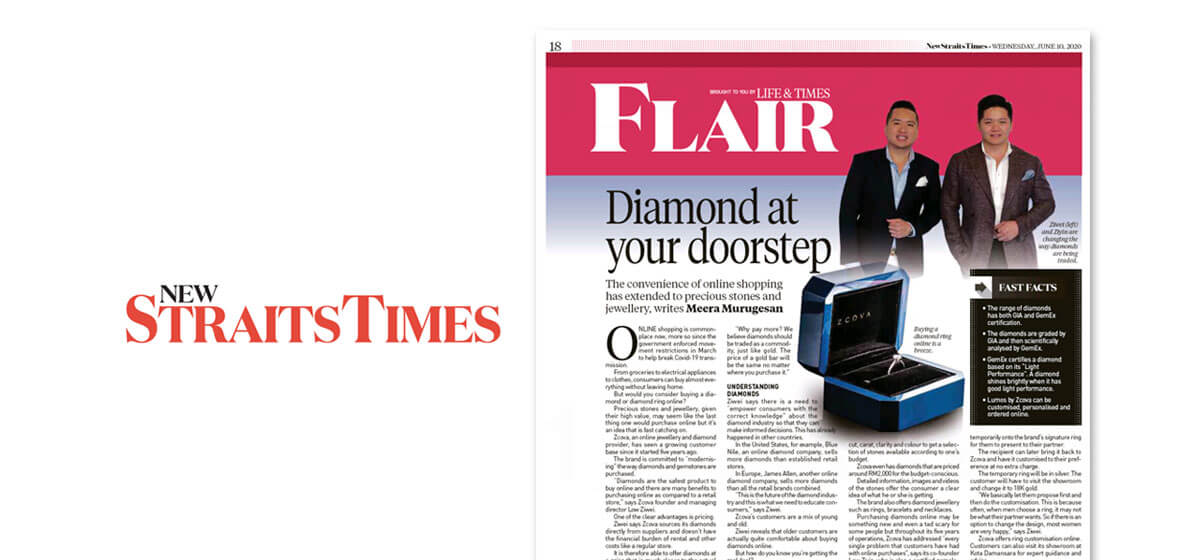 ZCOVA in NST: Why buying diamonds online is more transparent
Date: 10 June 2020
Thank you NST for interviewing the founders of ZCOVA and sharing about purchasing diamonds online!
1-to-1 consultation done safely online via WhatsApp (017-367 0666 / 017-686 6693), Facebook Messenger, Call, email or Video Call
Can choose any diamond spec you want including Carat, Cut, Color, Clarity & Fluorescence with price transparency.
Can view the diamond in 10x magnification 360° video to check before buying.
Customise your ring design for free; speak to our in-house jewellery designers via WhatsApp.
Malaysia & Singapore's only brand with dual certificates from GIA & GemEx
Dual-certified diamonds are guaranteed brilliant
100% pass GemEx High Light Performance
ONLINE shopping is commonplace now, more so since the government-enforced movement restrictions in March to help break Covid-19 transmission.
From groceries to electrical appliances to clothes, consumers can buy almost everything without leaving home.
But would you consider buying a diamond or diamond ring online?
Precious stones and jewellery, given their high value, may seem like the last thing one would purchase online but it's an idea that is fast catching on.
ZCOVA, an online jewellery and diamond provider, has seen a growing customer base since it started five years ago.
The brand is committed to "modernising" the way diamonds and gemstones are purchased.
"Diamonds are the safest product to buy online and there are many benefits to purchasing online as compared to a retail store,"

– ZCOVA founder and managing director Low Ziwei.
One of the clear advantages is pricing.
Ziwei says ZCOVA sources its diamonds directly from suppliers and doesn't have the financial burden of rental and other costs like a regular store.
It is therefore able to offer diamonds at a price that is much closer to the actual market value of these stones.
He explains that there is a huge discrepancy in terms of price for diamonds in the market.
An exact same diamond could be sold at very different prices by different brands or stores.
ZCOVA founder and managing director Low Ziwei says:

"Why pay more? We believe diamonds should be traded as a commodity, just like gold. The price of a gold bar will be the same no matter where you purchase it."

UNDERSTANDING DIAMONDS
Ziwei says there is a need to "empower consumers with the correct knowledge" about the diamond industry so that they can make informed decisions. This has already happened in other countries.
In the United States, for example, Blue Nile, an online diamond company, sells more diamonds than established retail stores.
In Europe, James Allen, another online diamond company, sells more diamonds than all the retail brands combined.
"This is the future of the diamond industry and this is what we need to educate consumers," says Ziwei.
ZCOVA's customers are a mix of young and old.
Ziwei reveals that older customers are actually quite comfortable about buying diamonds online.
But how do you know you're getting the real deal?
"All the diamonds they offer on their website come with a GIA (Gemological Institute of America) number inscribed on the stone."

– ZCOVA founder and managing director Low Ziwei.
The grading system of the GIA serves as the international gem and jewellery industry's benchmark credentials.
A GIA diamond grading report gives you all the important information you need to know about the stone's 4Cs (cut, colour, clarity and carat) and whether your diamond is a natural diamond.
From the minute a customer places an order, right up to the time it is successfully delivered to his doorstep, every stage of the process is carefully tracked and recorded for the customer to view and monitor. The entire process is also covered by insurance.
At the ZCOVA website, one can filter by cut, carat, clarity and colour to get a selection of stones available according to one's budget. ZCOVA even has diamonds that are priced around RM2,000 for the budget-conscious.
Detailed information, images and videos of the stones offer the consumer a clear idea of what he or she is getting.
The brand also offers diamond jewellery such as rings, bracelets and necklaces.
ONLINE MEETS OFFLINE
"Purchasing diamonds online may be something new and even a tad scary for some people but throughout its five years of operations, ZCOVA has addressed "every single problem that customers have had with online purchases,"

– ZCOVA co-founder and certified gemologist Low Ziyin
If one orders a diamond ring from ZCOVA and it doesn't fit, you just have to call the company. Someone will be sent to your doorstep to collect the ring and resize it. It will be sent back to you at no extra charge. This service is only applicable for Malaysian orders.
ZCOVA also has a "Propose With A Diamond" plan where customers buy a diamond from ZCOVA and it will be mounted temporarily onto the brand's signature ring for them to present to their partner.
The recipient can later bring it back to ZCOVA and have it customised to their preference at no extra charge.
The temporary ring will be in silver. The customer will have to visit the showroom and change it to 18K gold.
"We basically let them propose first and then do the customisation. This is because often, when men choose a ring, it may not be what their partner wants. So if there is an option to change the design, most women are very happy," says Ziwei.
ZCOVA offers ring customisation online. Customers can also visit its showroom at Kota Damansara for expert guidance and advice. For more information, go to www.zcova.com