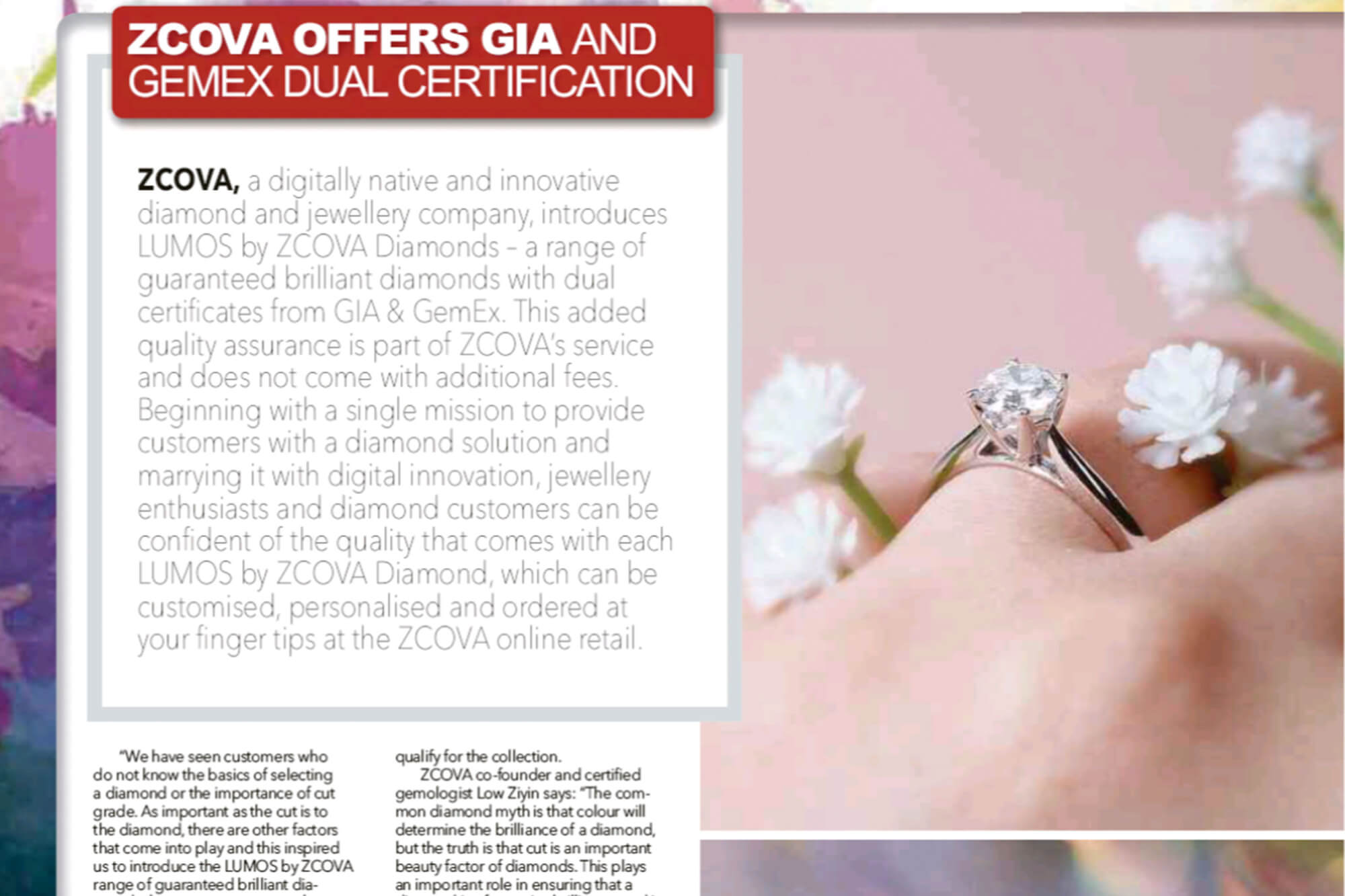 ZCOVA in NST: ZCOVA Offers GIA & GemEx Dual Certification
Date: 23 March 2020
Thank you NST for featuring ZCOVA and sharing about the extra services we provide to customers!
Money-back guarantee for brilliant diamonds
Dual-certificates from GIA & GemEx

Triple Excellent on GIA cert
High to Very High on GemEx cert

Price Match Guarantee
Free 1-on-1 private consultation with GIA Gemologist
Free customisation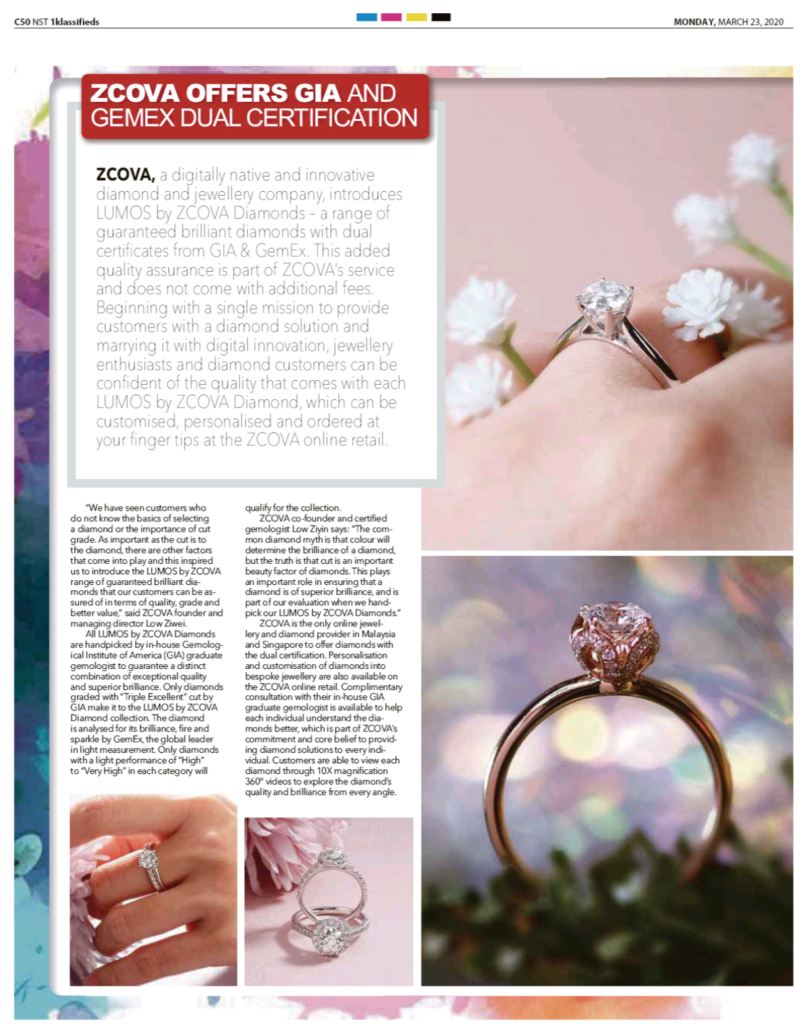 ZCOVA, a digitally native and innovative diamond and jewellery company, introduces LUMOS by ZCOVA Diamonds – a range of guaranteed brilliant diamonds with dual certificates from GIA & GemEx. This added quality assurance is part of ZCOVA's service and does not come with additional fees. Beginning with a single mission to provide customers with a diamond solution and marrying it with digital innovation, jewellery enthusiasts and diamond customers can be confident of the quality that comes with each LUMOS by ZCOVA Diamond, which can be customised, personalised and orders at your fingertips at the ZCOVA online retail.
"We have seen customers who do not know the basics of selecting a diamond or the importance of cut grade. As important as the cut is to the diamond, there are other factors that come into play and this inspired us to introduce the LUMOS by ZCOVA range of guaranteed brilliant diamonds that our customers can be assured of in terms of quality, grade and better value,"

-ZCOVA founder and managing director Low Ziwei.
All LUMOS by ZCOVA diamonds are handpicked by in-house Gemologist Institute of America (GIA) graduate gemologist to guarantee a distinct combination of exceptional quality and superior brilliance. Only diamonds graded with "Triple Excellent" cut by GIA make it to the LUMOS by ZCOVA Diamonds collection. The diamond is analysed for its brilliance, fire and sparkle by GemEx, the global leader in light measurement. Only diamonds with a light performance of "High" to "Very High" in each category will qualify for the collection.
ZCOVA co-founder and certified gemologist Low Ziyin says:

"The common diamond myth is that colour will determine the brilliance of a diamond, but the truth is that cut is an important beauty factor of diamonds.

This plays an important role in ensuring that a diamond is of superior brilliance, and is part of our evaluation when we hand-pick our LUMOS by ZCOVA Diamonds."
ZCOVA is the only online jewellery and diamond provider in Malaysia and Singapore to offer diamonds with the dual certification. Personalisation and customisation of diamonds into bespoke jewellery are also available on the ZCOVA online retail. Complimentary consultation with their in-house GIA graduate gemologist is available to help each individual understand the diamonds better, which is part of ZCOVA's commitment and core belief to provide diamond solutions to every individual. Customers are able to view each diamond through 10X magnification 360° videos to explore the diamond's quality and brilliance from every angle.