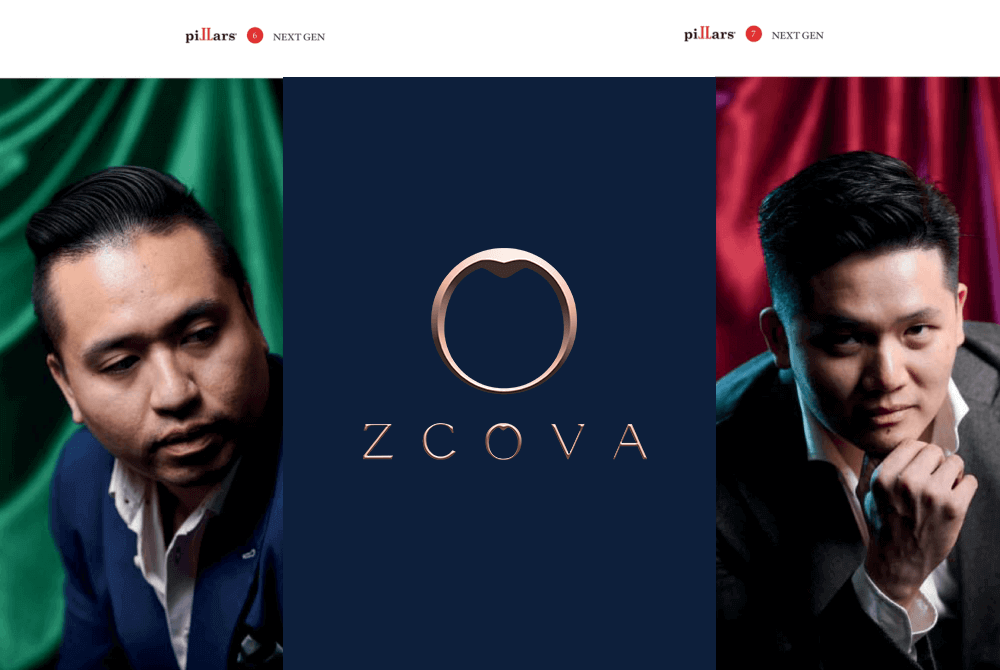 ZCOVA On Pillars
ZCOVA is featured on Sin Chew. The founders of ZCOVA, Low Ziwei and Ziyin ensure that customers will get a whole new online diamond and jewellery shopping experience from ZCOVA.
SHINE ONLINE
ZCOVA IS REVOLUTIONISING THE DIAMOND INDUSTRY IN MALAYSIA
At first glance, the Low brothers behind ZCOVA seem somewhat intimidating. Broad-shouldered and built like rugby players, the boys seem far removed from the delicate, feminine world we associate with diamonds and gold. Upon talking to them, however, I discover there's a lot more to the Lows – and the diamond and gem industry – than meets the eye.
Ziwei, the older, more sedate brother, famously realised how overpriced diamond rings were when he set out to buy a ring for his fiancee. Turning to his brother, who had experience in gemology, he wondered what could be done about it. To answer the question, the online-only ZCOVA was founded in 2015, offering customers loose diamonds at a significantly reduced markup. The choice of going online was informed mainly by the opportunity to cut unnecessary costs when buying diamonds, but also to make the entire experience that much more casual. "When it comes to buying jewellery, people tend to feel very intimidated. We want ZCOVA to be approachable, we want them to view the website experience as a fun way to buy diamonds," says Ziwei.
They've certainly succeeded in getting the friendly language and imagery down. Their website is easily navigable and if you have 'no clue about diamonds & jewellery', you can take their custom quiz, which prompts you with such options as 'I want to put a smile on someone special' or 'I want to look like a baller all day, everyday'.
At the same time, they don't take the technical aspects of diamonds lightly. They only source diamonds from The Kimberley Process-certified dealers, who are assuredly not involved in the conflict diamond trade. The authenticity of the diamonds are certified by either the Gemological Institute of America (GIA) or Hoge Raad Voor Diamant (HRD). "Integrity is very important," Ziwei notes. "We want to do this business ethically."
"It's also near impossible to sell fake diamonds," Ziyin reassures. He points out that sure, you could maybe make a one-off profit of say RM20 000 by selling fake, but what happens when it comes out that it's a fake and everyone finds out? You lose consumer trust, and the industry immediately distances itself from you. "Word gets around, and you get blacklisted by suppliers." Which would, of course, doom the company. Selling fakes isn't an option if you really want to build a sustainable business.
BUILDING TRUST
Ziyin has always had a love for the arts, and in fact, studied fine arts and jewellery making in university. Upon graduation though, he wasn't sure what the next step was. "There is nothing much to do in Malaysia with those qualifications," he says resignedly. "And I had fallen in love with gemology. That's when a friend's father offered me a job as an appraiser in Beirut." Ziyin left Malaysia and worked in the Middle East for nearly two years, where he helped to design and launch a jewellery line. "The learning curve when you're on your own is very steep. I learned to grade rough diamonds," he says. His stint in Beirut garnered him a network of connections in the business that would pay off when he came home and started ZCOVA with Ziwei. "We use a lot of my old network, and we're very blessed that my old boss has helped us in this industry."
While Ziyin handles the advertising, sales, processes and customer management, Ziwei does the day-to-day marketing and finance strategies. At the same time, he also runs the family business. "So I'm very tied up," he says, possibly the understatement of the year. "But I get a lot of satisfaction and fulfilment from my roles. I used to work in audit, where you start work at 8am and it ends at 1am, so I actually appreciate what I have now."
ZCOVA used to only offer loose diamonds to online purchases, but they also offer jewellery as well now. "People were like, 'where do I make the jewellery?'" says Ziyin. "Malaysia isn't like Europe where there is a rich industry of artisans. So now we also offer jewellery." They currently have four local production house partners, and their designs are done in-house. They do custom orders as well, although they discourage customers who attempt to copy signature styles of say Cartier or Tiffany's.
"We model ourselves as a non-traditional jewellery company," Ziwei says. "We started to address fundamentals faced by consumers; a lack of information, inflated prices and a lack of choices."
The visual aspect of buying diamonds has been a little bit of a challenge for ZCOVA. The first year was a matter of spreading awareness at wedding fairs and the like.
Retails has a lot of issues that they wanted to avoid, according to Ziwei. "Because they have to buy stock, they have leverage and interest. They are forced to sell what they have and they force this onto the customer rather than trying to fit the customer." ZCOVA compromised by setting up a showroom in Kota Damansara. "It's really an ongoing education," says Ziyin. "It's very difficult for people to accept making transactions of tens of thousands at one go online. We have to give them reassurance, because in reality, it's a lot safer to buy diamonds than buying a television set on Lazada – everything about the gem is on the certificate." Fortunately, as they become better known, the brothers do note that people are more willing to pay without questioning thanks to the trust they have managed to build.
DIAMONDS ARE YOUR BEST FRIEND
"Diamonds and gems are an investment," Ziwei explains, although that sounds like it may be contrary to conventional beliefs. "They stop seeming like an investment because of the significant markup you pay when you buy from retailers. Diamonds will never depreciate in price, like gold and fuel, but they aren't treated as such."
There are two main paths when it comes to who uses ZCOVA: "one is the mass consumers who buy gems they know that we are secure to buy from," says Ziwei.
"Private buyers will come to us with their personal requests," Ziyin adds. This aspect can be quite exciting, in an Indiana Jones sort of way, as they have to track down a gem that fulfils the specific requirements. "Sometimes I have to fly over to the originating country to check the product." They'll also fulfil your custom request for coloured diamonds. Ziyin tells me about blue diamonds – and I wonder why people don't just buy sapphires if they want a blue gem? "The way a diamond shines is different," he says, whipping his phone out to show exactly what he means. "A good quality sapphire is bright blue – a blue diamond is dimmer in colour, but with the brilliance of a diamond." The difference is clear, even in pictures – the sapphire is vibrant, a deep hue permeating the essence of the stone, but the blue diamond offers a more elusive take on the colour, the spirit of blue captured and diffused through the clarity of a diamond. It's beautiful – the kind of otherworldly beauty that makes you understand what all the fuss and effort is about.