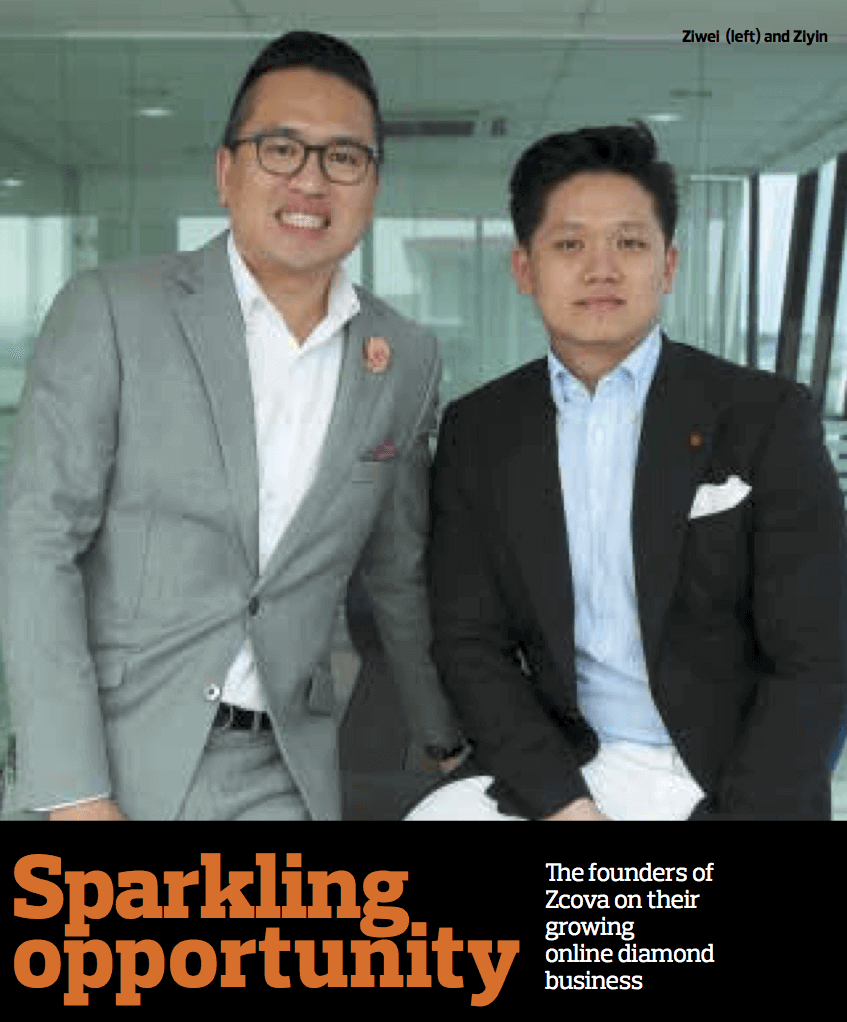 ZCOVA On The Edge: Sparkling Opportunity
Featured on The Edge, the founders of ZCOVA, Low Ziwei and Ziyin talked about the overinflated diamond prices in Malaysia and how they changed Malaysians' perception to buy diamonds online.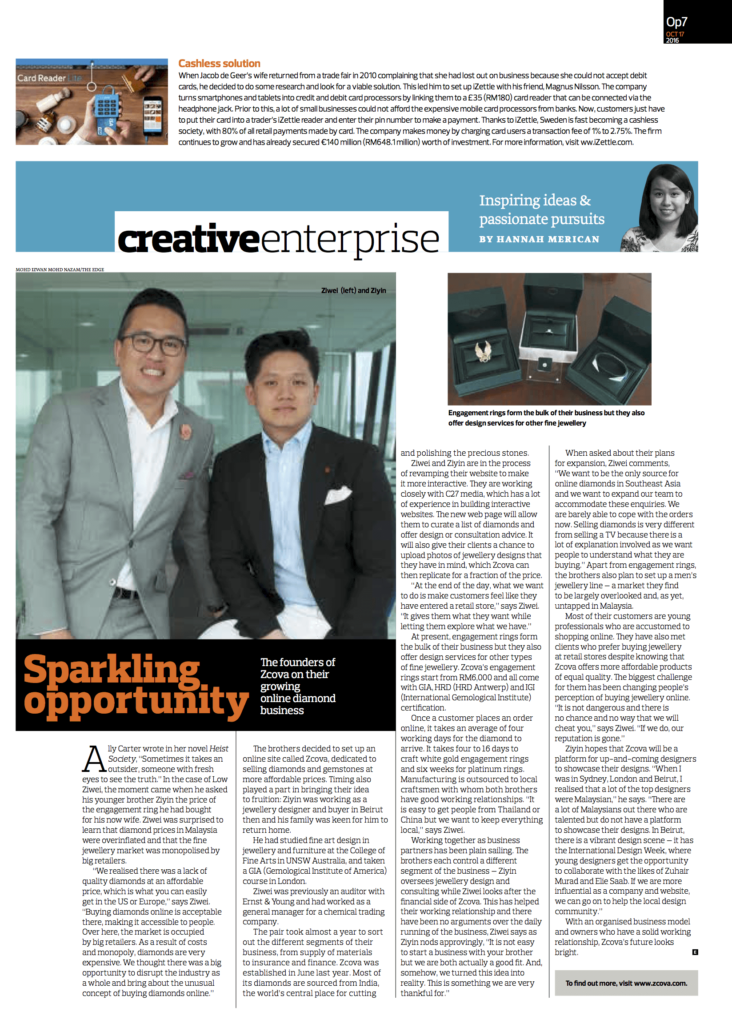 Ally Carter wrote in her novel Heist Society, "Sometimes it takes an outsider, someone with fresh eyes to see the truth." In the case of Low Ziwei, the moment came when he asked his younger brother Ziyin the price of the engagement ring he had bought for his now wife. Ziwei was surprised to learn that diamond prices in Malaysia were overinflated and that the fine jewellery market was monopolised by big retailers.
"We realised there was a lack of quality diamonds at an affordable price, which is what you can easily get in the US or Europe," says Ziwei. "Buying diamonds online is acceptable there, making it accessible to people. Over here, the market is occupied by big retailers. As a result of costs and monopoly, diamonds are very expensive. We thought there was a big opportunity to disrupt the industry as a whole and bring about the unusual concept of buying diamonds online."
The brothers decided to set up an online site called Zcova, dedicated to selling diamonds and gemstones at more affordable prices. Timing also played a part in bringing their idea to fruition: Ziyin was working as a jewellery designer and buyer in Beirut then and his family was keen for him to return home.
He had studied fine art design in jewellery and furniture at the College of Fine Arts in UNSW Australia, and taken a GIA (Gemological Institute of America) course in London.
Ziwei was previously an auditor with Ernst & Young and had worked as a general manager for a chemical trading company.
The pair took almost a year to sort out the different segments of their business, from supply of materials to insurance and finance. Zcova was established in June last year. Most of its diamonds are sourced from India, the world's central place for cutting and polishing the precious stones.
Ziwei and Ziyin are in the process of revamping their website to make it more interactive. They are working closely with C27 media, which has a lot of experience in building interactive websites. The new web page will allow them to curate a list of diamonds and offer design or consultation advice. It will also give their clients a chance to upload photos of jewellery designs that they have in mind, which Zcova can then replicated for a fraction of the price.
"At the end of the day, what we want to do is make customers feel like they have entered a retail store," says Ziwei. "It gives them what they want while letting them explore what we have."
At present, engagement rings form the bulk of their business but they also offer design services for other types of fine jewellery. Zcova's engagement rings start from RM 6,000 and all come with GIA, HRD (HRD Antwerp) and IGI (International Gemological Institute) certificate.
Once a customer places an order online, it takes an average of four working days for the diamond to arrive. It takes four to 16 days to craft white gold engagement rings and six weeks for platinum rings. Manufacturing is outsourced to local craftsmen with whom both brothers have good working relationships. "It is easy to get people from Thailand or China but we want to keep everything local," says Ziwei.
Working together as business partners has been plain sailing. The brothers each control a different segment of the business – Ziyin oversees the jewellery design and consulting while Ziwei looks after the financial side of Zcova. This has helped their working relationship and there have been no arguments over the daily running of the business, Ziwei says as Ziyin nods approvingly, "It is not easy to start a business with your brother but we are both actually a good fit. And, somehow, we turned this idea into reality. This is something we are thankful for."
When asked about their plans for expansion, Ziwei comments, "We want to be the only source for online diamonds in Southeast Asia and we want to expand our team to accommodate these enquiries. We are barely able to cope with the orders now. Selling diamonds is very different from selling a TV because there is a lot of explanation involved as we want people to understand what they are buying." Apart from engagement rings, the brothers also plan to set up a men's jewellery line – a market they find to be largely overlooked and, as yet, untapped in Malaysia.
Most of their customers are young professionals who are accustomed to shopping online. They have also met clients who prefer buying jewellery at retail stores despite knowing that Zcova offers more affordable products of equal quality. The biggest challenge for them has been changing people's perception of buying jewellery online. "It is not dangerous and there is no chance and no way that we will cheat you," says Ziwei. "If we do, our reputation is gone."
Ziyin hopes that Zcova will be a platform for up-and-coming designers to showcase their designs. "When I was in Sydney, London and Beirut, I realised that a lot of the top designers were Malaysian," he says. "There are a lot of Malaysians out there who are talented but do not have a platform to showcase their designs. In Beirut, there is a vibrant design scene – it has the International Design Week, where young designers get the opportunity to collaborate with the likes of Zuhair Murad and Elie Saab. If we are more influential as a company and website, we can go on to help the local design community."
With an organised business model and owners who have a solid working relationship, Zcova's future looks bright.