Only 1 in Singapore!
ZCOVA is the best place to buy engagement rings online in Singapore with Dual Certified (GIA & GemEx) Diamond Rings at Lowest Price Guaranteed. We've found a way to provide customers affordable prices without compromising the diamond quality and beauty. It's simply the smartest way to buy diamonds.
Contact Us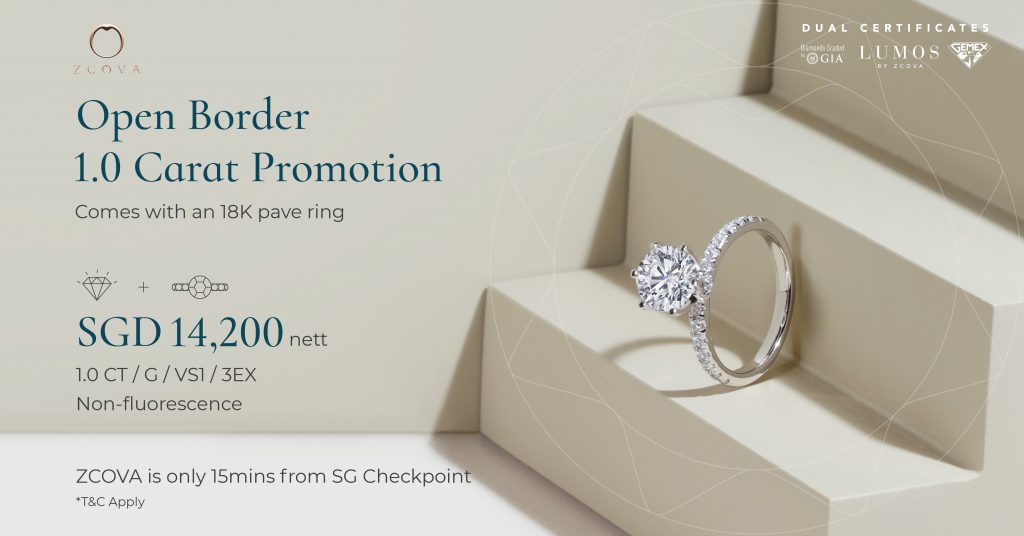 Price: SGD 14200 nett
Diamond: 1.0-carat Round Brilliant
Colour: G
Clarity: VS1
Cut: Triple Excellent
Certificate: GIA & GemEx certified
Non-fluorescence
Comes with 18K gold diamond pave ring setting.

Be our exclusive VIP customers and experience our comprehensive 360-degree jewellery shopping experience in our Johor Bahru outlet, which is only 15 minutes from Singapore Checkpoint! Let us guide you through the diamond and gemstone buying process in person or you can reach us anytime, anywhere with the convenience of our smartphone today. Our extensive eCommerce platform lets you view our diamond in detail with 10x Magnified technology, compare prices with ease and learn beyond the 4Cs of diamond and gemstone origins.
SGD 325 Off a Pair of Wedding Rings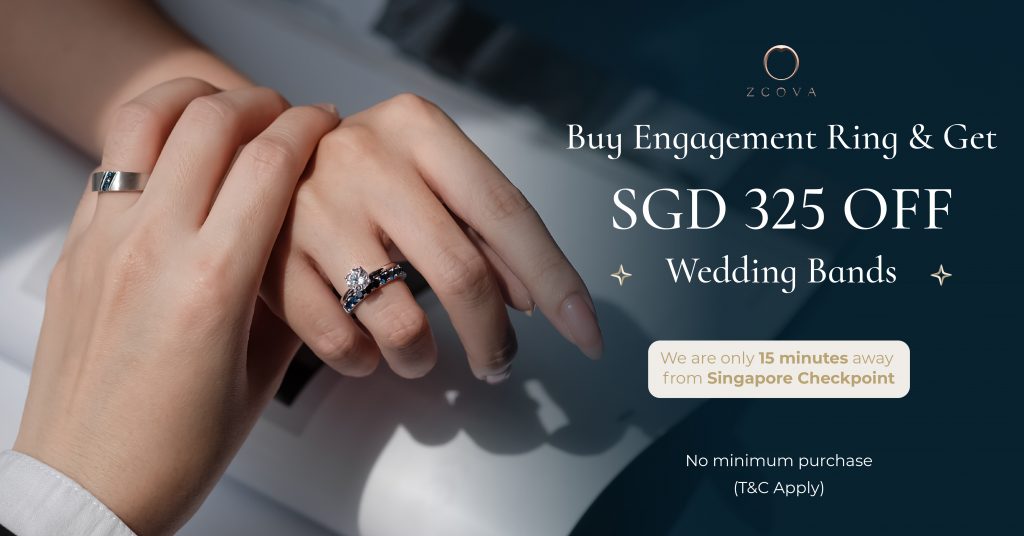 Enjoy SGD 325 off a pair of wedding rings when you purchase a diamond engagement ring!
More Details
⭐⭐⭐⭐⭐4.9/5
Thousands of happy customers globally including from Australia, UK, Singapore, and Malaysia with a 4.9 star rating. Read their reviews below!
"They were so helpful in helping me to find the best fitted diamond to my budget. I don't doubt for a minute to place order from them and the diamond was so sparkly and has gotten a lot of compliments."
"Love the ring and the service, great value. Fast respond, excellence service from ZCOVA. Especially Mr Ziyin is a very patient guy, he will listen to all your requests and fullfill you. 5 stars experience!"
"The trusted diamond company! Thank you for the wonderful job on my engagement ring. (See ZCOVA's wall for my ROM pic!)"
"I get to know the mechanics and knowledge of diamonds and jewelleries from these 2 brothers. The service was top notch n professional n all my queries was timely answered. Most importantly, the ring was perfect!!"
"Very friendly and attentive staff with very affordable prices without the middlemen. Do give them a try! All diamonds are GIA certified and product qualities are better than your normal retailers."
"Received excellent service from Zcova, Stephy. Able to deliver on time even the schedule is tight. Surely will recommend to others."