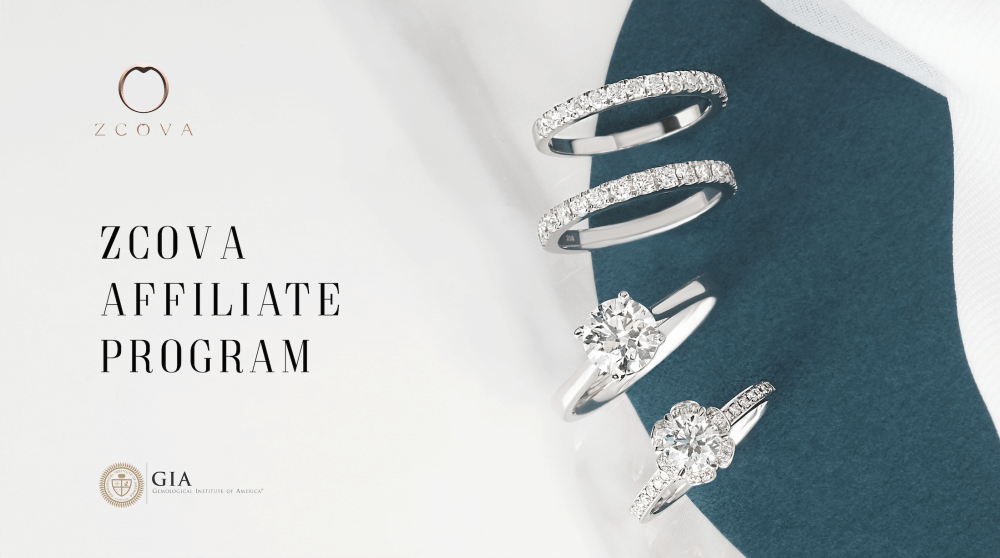 Affiliate Program: How To Make Money with ZCOVA
Simply refer your friend to us at ZCOVA and you will get 5% commission through our affiliate program.
Receive 5% commission for each sale
Set your own schedule
Get support at every way
Real-time tracking and reporting
We know we couldn't do what we do without you! So we work hard to keep our customers happy. Youll also get an extra 5% off any jewellery when you refer your friends to us through our ZCOVA Affiliate Program.

Signing up and getting your account configured couldn't be any easier.
You can be referring business our way in as quick as 5 minutes.

ZCOVA is the leading online diamond company in Malaysia. We deliver excellent customer experience by offering step-by-step guidance to help customers shop for diamonds, engagement rings, and wedding bands online with confidence. Our jewellery experts will also provide comprehensive guidance and education about the 4Cs of diamonds to make sure customers know exactly what they are getting.
ZCOVA has a proprietary diamond search that allows customers to search through a large inventory of more than 150,000 diamonds graded by GIA. Our advanced technology allows us to inspect every diamond almost the same as a jeweller's loupe. Cutting out the middlemen, we are able to offer significantly lower prices compared to the traditional retails with the highest quality diamonds in the industry so customers do not have to pay for the overly inflated diamond price.
We will also be providing ready-made banner ads and promotional materials to make recommending our diamonds and jewellery to friends a breeze. If there is anything that you need, you can reach out to us anytime.
What Do I Need To Do To Become An Affiliate?
We've streamlined our entire affiliate process to ensure ease of use
while maintaining extremely accurate affiliate tracking.

Fill out the form Signup form.

Receive your password and other info by email.

Receive 5% commissions from every sale!
1. What can I do as an affiliate?
You can simply refer your friend to us and let our jewellery experts handle the rest. You can promote us via search engines, postings in internet forums, tweeting, posting a link on Facebook, LinkedIn, recording videos or simply email to all your friends with your affiliate link.
2. Am I required to purchase something from ZCOVA in order to become an affiliate?
Nope. You do not need to be our customer in order to become an affiliate. Everyone will be paid the same commission rates based on the sales you make.
3. What is the affiliate link?
Affiliate link is a special URL where you should be sending the visitors. You will get the URLs for different banners in your affiliate panel after login.
4. How can you help me?
Each of our diamonds is displayed on our website with 10X magnification images and 360-degree videos. We also provide you with marketing materials such as banners in various sizes to help enhance your earning potential.
5. How do I get paid?
At the end of each month, your commission will be calculated and paid via Bank Transfer. Remember to send us your Name, NRIC Number, Email Address, Contact NUmber, and Bank Account Number for transaction purpose.
6. When do I get paid?
Payments are verified and paid-out by the end of the month once the buying process is completed, which is when the ring is collected by the customer.
7. How long do cookies last for?
Our cookies are valid for 30 days after someone clicks on your link. If they click again, the 30 days starts again.
8. Help, I still have questions!
Our dedicated affiliate manager is ready to help. Whatever you need, we're here for you. Reach out to us at consultant@zcova.com and let's talk.